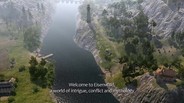 Legends of Eisenwald is an old school RPG with elements of strategy and turn-based combat. Gather your troops and embark on a dangerous journey to carve your name into the legends of the grim lands of Eisenwald where all the supernatural superstitions of medieval times are found to be true.
Datum vydání: 9 říj. 2013
Sledovat HD video
Hra s předběžným přístupem
Získejte okamžitý přístup a začněte hrát. Zapojte se do této hry již během jejího vývoje.
Poznámka: Během vývoje se tato hra může výrazně změnit. Pokud Vás hra nyní nezaujala, zkuste počkat, až bude v další fázi vývoje. Více informací zde.
Zpráva od vývojářů:
Proč předběžný přístup?
"We are a small indie development team and without Early Access we would find it very hard to finish our game. Thanks to Early Access we are now close to release."
Jak dlouho bude tato hra v předběžném přístupu?
"We are on Early Access since October 2013. We plan to release this Autumn."
Jak se bude plná verze lišit od předběžného přístupu?
"More scenarios will be available, graphic SFX will be implemented, there will be Steam Achievements and Trading Cards. Also, the user interface will be different and it will be released next, after Steam Workshop integration."
V jaké fázi vývoje se hra nachází?
"The game is fully playable with only few occasional bugs."
Změní se cena hry po skončení předběžného přístupu?
"We started with $15 price, and we raised it to $20 in June 2014. It is likely it will cost $25 at the release."
Jak plánujete zapojit komunitu do vývoje této hry?
"We implemented many features requested by community since October and now we are looking for help to test the gameplay, scenarios and report the bugs so the game is well polished at the release. Based on the feedback, we redesigned UI and it's almost finished. We are considering a closed beta on Steam to test additional scenarios of the main campaign that will be fully available at the release." Zjistit více
23 července 2014
Hello everybody! We are happy to tell you that new update will be released on Wednesday, which transfer scenario editor into stable branch, fix some essential bugs in game and its editor, and also add Steam Workshop to the game. This means, that a special surprise, a scenario that is based on the Cursed Lake scenario from our first game Discord Times, will be available for all participants of Early access.

Notice for modders.

During the semi-closed test in special dedicated developer's branch for users, with community activity we could fix some essential bugs and bring integration of game's editor and Steam Workshop to a stable state. The step with opening special beta came to be very successful, so we could repair errors with autosaving and saving maps in editor.

We fixed some serious flaws that we didn't take into account during the editor development. The area of the map in the game where all action takes place is only limited by a special area with regular landscape, trees and even buildings. And this zone and all that is outside of it is not used in calculations. Having done a lot of changes and created a brand new version of the editor, we forgot that old version allow to place armies in that border area as well. As a result, a map would load just fine but if this scenario was started in the game, it gave an error when AI attempted to move the army in a place where it wasn't allowed to be.

Despite that, we think that automatic generation of maps with a river's delta is fixed but we would have to work on it some more. Generating the delta of the river toda you would need several attempts to receive a good result. We will have to play with formulas and dependencies to make it a bit better, but this is not a first priority task, neither it is very complex. It is postponed until the moment where we will work on the remaining loose ends before game's release.

Among the others noticeable changes you will notice more comfortable to use cursors for landscape formation(there was a number of complains, hopefully, it would be much better now). Editor changes touched aesthetic aspects of the issue – we replaced skin to gray, so that icons would look more harmonious.

To talk about this next issue is too early but we understand that modders' work would be much easier if editor allowed to undo. The implementation complexity of this task stems from the fact, that you don't have to cancel one step exactly, there could be 5 or more, so if drawing mountain array you think you don't like it, it is necessary to cancel a lot of actions at once.The Editor's developer Denis Lomako has already experimented in this direction, but it's too early to say, what will be the result of these experiments. But we try to move in this direction.

A new game interface.

Unfortunately, we didn't manage to complete work on the new game interface to its logical conclusion to release it in this update. But we want to show you a couple of screenshots of this new interface, that soon will be available!




There are a few months before the official release only. We will announce the exact date later, when we are absolutely sure, that nothing will hinder us to release the game on the day of X exactly. There is no much to do (finalizing shaders, game optimization, translation of remaining chapters), as well as things you repeatedly point out, like battle log and graphic SFX. We are confident that nothing much remains before announcing the release date. We hope to announce it in August.

==========================
Русскую версию дневников разработчиков, как и всегда, вы можете прочитать на официальном сайте компании пройдя по ссылке.
9 komentářů
Zjistit více
2 července 2014

Hello everyone! The biggest news is that our AI and event system developer Denis Lomako is back to work. He feels good and he is eager to finish whatever is left for him. He is still under doctors observation after his surgery, and he started from home a week ago, but now we are happy to see him back in our office.

We would like to thank those of you who participated in beta test of our Scenario Edtior that was announced a bit earlier. We didn't expect many new ideas and suggestions from you, but it is great to receive them. It's a pity we won't be able to implement them all because of lack of time and resources but still…

We are very happy with this way of collaboration where anyone who wants to dig deeper can enter a password, download the latest developers' build for Steam and see what changed – a sort of beta in beta. There are players thank to whom we learned about some new bugs in the game and in the editor and we fixed a few of them. Beta testing turned out to be a good opportunity for looking how new ideas work and we hope to repeat something like that in the future.

If we talk about statistics, right away after the announcing beta test we uploaded to our official Youtube channel videos with brief overview of the Scenario Editor in English and Russian. 193 people watched the video in Russian, 640 in English. Unfortunately, Steam doesn't provide information (or we didn't find) how many people downloaded test build so we can only look for clues in the forum here and in these numbers. With a hope in our heard we look into the future where we the next large update comes out.

Next update is going to be huge. Many bugs are fixed, the Editor and new scenario will be released officially, our new section of Steam Workshop to be used for everyone. Also, there is a high chance we will finalize new interface that we redesigned according to your feedback. We still will need your feedback on this new interface and we hope you will like it. We use it already for a while internally and we think that with new interface the game will become easier to play and navigate not only in terms of usage but also it will change the way it looks and feels.

=====================================
Русскую версию новых дневников разработчиков вы можете прочитать на нашем официальном сайте.
2 komentářů
Zjistit více
Recenze
"The graphics are excellent, the presentation is sharp, the setting is pleasantly different from the norm and the gameplay is challenging but accessible. If Aterdux keep on down this road, they might well have a hit on their hands."
Indie Statik

"Legend of Eisenwald is looking to shape up quite nicely."
RPG Codex

"While the game is very much in beta, it has so much potential I'm giddy just thinking about it."
http://pc.mmgn.com/Articles/legends-of-eisenwald-preview

O hře
Do you miss old school RPG/strategy games? If so, we invite you to Eisenwald where we carry on the proud tradition of games like Kings Bounty or Disciples 2! In Legends of Eisenwald you will encounter a unique turn-based combat system and story driven campaign set in a low fantasy medieval world.
A Story-Driven Strategic RPG
Play through the extensive main campaign, containing seven scenarios, as well as a stand-alone scenario, The Masquerade. Each scenario, or chapter in the story, will take you to a new part of Eisenwald and present new challenges to overcome. The decisions you make affect how the story plays out with several paths and endings.
Original Turn-Based Battles
The combat system is heavily streamlined to create a dynamic form of turn-based battle that maintains all the tactical benefits of a turn-based system but a much faster pace of play that removes the frustrating moving between attacks.
Combat feels much more like an RPG than a strategy game but provides a greater degree of tactical depth and flexibility than similar games.
Low Fantasy Authentic Setting
Legends of Eisenwald is set in a believable medieval land featuring supernatural elements. Rather than the high fantasy worlds of elves and dragons, Eisenwald is based on the concept of how the world would look if all the medieval superstitions turned out to be true.
You'll encounter witchcraft, terrifying creatures and mystery on your journey but the world is driven primarily by human motivations and politics rather than mystical powers.
Highly Customisable Heroes and Units
Enjoy deep skill-trees and multiple options for customising your character and army as you progress through the game. Choose from three distinct hero classes in the Knight, Mystic or Baroness and then equip and develop your hero and troops to your personal taste and play style.
Huge Game With More Than 30 Hours of Gameplay
A main campaign with seven scenarios as well as the standalone scenario of The Masquerade will be included in the game at launch, providing more than 30 hours of gameplay and a significant amount of replay value beyond that due to the non-linear story and impact on the combat from your choice of hero class.
Key Features
RPG With Strategic Elements

Non-linear story That Reacts to Your Choices

Original Turn-based Combat System

Low Fantasy, Authentic Medieval Setting

Deep Skill Trees and Intricate Customisation Options

Huge Variety Of Weapons and Spells

Support for English, French and Russian language throughout, limited German support currently
Key Info on the Status of the Early Access Build vs. Final Release:
All the core gameplay mechanics are integrated and live, although we are still working on polishing and refining these based on your feedback.

English, German, French and Russian language support is in for the Prologue and Masquerade scenario. English, French and Russian support is in for The Way Home and Run Away scenarios.

Sound effects are mostly done but will be improved more.

No special visual effects integrated yet – final visuals will be much nicer.

We're also aiming to integrate Steam achievements. Trading cards will be availalbe at the full release.

The final game will contain a campaign consisting seven scenarios including the prologue and will support English, German, French and Russian languages at launch. Maybe Spanish too.
Systémové požadavky
Minimum:


OS: XP, Vista, 7

Processor: 2 GHz dual-core CPU

Memory: 2 GB RAM

Graphics: 512 MB graphics memory, shader model 3 (Radeon HD 4600, GeForce 8600)

DirectX: Version 9.0c

Hard Drive: 2 GB available space

Additional Notes: Screen resolution 1280x1024; Dedicated video card required
Recommended:


OS: XP, Vista, 7

Processor: 3 GHz quad-core CPU

Memory: 4 GB RAM

Graphics: 1024 MB graphics memory, shader model 3 (GeForce GTX 260, Radeon HD 5770 or better)

DirectX: Version 9.0c

Hard Drive: 2 GB available space

Additional Notes: Screen resolution 1680x1050 or higher; Dedicated video card required
Užitečné recenze od zákazníků
Název:
Legends of Eisenwald
Žánr:
Nezávislé
,
RPG
,
Strategické
,
Předběžný přístup
Vývojář:
Aterdux Entertainment
Vydavatel:
Aterdux Entertainment
Datum vydání:
9 říj. 2013
Jazyky:
| | Rozhraní | Zvuk | Titulky |
| --- | --- | --- | --- |
| Angličtina | | | |
| Němčina | | | |
| Ruština | | | |
| Francouzština | | | |
Ocenění
RPG France Editor's Choice