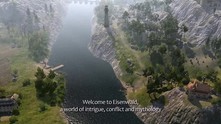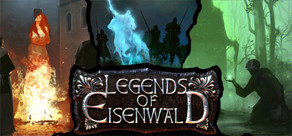 Legends of Eisenwald is an original mix of RPG and strategy. Gather your troops and embark on a dangerous journey to carve your name into the legends of the grim lands of Eisenwald where all the supernatural superstitions of medieval times are found to be true.
Дата на излизане: 9 октомври 2013
Преглед на HD видео
Игра с "Ранен достъп"
Получете незабавен достъп и почнете да играете, ангажирайте се с играта, докато тя се развива.
Научете още за "Ранен достъп".
Какво казват разработчиците:
"Do you miss old school RPG/strategy games? If so, we invite you to Eisenwald where we carry on the proud tradition of games like Kings Bounty or Disciples 2! In Legends of Eisenwald you will encounter a unique turn-based combat system and story driven campaign set in a low fantasy medieval world.

Since we received a part of our funding from a Kickstarter campaign in 2012 our community has greatly influenced the gameplay. We have been running an early beta for many months for backers and pre-order supporters. Now we are delighted to bring the game to Early Access. A game of this size developed by a small indie team really needs input and feedback from you.

This Early Access build is an extensive slice of the game with more than ten hours of gameplay. It features two first scenarios of the main campaign: the Prologue (tutorial) and The Way Home and a standalone scenario The Masquerade. Core gameplay mechanics are ready to be played and tested but many sound and video effects are not ready yet as well as many things that are still being worked on.

Thank you for being part of our journey and we look forward to your feedback on the game."
Прочетете още
11 април 2014
In today's diaries using Legends of Eisenwald as an example we will try to show you the interconnection of the elements of game development, and also about the sound effects – how we record them and what should be expected as result.

FIRST STEPS
Somewhere between our Kickstarter campaign and getting to Early Access it was a wonderful time for working on our game. One of the exciting tasks of that time was making sound effects. Our entire team was involved in sound sessions and besides a lot of interesting discoveries it was really fun: we put a helmet on a cabbage and tried to kill it with an axe. We made Victor (our writer) fall down in a buff coat, we recorded rasping sound of claws with help of darts, and had lots more creative ideas. All the armor and weapons we provided ourselves since our team used a bunch of LARPers in the past.

WHAT CHANGED WITH EARLY ACCESS?
The situation changed after we released on Early Access. We decided to make the sound more professional and we had to involve more people. Our composer and sound designer Ressa hired another person for help and he started totake care of the game sound SFX. While Early Access gave us quite a bit of funds to continue development, we still couldn't afford to get professional equipment and record sounds of historical objects, we took the sounds from the available libraries and adopted them for our animations.

PLAN DIVIDED BY FOUR
At this moment in our game there are sounds of shots, swings of melee weapons and how they hit the enemy. We actively work on the second part to make sounds for drinking potions, steps, shouts and falls.

The third part will include making sounds for magic effects, spells and everything that a new particle system developed by our technical director Nikolay Armonik will give us.

Particle system is an important part of the game because it will help bring in visual effects. To record audio to visual effects that we do not see yet, don't know how long it is and other details is just not possible. Befor particle system will be done there will be a few other steps necessary. After particle system is done our art director Dmitry Goncharov will take over who will have to analyze and document which visual SFX are possible to make with this system. After that we will turn to a designer who will create the effects and then animated effects will go to our sound designer Ressa who will organize the rest of the process.

After the biggest part of the work will be behind, Ressa will make sounds for the global map and game interface. Since the interface is not ready yet, we don't know how the process will go.

----------------------------------------------------------------
Прочитать русскую версию дневников, в которой мы рассказываем о звуковых эффектах в игре.
0 коментара
Прочетете още
1 април 2014
Hello everyone! The official release date and leaving Early Access will happen April 1 2017. We understand you were expecting the game a bit sooner so we will tell you what changes will be made in this long period of time.

In Legends of Eisenwald you will find everything that you like in computer games. The game will be a multiplayer, so it will require an Internet connection at all times. You will have to fight other online-barons not only in the hard battles but also in dance balls with an ability to change in detail the appearance of your hero for in-game currency. We came up with an interesting mechanic where your diplomatic decisions directly influence what is happening in the games world. So, if you say "Yes", one thing will happen, if you say "No", completely another. System of global magic will allow you to use terramorphing f the enemies lands so they become unsuitable for living. But remember, this can cost you a lot.

A fourth hero will be introduced in the game, so in near future you will be able to play in Legends of Eisenwald for a zombie. And here is the most interesting starts, because as "ueber-zombie" you can rule over the minions of zombies and other undead, whose goal will be to disturb other players when you are getting near to eat their brains. Online matches with shooting zombies with hand cannons will be singled out into a separate game in our game setting. Silver bullets will cost more than usual ones.

Because of the fact there are too many games with a word Legends in a title and with desire to emphasize a zombie part, we will rename the game into LegendZ of Eisenwald.

We are following modern trends and we assure you that our game will have elements of survival like necessity to buy food at markets, to have a cook that will make nutritios meals for your character out of products you bought (there will be a mini game for a cook, where you will have to choose quickly ingredients, place them into a pot and stir until it's ready). Our game will require an advance digestion system where for each meal you eat you will have to roll 3 dice and have result of 15 and higher so you will not get food poisoning. Is it difficult? Medieval times were much harder! You will have to eat 2-3 times a day, and the game will count how much food and armor you are taking with you, so getting a horse sooner will be very essential (to make life easier, we will provide an opportunity to buy a horse for real currency).




Cherry on top in LegendZ of Eisenwald will be a possibility to build your own castles. You can draw it in your editor for tablets that will be sold separately and then piece by piece you can build your own castle using all the colors of a rainbow. All these amazing things you can start doing in just three years!

Из-за того, что Steam ограничивает количество символов в одном сообщении ссылка на русскую версию новости снова отдельно!
18 коментара
Прочетете още
Рецензии
"The graphics are excellent, the presentation is sharp, the setting is pleasantly different from the norm and the gameplay is challenging but accessible. If Aterdux keep on down this road, they might well have a hit on their hands."
Indie Statik

"Legend of Eisenwald is looking to shape up quite nicely."
RPG Codex

"While the game is very much in beta, it has so much potential I'm giddy just thinking about it."
http://pc.mmgn.com/Articles/legends-of-eisenwald-preview

Относно играта
Legends of Eisenwald is an original mix of RPG and strategy. Gather your troops and embark on a dangerous journey to carve your name into the legends of the grim lands of Eisenwald where all the supernatural superstitions of medieval times are found to be true.
A Story-Driven Strategic RPG
Play through the extensive main campaign, containing seven scenarios, as well as a stand-alone scenario, The Masquerade. Each scenario, or chapter in the story, will take you to a new part of Eisenwald and present new challenges to overcome. The decisions you make affect how the story plays out with several paths and endings.
Original Turn-Based Battles
The combat system is heavily streamlined to create a dynamic form of turn-based battle that maintains all the tactical benefits of a turn-based system but a much faster pace of play that removes the frustrating moving between attacks.
Combat feels much more like an RPG than a strategy game but provides a greater degree of tactical depth and flexibility than similar games.
Low Fantasy Authentic Setting
Legends of Eisenwald is set in a believable medieval land featuring supernatural elements. Rather than the high fantasy worlds of elves and dragons, Eisenwald is based on the concept of how the world would look if all the medieval superstitions turned out to be true.
You'll encounter witchcraft, terrifying creatures and mystery on your journey but the world is driven primarily by human motivations and politics rather than mystical powers.
Highly Customisable Heroes and Units
Enjoy deep skill-trees and multiple options for customising your character and army as you progress through the game. Choose from three distinct hero classes in the Knight, Mystic or Baroness and then equip and develop your hero and troops to your personal taste and play style.
Huge Game With More Than 30 Hours of Gameplay
A main campaign with seven scenarios as well as the standalone scenario of The Masquerade will be included in the game at launch, providing more than 30 hours of gameplay and a significant amount of replay value beyond that due to the non-linear story and impact on the combat from your choice of hero class.
Key Features
RPG With Strategic Elements

Non-linear story That Reacts to Your Choices

Original Turn-based Combat System

Low Fantasy, Authentic Medieval Setting

Deep Skill Trees and Intricate Customisation Options

Huge Variety Of Weapons and Spells

Support for English and Russian language throughout, limited German and French support currently
Key Info on the Status of the Early Access Build vs. Final Release:
All the core gameplay mechanics are integrated and live, although we are still working on polishing and refining these based on your feedback.

English, German, French and Russian language support is in for the Prologue and Masquerade scenario. English and Russian support is in for The Way Home scenario.

Scenario Editor will be added soon

No sound effects are currently integrated but we are hoping to improve these shortly

No special visual effects integrated yet – final visuals will be much nicer

We're also aiming to integrate Steam achievements and trading cards shortly

The final game will contain a campaign consisting seven scenarios including the prologue and will support English, German and Russian languages at launch.

Windows 8 version is not fully tested, issues are possible
Системни изисквания
Minimum:


OS: XP, Vista, 7

Processor: 2 GHz dual-core CPU

Memory: 2 GB RAM

Graphics: 512 MB graphics memory, shader model 3 (Radeon HD 4600, GeForce 8600)

DirectX: Version 9.0c

Hard Drive: 2 GB available space

Additional Notes: Screen resolution 1280x1024; Dedicated video card required
Recommended:


OS: XP, Vista, 7

Processor: 3 GHz quad-core CPU

Memory: 4 GB RAM

Graphics: 1024 MB graphics memory, shader model 3 (GeForce GTX 260, Radeon HD 5770 or better)

DirectX: Version 9.0c

Hard Drive: 2 GB available space

Additional Notes: Screen resolution 1680x1050 or higher; Dedicated video card required
Полезни рецензии от клиенти
Заглавие:
Legends of Eisenwald
Жанр:
Ранен достъп
,
Независими
,
Ролеви
,
Стратегии
Разработчик:
Aterdux Entertainment
Издател:
Aterdux Entertainment
Дата на излизане:
9 октомври 2013
Езици:
| | Интерфейс | Аудио | Субтитри |
| --- | --- | --- | --- |
| English | | | |
| Deutsch | | | |
| Русский | | | |
| Français | | | |
Награди
RPG France Editor's Choice