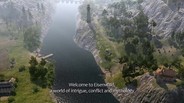 Legends of Eisenwald is an old school RPG with elements of strategy and turn-based combat. Gather your troops and embark on a dangerous journey to carve your name into the legends of the grim lands of Eisenwald where all the supernatural superstitions of medieval times are found to be true.
Release Date: Oct 9, 2013
Watch HD video
Early Access Game
Get instant access and start playing; get involved with this game as it develops.
Note: This Early Access game may or may not change significantly over the course of development. If you are not excited to play this game in its current state, then you may want to wait until the game progresses further in development. Learn more
What the developers have to say:
Why Early Access?
"We are a small indie development team and without Early Access we would find it very hard to finish our game. Thanks to Early Access we are now close to release."
How long will this game be in Early Access?
"We are on Early Access since October 2013. We plan to release this Autumn."
How is the full version planned to differ from the Early Access version?
"More scenarios will be available, graphic SFX will be implemented, there will be Steam Achievements and Trading Cards. Also, the user interface will be different and it will be released next, after Steam Workshop integration."
What is the current state of the Early Access version?
"The game is fully playable with only few occasional bugs."
Will the game be priced differently during and after Early Access?
"We started with $15 price, and we raised it to $20 in June 2014. It is likely it will cost $25 at the release."
How are you planning on involving the Community in your development process?
"We implemented many features requested by community since October and now we are looking for help to test the gameplay, scenarios and report the bugs so the game is well polished at the release. Based on the feedback, we redesigned UI and it's almost finished. We are considering a closed beta on Steam to test additional scenarios of the main campaign that will be fully available at the release." Read more
September 12

Hello everyone,

lately we have been talking to a few journalists, from IGN Russia and rpgwatch.com in particular. IGN Russia had a discussion what is an indie game which was presented in several developers answers to four questions: what is an indie game; do you think Journey for PS3 or Valiant Hearts are indie games; if Banner Saga went to a publisher, they would have gotten more money and have done a better game – what do you think of this statement; are you an indie developer yourself. Many answered that it's a game where a process of its creation is not controlled by a publisher or an investor, we added that it's a game that is doing something new and it's also creative splash of the people making this game. Even some games of big studios could be considered indie, in our opinion. The whole article is here (in Russian).

rpgwatch.com wrote a preview. Alexander met with an editor from this site in Cologne during GamesCom and this preview is a result of this even though a preview is written by someone else.

In the beginning of the summer we applied with our game to IndieCade. We didn't have many hopes to start with. Looking at the screenshots that are published on Facebook page of this festival one could think that indie games for them are almost exclusively pixel art, simple mechanics and other attributes of modern pop-culture. So, the response we were not selected for the final part did not surprise us. To the standard response there were attached a few sentences of a juror or a few of them:


It seems weird to me, with no hook, no novelty and no tutorial, the game feels… Well, like a 90s game. It's a "classic, yes, but "old school" doesn't have to mean "old".
This game is an impressive technical achievement! Indiecade however looks for games that innovate in design or other categories, and Legends of Eisenwald is largely a worthy but loyal recreation of a well-trodden category.
We are grateful for a personal response and understand that everyone has different opinions. The only details that is not quite clear is a "no tutorial" part. Tutorial (while not the greatest) have been on Early Access since the very beginning and it seems that jurors simply didn't have enough time to check for a tutorial option in the settings. We started playing games in 90s and even the end of 80s, so in most cases when some people say our game looks like from the 90s, it sounds rather surprising to us and brings us to the conclusion that most likely they didn't play anything back then. I kind of don't get it… When the game is defined as a "classic old school RPG with tactical turn-based battles, simple economic model" why would you enter it in indiecade?
What do you think? Do we describe our game well? Maybe some moments are really unclear for the people who look at our game for the first time and has only 10 minutes to look at the game? We would really love to hear your opinions!
==============================
Русскую версию "Дневников разработчиков" можно прочитать пройдя по
ссылке
.
8 comments
Read more
Reviews
"The graphics are excellent, the presentation is sharp, the setting is pleasantly different from the norm and the gameplay is challenging but accessible. If Aterdux keep on down this road, they might well have a hit on their hands."
Indie Statik

"Legend of Eisenwald is looking to shape up quite nicely."
RPG Codex

"While the game is very much in beta, it has so much potential I'm giddy just thinking about it."
http://pc.mmgn.com/Articles/legends-of-eisenwald-preview

About the Game
Do you miss old school RPG/strategy games? If so, we invite you to Eisenwald where we carry on the proud tradition of games like Kings Bounty or Disciples 2! In Legends of Eisenwald you will encounter a unique turn-based combat system and story driven campaign set in a low fantasy medieval world.
A Story-Driven Strategic RPG
Play through the extensive main campaign, containing seven scenarios, as well as a stand-alone scenario, The Masquerade. Each scenario, or chapter in the story, will take you to a new part of Eisenwald and present new challenges to overcome. The decisions you make affect how the story plays out with several paths and endings.
Original Turn-Based Battles
The combat system is heavily streamlined to create a dynamic form of turn-based battle that maintains all the tactical benefits of a turn-based system but a much faster pace of play that removes the frustrating moving between attacks.
Combat feels much more like an RPG than a strategy game but provides a greater degree of tactical depth and flexibility than similar games.
Low Fantasy Authentic Setting
Legends of Eisenwald is set in a believable medieval land featuring supernatural elements. Rather than the high fantasy worlds of elves and dragons, Eisenwald is based on the concept of how the world would look if all the medieval superstitions turned out to be true.
You'll encounter witchcraft, terrifying creatures and mystery on your journey but the world is driven primarily by human motivations and politics rather than mystical powers.
Highly Customisable Heroes and Units
Enjoy deep skill-trees and multiple options for customising your character and army as you progress through the game. Choose from three distinct hero classes in the Knight, Mystic or Baroness and then equip and develop your hero and troops to your personal taste and play style.
Huge Game With More Than 30 Hours of Gameplay
A main campaign with seven scenarios as well as the standalone scenario of The Masquerade will be included in the game at launch, providing more than 30 hours of gameplay and a significant amount of replay value beyond that due to the non-linear story and impact on the combat from your choice of hero class.
Key Features
RPG With Strategic Elements

Non-linear story That Reacts to Your Choices

Original Turn-based Combat System

Low Fantasy, Authentic Medieval Setting

Deep Skill Trees and Intricate Customisation Options

Huge Variety Of Weapons and Spells

Support for English, French and Russian language throughout, limited German support currently
Key Info on the Status of the Early Access Build vs. Final Release:
All the core gameplay mechanics are integrated and live, although we are still working on polishing and refining these based on your feedback.

English, German, French and Russian language support is in for the Prologue and Masquerade scenario. English, French and Russian support is in for The Way Home and Run Away scenarios.

Sound effects are mostly done but will be improved more.

No special visual effects integrated yet – final visuals will be much nicer.

We're also aiming to integrate Steam achievements. Trading cards will be availalbe at the full release.

The final game will contain a campaign consisting seven scenarios including the prologue and will support English, German, French and Russian languages at launch. Maybe Spanish too.
System Requirements
Minimum:


OS: XP, Vista, 7

Processor: 2 GHz dual-core CPU

Memory: 2 GB RAM

Graphics: 512 MB graphics memory, shader model 3 (Radeon HD 4600, GeForce 8600)

DirectX: Version 9.0c

Hard Drive: 2 GB available space

Additional Notes: Screen resolution 1280x1024; Dedicated video card required
Recommended:


OS: XP, Vista, 7

Processor: 3 GHz quad-core CPU

Memory: 4 GB RAM

Graphics: 1024 MB graphics memory, shader model 3 (GeForce GTX 260, Radeon HD 5770 or better)

DirectX: Version 9.0c

Hard Drive: 2 GB available space

Additional Notes: Screen resolution 1680x1050 or higher; Dedicated video card required
Helpful customer reviews
Title:
Legends of Eisenwald
Genre:
Indie
,
RPG
,
Strategy
,
Early Access
Developer:
Aterdux Entertainment
Publisher:
Aterdux Entertainment
Release Date:
Oct 9, 2013
Languages:
| | Interface | Full audio | Subtitles |
| --- | --- | --- | --- |
| English | | | |
| German | | | |
| Russian | | | |
| French | | | |
Awards
RPG France Editor's Choice