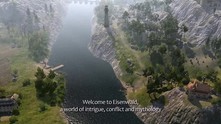 Legends of Eisenwald is an original mix of RPG and strategy. Gather your troops and embark on a dangerous journey to carve your name into the legends of the grim lands of Eisenwald where all the supernatural superstitions of medieval times are found to be true.
Megjelenés dátuma: 9 Okt 2013
Nézd meg a HD videót
Korai hozzáférésű játék
Szerezz azonnali hozzáférést és kezdj játszani; légy részese a játék fejlődésének.
Megjegyzés: Ez a korai hozzáférésű játék a fejlesztés során vagy változik jelentősebben, vagy nem. Ha nem izgat a vele való játék a jelenlegi állapotában, érdemes lehet várni, míg a játék fejlesztése előrehaladottabbá válik. Tudj meg többet.
Mit mondanak a fejlesztők:
"Do you miss old school RPG/strategy games? If so, we invite you to Eisenwald where we carry on the proud tradition of games like Kings Bounty or Disciples 2! In Legends of Eisenwald you will encounter a unique turn-based combat system and story driven campaign set in a low fantasy medieval world.

Since we received a part of our funding from a Kickstarter campaign in 2012 our community has greatly influenced the gameplay. We have been running an early beta for many months for backers and pre-order supporters. Now we are delighted to bring the game to Early Access. A game of this size developed by a small indie team really needs input and feedback from you.

This Early Access build is an extensive slice of the game with more than ten hours of gameplay. It features two first scenarios of the main campaign: the Prologue (tutorial) and The Way Home and a standalone scenario The Masquerade. Core gameplay mechanics are ready to be played and tested but many sound and video effects are not ready yet as well as many things that are still being worked on.

Thank you for being part of our journey and we look forward to your feedback on the game." Tovább
2 július 2014

Hello everyone! The biggest news is that our AI and event system developer Denis Lomako is back to work. He feels good and he is eager to finish whatever is left for him. He is still under doctors observation after his surgery, and he started from home a week ago, but now we are happy to see him back in our office.

We would like to thank those of you who participated in beta test of our Scenario Edtior that was announced a bit earlier. We didn't expect many new ideas and suggestions from you, but it is great to receive them. It's a pity we won't be able to implement them all because of lack of time and resources but still…

We are very happy with this way of collaboration where anyone who wants to dig deeper can enter a password, download the latest developers' build for Steam and see what changed – a sort of beta in beta. There are players thank to whom we learned about some new bugs in the game and in the editor and we fixed a few of them. Beta testing turned out to be a good opportunity for looking how new ideas work and we hope to repeat something like that in the future.

If we talk about statistics, right away after the announcing beta test we uploaded to our official Youtube channel videos with brief overview of the Scenario Editor in English and Russian. 193 people watched the video in Russian, 640 in English. Unfortunately, Steam doesn't provide information (or we didn't find) how many people downloaded test build so we can only look for clues in the forum here and in these numbers. With a hope in our heard we look into the future where we the next large update comes out.

Next update is going to be huge. Many bugs are fixed, the Editor and new scenario will be released officially, our new section of Steam Workshop to be used for everyone. Also, there is a high chance we will finalize new interface that we redesigned according to your feedback. We still will need your feedback on this new interface and we hope you will like it. We use it already for a while internally and we think that with new interface the game will become easier to play and navigate not only in terms of usage but also it will change the way it looks and feels.

=====================================
Русскую версию новых дневников разработчиков вы можете прочитать на нашем официальном сайте.
2 megjegyzés
Tovább
9 június 2014
In this video we give you a brief overview of Scenario Editor for Legends of Eisenwald. We will show you how to make maps manually, how to generate them automatically, how to place objects, setup armies and events.
http://youtu.be/qjqBmJnzEfI

Support forum on off.site
Support forum on Steam

===============================
В этом видео вы познакомитесь с азами создания сценариев для игры "Легенды Эйзенвальда". Мы кратко расскажем и покажем ручное рисование карты, автоматическую генерацию, расстановку объектов, настройку армий и событий, а также общих параметров сценария.
http://youtu.be/z6007ON9Kjs

Форум поддержки на офф.сайте
Форум поддержки на Steam
0 megjegyzés
Tovább
Értékelések
"The graphics are excellent, the presentation is sharp, the setting is pleasantly different from the norm and the gameplay is challenging but accessible. If Aterdux keep on down this road, they might well have a hit on their hands."
Indie Statik

"Legend of Eisenwald is looking to shape up quite nicely."
RPG Codex

"While the game is very much in beta, it has so much potential I'm giddy just thinking about it."
http://pc.mmgn.com/Articles/legends-of-eisenwald-preview

A játékról:
Legends of Eisenwald is an original mix of RPG and strategy. Gather your troops and embark on a dangerous journey to carve your name into the legends of the grim lands of Eisenwald where all the supernatural superstitions of medieval times are found to be true.
A Story-Driven Strategic RPG
Play through the extensive main campaign, containing seven scenarios, as well as a stand-alone scenario, The Masquerade. Each scenario, or chapter in the story, will take you to a new part of Eisenwald and present new challenges to overcome. The decisions you make affect how the story plays out with several paths and endings.
Original Turn-Based Battles
The combat system is heavily streamlined to create a dynamic form of turn-based battle that maintains all the tactical benefits of a turn-based system but a much faster pace of play that removes the frustrating moving between attacks.
Combat feels much more like an RPG than a strategy game but provides a greater degree of tactical depth and flexibility than similar games.
Low Fantasy Authentic Setting
Legends of Eisenwald is set in a believable medieval land featuring supernatural elements. Rather than the high fantasy worlds of elves and dragons, Eisenwald is based on the concept of how the world would look if all the medieval superstitions turned out to be true.
You'll encounter witchcraft, terrifying creatures and mystery on your journey but the world is driven primarily by human motivations and politics rather than mystical powers.
Highly Customisable Heroes and Units
Enjoy deep skill-trees and multiple options for customising your character and army as you progress through the game. Choose from three distinct hero classes in the Knight, Mystic or Baroness and then equip and develop your hero and troops to your personal taste and play style.
Huge Game With More Than 30 Hours of Gameplay
A main campaign with seven scenarios as well as the standalone scenario of The Masquerade will be included in the game at launch, providing more than 30 hours of gameplay and a significant amount of replay value beyond that due to the non-linear story and impact on the combat from your choice of hero class.
Key Features
RPG With Strategic Elements

Non-linear story That Reacts to Your Choices

Original Turn-based Combat System

Low Fantasy, Authentic Medieval Setting

Deep Skill Trees and Intricate Customisation Options

Huge Variety Of Weapons and Spells

Support for English and Russian language throughout, limited German and French support currently
Key Info on the Status of the Early Access Build vs. Final Release:
All the core gameplay mechanics are integrated and live, although we are still working on polishing and refining these based on your feedback.

English, German, French and Russian language support is in for the Prologue and Masquerade scenario. English and Russian support is in for The Way Home scenario.

Scenario Editor will be added soon

No sound effects are currently integrated but we are hoping to improve these shortly

No special visual effects integrated yet – final visuals will be much nicer

We're also aiming to integrate Steam achievements and trading cards shortly

The final game will contain a campaign consisting seven scenarios including the prologue and will support English, German and Russian languages at launch.

Windows 8 version is not fully tested, issues are possible
Rendszerkövetelmények
Minimum:


OS: XP, Vista, 7

Processor: 2 GHz dual-core CPU

Memory: 2 GB RAM

Graphics: 512 MB graphics memory, shader model 3 (Radeon HD 4600, GeForce 8600)

DirectX: Version 9.0c

Hard Drive: 2 GB available space

Additional Notes: Screen resolution 1280x1024; Dedicated video card required
Recommended:


OS: XP, Vista, 7

Processor: 3 GHz quad-core CPU

Memory: 4 GB RAM

Graphics: 1024 MB graphics memory, shader model 3 (GeForce GTX 260, Radeon HD 5770 or better)

DirectX: Version 9.0c

Hard Drive: 2 GB available space

Additional Notes: Screen resolution 1680x1050 or higher; Dedicated video card required
Hasznos vásárlói értékelések
Cím:
Legends of Eisenwald
Műfaj:
Korai hozzáférés
,
Indie
,
Szerepjáték
,
Stratégia
Fejlesztő:
Aterdux Entertainment
Kiadó:
Aterdux Entertainment
Megjelenés dátuma:
9 Okt 2013
Nyelvek:
| | Felület | Hang | Feliratozás |
| --- | --- | --- | --- |
| Angol | | | |
| Német | | | |
| Orosz | | | |
| Francia | | | |
Díjak
RPG France Editor's Choice