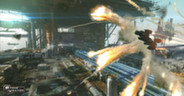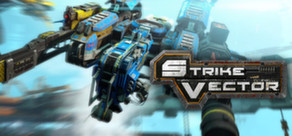 "Strike Vector is gorgeous shooter with strong mechanics and lots of customisation" 7.7/10 – IGN "it more than makes up for by being a gorgeous, intensely competitive experience that matches its aesthetic appeal with pure shooter satisfaction" – 7.
Release Date: Jan 28, 2014
Watch all 2 trailers
Buy Strike Vector 4-Pack
Includes four copies of Strike Vector - Send the extra copies to your friends!
August 4
Hello guys! You can now collect 6 cards for Strike Vector and get badges, profile backgrounds and emoticons!


12 comments
Read more
July 28


Hi folks,

we finally added the Demolition mode (formerly known as Bomber mode) to the list ! In that mode, you have to destroy a huge enemy structure while defending yours. You'll have to constantly adapt your style and switch between attack and defense on the fly.
It's very fun to play and it also leaves some space for the rookies so be sure to give it a try.

For the challenge addicts, we added one more challenge pack and it's pretty challenging.

Again we tweaked the amount of Kebs you get for a kill. Now, you get more depending on your target's metal (Steel +15, Silver +30, Gold +45, Platinum +60, etc).

Also, we fixed all the issues related to multi-monitor displays. It looks great on 3 monitors, I wish I could afford that...

We hope you'll enjoy all the new stuff and we wish you loads of fun playing Strike Vector.
Cheers.


Improvements and New Features

- Demolition game mode added.
- Warship map added.
- Brand new pack of challenges added (I mean CHALLENGE).
- Multi-monitor support : menus, huds and other display features now support ultra-wide resolutions. (see Multi-monitor support)
- Kebs For Kill amount now includes prestige metal of the target (a player with Steel rewards more than one with rust, and so on).
- Kebs For Kill displayed in white on the HUD for a better readability.
- DeathMatch HUD displays Kills and Rank.
- Team score progress bar revamped for all game modes.
- Breifing/Debriefing screens : PlayerProfile buttons added (now you know who you played with).
- Antonio calls system added.
- On-HUD score display revamped.
- No life bar display on ghosted Vectors.
- Menus : Training Flight now under Solo Game.
- Menus : Training Flight map selection fix.
- Input Options Menu : Smooth mouse option added.
- Server Find Menu : Server list now sorted on the fly, with bug fixes.
- Challenge mode : the subsequent gate is now totally invisible to avoid confusion.
- Challenge mode : the gate's objective text and visibility are improved.
- Challenge mode : breifing text modified.
- Challenge mode : Tutorial challenges renamed as "training"
- Challenge mode : Basic training challenges now with Antonio assistance.
- Challenge mode : Training drone first shoot time fix.
- Swarm missile Hack protection (thanks BOOst).
- Destructibles don't take blast damage behind walls.
- Suicide command disabled.
- Hit feedbacks on destructible objects removed when they're destroyed.
18 comments
Read more
About the Game
"Strike Vector is gorgeous shooter with strong mechanics and lots of customisation"
7.7/10 – IGN
"it more than makes up for by being a gorgeous, intensely competitive experience that matches its aesthetic appeal with pure shooter satisfaction"
–
7.5/10 –destructoid
"Strike Vector does one thing - frantic multiplayer combat action - and does it really well" Luke Plunkett
–
Kotaku
"I do, however, know one thing for sure: Strike Vector The Videogame is unarguably stunning" Nathan Grayson
–
Rockpapershotgun
"Strike Vector est la petite bombe indépendante sans prétention que l'on ne voyait pas venir"
17/20 – jeuxvideo.com
"BELLISSIMO, Strike Vector è uno sparatutto indipendente adrenalinico, appagante e assolutamente spaziale. In tutti i sensi"
9.2/10 – IGN.it
"Amateur de sensations fortes, à vos souris. Si vous cherchiez du Quake en altitude, de l'instagib en vaisseau spatial, le titre qu'il vous faut est enfin dispo : ça s'appelle Strike Vector et c'est pour les joueurs hardcore dont l'estomac est bien accroché"
4/5 – gameblog.fr
Strike Vector
is a Brutal aerial FPS that will see you test your skills online against other players in the tradition of Quake 3 and Unreal Tournament. The game offers an hardcore learning curve for those who don't fear to die a lot at first but who will get a massive rewarding feeling when they will master the game and dominate the battlefield.
all New Features Will Be Free
Ragequit Corporation will offer free downloadable content after the game release. We want to make sure that every person playing Strike Vector have access to the same content regardless of when they will get the game.
gameplay
With a distinct old school feel, reminiscent to games such as Crimson Skies, Quake 3 and Unreal Tournament, Strike Vector will let you test your reflexes and skills against your friends. Team flight and mutual assistance is required to fulfill your missions but individual aiming and piloting skills are also mandatory.
two Movement Modes
You fly the Vector, the lastest hyper-speed VTOL, highly customizable and manoeuvrable Jet fighter. Your enhanced version can instantly switch between 2 movement modes :
Jet Mode: reach high-speed, intercept opponents and fast evade incoming projectiles.

Stationary Mode: strafe in all directions with increased precision, hold and defend key locations.
This unique gameplay allow you to fight face to face with your enemies like classical FPS, or playing dog fighting.
game Modes
Targets to reach, positions to defend, enemy structures to destroy … Players may select among famous game modes such as deathmatch, team domination, team deathmatch, and Bounty Hunter! More game modes are coming soon!
build Your Own vector
Equip your Vector in your own style with two differents weapons to get the edge on various situations or be a specialist by choosing the same weapon for each side of the craft. Hundreds of combinations are available, making your ship the only kind of his genre on the battlefield.
Depending on your weapons and perks choice, your playstyle will be different from another player, you create your own class :
Fast and stealthy to capture positions and hide in massive structure to surprise your enemies.
Heavy and powerful to defend strategic points or assault enemies defenses.
Customize your ship appearance among various type of skin decorations and put a gadget in your cockpit to make you feel like you are at home. A mach 3 home!
varied Environments
You will play through gigantic flying structure like aerial oil platforms, slums, cities, factories, abandonned stations and much more and find many destructible objects like giant cargos or pressure vessels and use them to trap players in deadly explosions, block or open passages and fulfill your mission objectives.
Use your environment to avoid and escape homing missiles by adopting a risky flying style. Play the way you want with various game mode adapted for a 360° warfare
Eliminate every players in classic deathmatch, support your team in domination or the greedier and more...
STRIKE VECTOR FORUM : http://www.strikevector.net/forum/
STRIKE VECTOR OST : http://themaravers.bandcamp.com/
System Requirements
Minimum:


OS: Windows XP

Processor: 2.0+ GHz processor

Memory: 2 GB RAM

Graphics: SM3-compatible video card

DirectX: Version 9.0

Hard Drive: 5000 MB available space

Additional Notes: Xfire and SLI not supported
Recommended:


OS: Windows 7

Memory: 4 GB RAM

Graphics: NVIDIA 8000 series or higher graphics card

DirectX: Version 11

Hard Drive: 5000 MB available space

Additional Notes: Xfire and SLI not supported
Helpful customer reviews
Awards
EIGD
Winner of prize of innovation