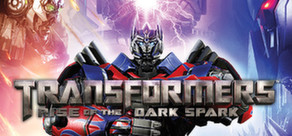 Spiele deine Lieblings-Charaktere aus dem 4. TRANSFORMERS-Film und den Cybertron-Universen!
Veröffentlichung: 24 Juni 2014
TRANSFORMERS: Rise of the Dark Spark kaufen
Inhalte zum Herunterladen für dieses Spiel
TRANSFORMERS: Dark Spark Battle Pack kaufen
Enthält 5 Artikel: TRANSFORMERS™: Rise of the Dark Spark - Thundercracker Character, TRANSFORMERS™: Rise of the Dark Spark - Skywarp Character, TRANSFORMERS™: Rise of the Dark Spark - Glass Gas Cannon Weapon, TRANSFORMERS™: Rise of the Dark Spark - Electro Bolter Weapon, TRANSFORMERS™: Rise of the Dark Spark - Stinger Character
Neuer DLC verfügbar
Dunkelspark-Kampf-Pack
Vernichte deine Feinde mit diesem kombinierten Waffen- und Charakter-Pack.




Skywarp: Er war nie an Macht oder Eroberung interessiert, sondern nur am Streben nach Wissen. Er schloss sich den Decepticons an, um mächtige Waffen und experimentelle Systeme für den Kampf zu entwickeln.

Thundercracker: Ein Decepticon-Seeker: Ein Meister der Flugkunst und des Luftkampfs. Er lief gemeinsam mit Starscream und Skywarp zu den Decepticons über und dient nun Megatron.

Stinger: Ein stiller, geheimnisvoller Bot. Seine Ziele sind unklar, aber sein Können im Kampf ist nicht zu unterschätzen. Vielleicht steckt mehr hinter Stinger als der erste Blick vermuten lässt.

Glasgaskanone: Erzeugt mitten in der Luft ein Störfeld, das Gegner festhält und wehrlos macht, bevor sie mit voller Wucht auf den Boden geschleudert werden.

Elektrobolzengewehr: Verschießt tödliche harpunenartige Geschosse. Die kinetische Energie der Geschosse wirft Gegner beim Aufprall zurück und kann sie sogar an Wänden festnageln.
Über das Spiel
Reise in der Rolle deiner Lieblings-Charaktere aus "TRANSFORMERS: Ära des Untergangs" und den Cybertron-Universen durch Raum und Zeit!
Enthält mehr als 40 spielbare Charaktere aus zwei unterschiedlichen Universen

Wechsle jederzeit die Form: Müheloser Wechsel zwischen Roboter- und Fahrzeugform

Mehr als im Film - kämpfe dich in einer unvergesslichen Schlacht um den Dunkelspark durch Erd- und Cybertron-Universen

Epische Mehrspieler-Kämpfe: Erweiterter 4-Spieler-Koop-Online-Eskalationsmodus mit neuen verbesserbaren Verteidigungen und herausfordernden starken Gegnern

Neues Freischaltsystem: Das Freischaltsystem umfasst Kampagne und Eskalation, sodass Spieler Belohnungen freischalten können, die ihrem Fortschritt in beiden Modi dienlich sind.
Systemvoraussetzungen
Minimum:


OS: Windows® Vista/7/8

Processor: Intel Core 2 Duo 2.6 GHz or AMD Phenom X3 8750

Memory: 2 GB RAM

Graphics: GeForce 8800 GT series with 512 MB RAM or ATI Radeon HD 4850 with 512 MB RAM

DirectX: Version 9.0c

Hard Drive: 10 GB available space

Sound Card: DirectX Compatible Sound Card

Additional Notes: Broadband connection and service required for Multiplayer Connectivity. Internet connection required for activation.
TRANSFORMERS and all related characters are trademarks of Hasbro and are used with permission. ©2014 Hasbro. All Rights Reserved. ©2014 Paramount Pictures Corporation. All Rights Reserved. Licensed by Hasbro. General Motors trademarks used under license to Hasbro. All rights reserved. Game © 2014 Activision Publishing, Inc. ACTIVISION is a registered trademark of Activision Publishing, Inc. All rights reserved. ESRB rating icons are registered trademarks of the Entertainment Software Association (ESA) and may not be used without permission of the ESA. All other trademarks and trade names are the properties of their respective owners.
Hilfreiche Kundenreviews
Titel:
TRANSFORMERS™: Rise of the Dark Spark
Genre:
Action
Entwickler:
Edge of Reality
Publisher:
Activision
Veröffentlichung:
24 Juni 2014
Sprachen:
| | Oberfläche | Ton | Untertitel |
| --- | --- | --- | --- |
| Deutsch | | | |
| Englisch | | | |
| Französisch | | | |
| Italienisch | | | |
| Spanisch | | | |
| Russisch | | | |
Alle 6 unterstützten Sprachen anzeigen