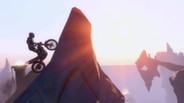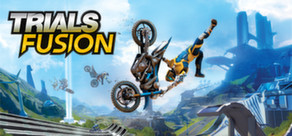 Trials Fusion is the gold-standard platform racer for the next-generation of gaming. Built upon the Trials franchise's proven gameplay foundations, Fusion challenges players endlessly in both classic and all-new ways.
Data wydania: 24 Kwi 2014
Obejrzyj film HD
Kup Trials Fusion - Deluxe Edition
Kup Trials Fusion Season Pass
Click Here for more information on the Season Pass.
24 Lipiec 2014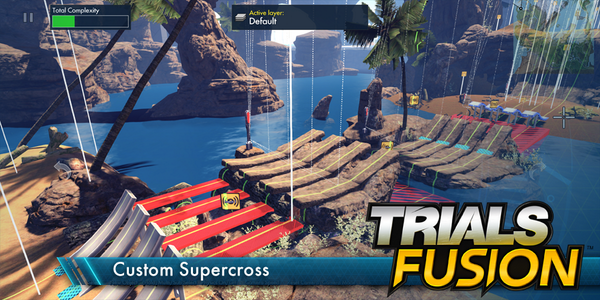 Greetings Trials riders,

Our first DLC Riders of the Rustlands releases July 29th, but even before the first of 6 DLCs release next week, we're going to have some new stuff coming to Trials Fusion in a new update. Not only will this update be filled with fixes and improvements for Tournaments, Track Central, the Track Editor and more but we are also adding a much requested feature. Track builders will now have the option to create custom Supercross tracks for the Local Multiplayer mode. Throw down 4 lanes of motorcross madness in the editor then invite your friends over and challenge them on your devious creations. The update is available today (Thursday, July 24th).

"What else does it have?" you ask, check out the full patch notes HERE.

Komentarzy: 3
Więcej
18 Czerwiec 2014


Hello Riders!

It's time for our first Feature Pack which includes a newly designed feature in Trials Fusion! Some of you have guessed at it being the return of Tournaments, and while that is correct, there have been quite a few changes to how this feature works.

This free update comes with some minor and major changes that all of you have been requesting. We are definitely listening! We also want to be clear that we are still working on tons of more features, more fixes, and more updates.

Track Central is going to be a big focus for us and we want to assure you that we are dedicated to providing excellent support to the awesomely creative fans out there.

You can read and discuss all of the changes HERE.

Komentarzy: 6
Więcej
Deluxe Edition
Kup Edycję Deluxe już teraz aby otrzymać grę i przepustkę sezonową!

Dodaj jeszcze więcej szaleństwa do swojej gry dzięki zawartości dodatkowej! Season Pass zapewnia ci cały 1 rok dodatkowej zawartości, do maja 2015 roku gwarantujemy 6 pakietów DLC. Kup Season Pass, aby otrzymać wszystkie 6 pakietów DLC, zawierających nowe trasy, nowe elementy motocykli, sprzęt dla motocyklistów, jak również nowe elementy do edytora tras. W każdym pakiecie DLC znajdziesz też nowe wydarzenie w trybie kariery.
To nie wszystko: dzięki Season Pass znajdziesz jeden wyjątkowy przedmiot - specjalny strój! Bądź wyjątkowy w świecie Trials Fusion i zdobądź szacunek swoich rywali dzięki tej nowej i wyjątkowej skórce dla twojego motocyklisty.
Jeśli kupisz Season Pass, nie kupuj już samodzielnych pakietów DLC, bo wtedy zapłacisz za nie ponownie. Ostatnie z 6 pakietów DLC powinno być dostępne przed majem 2015 roku.
Informacje o grze
"The most ambitious Trials yet." – EDGE

"The next step in the franchise's evolution." – CVG

"Once the Trials bug has bitten you, it's hard to go back." – GameSpot

Take on an unlimited array of platform-racing challenges in the unreal world of Trials Fusion. Using your skills to traverse across obstacle-laden, ramp-ridden courses, you must strive to set track records against the best Trials players around the globe. Whether you're racing alone, with friends, or in a global tournament, competition is always around you. And racing on official courses is just the beginning. A rich world of custom courses — built by some of the most creative and skilled content creators in gaming — awaits those who are continually searching for a new, insane track to conquer. And with long-term support of fresh features and content, the Trials experience will continue to expand and challenge players in new and exhilarating ways.



Key Features

BEST-IN-CLASS PLATFORM RACING
Rock-solid motocross physics and reality-bending course designs come together for an over-the-top racing experience that no other game can provide. Show your fearless side with the brand new FMX tricks system, and choose your path towards victory on branching courses. The finish line is the ultimate goal, but the challenge is everything before it.

UBIQUITOUS COMPETITION
Whether you're racing alone, with friends, or in a worldwide tournament, competition is all around you. Its variety and depth will offer limitless ways to scratch your competitive itch, and the opportunities keep coming. With ongoing support for special tournaments and events, team racing, and much more coming soon, the competition is never ending.

VIBRANT USER-GENERATED CONTENT COMMUNITY
Immerse yourself in a boundless Trials experience with custom track designs made possible by the in-game Editor Mode. With a user-generated content community that boasts some of the most creative and skilled track creators in the world, Trials Fusion offers new track after new track and opens the door to a world of possibilities only the crazy minds of Trials fans can bring.
Wymagania systemowe
Minimum:


OS: Windows Vista SP2, Windows 7 SP1, Windows 8 or Windows 8.1

Processor: Intel Core i3 550 @ 3.2 GHz or AMD Athlon II X4 620 @ 2.6 GHz

Memory: 3 GB RAM

Graphics: NVIDIA GeForce GTS450 or AMD Radeon HD5770 (1024MB VRAM with Shader Model 5.0 or higher)

DirectX: Version 11

Hard Drive: 8 GB available space

Sound Card: DirectX 10.1 Compatible Sound Card

Additional Notes: DirectX 10.1 or higher required
Recommended:


OS: Windows Vista SP2, Windows 7 SP1, Windows 8 or Windows 8.1

Processor: Intel Core i5 2400s @ 2.5 GHz or AMD Phenom II X4 955 @ 3.2 GHz

Memory: 4 GB RAM

Graphics: NVIDIA GeForce GTX 560 Ti or better / AMD Radeon HD7850 or better

DirectX: Version 11

Hard Drive: 8 GB available space

Sound Card: DirectX 10.1 Compatible Sound Card

Additional Notes: DirectX 10.1 or higher required
2014 Ubisoft Entertainment. All rights Reserved. Trials Fusion, Ubisoft and the Ubisoft logo are trademarks of Ubisoft Entertainment in the US and/or other countries.
Pomocne recenzje klientów