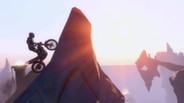 Trials Fusion offre l'esperienza di un'emozionante corsa in moto alla nuova generazione di console. Basata sulle consolidate dinamiche di gioco della serie Trials, Fusion sfida le abilità dei giocatori in un vasto numero di tracciati e prove, sia classici che completamente nuovi.
Data di rilascio: 24 apr 2014
Guarda video HD
Acquista Trials Fusion - Deluxe Edition
Acquista Trials Fusion Season Pass
Click Here for more information on the Season Pass.
Contenuti scaricabili per questo gioco
19 agosto
Empire of the Sky, the next DLC for Trials Fusion is now available on the Steam Store, and will be available globally as a digital download for $4.99 (free for Season Pass holders) on the Xbox One, Xbox 360, PS4, and PC. This DLC is the second installment of six DLCs that will be coming in Trials Fusion's first season.




This DLC will be free for Season Pass holders who will be receiving five additional packs that will be released through May 2015 (inlcuding Riders of the Rustlands). You are still able to purchase the Season Pass for Trials Fusion from the Steam Store Page or you can pick up the DLC by heading directly to the Empire of the Sky DLC page.




Let's dive right into it and take a look at what you are getting:

Nine exciting new tracks, including:

Six Classic Trials Tracks

One new Supercross (local multiplayer) track

One new Skill Game "Freefall"

One new FMX Track, "High Society"
Eighteen new Track Challenges
Each Classic Trials Track features three surprising Track Challenges

Track Challenges range from secret locations to surprising mini-games, such as:

Crash the dinner party

Skydive with the Penguins!

Please the Paparazzi!
Dozens of new Editor Objects, including:
Anti-gravity technology

Resort homes

Force fields

Floating platforms
There are four more DLC packs planned for Trials Fusion's first season. Stay tuned to keep up to date on all things Trials Fusion; you never know when we'll have more info to drop.
16 commenti
Ulteriori informazioni
30 luglio
Rev up your engines, Riders of the Rustlands is available right now on Steam & all console platforms! Head to the Store Page or visit the Riders Of The Rustlands page to pick up this new DLC.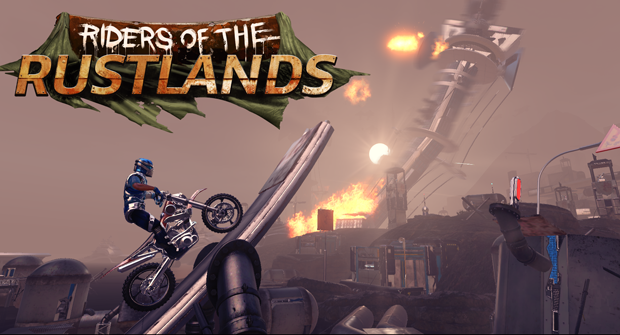 Riders of the Rustlands
It's time to continue your journey of racing dominance on the leader boards by venturing out into the fringes of civilization, leaving the cityscapes and high-tech regions in your dust. In the Rustlands, you will encounter the home of people who have been ignored and forgotten by their government, people forced to scavenge through the shambles of once-thriving facilities in an effort to survive outside of the gleaming high-rises and vast cities. Warring factions, neglected laboratories and tetanus boosters are a way of life in the Rustlands.
What You Will Receive
Riders of the Rustlands brings ten new tracks to Trials Fusion, adding six medium-and-up difficulty classic Trials Tracks, two Supercross Tracks, one Skill Game, and one FMX Track. There are also 18 Track Challenges, with new secret locations, and additional squirrels to be discovered, as well as 5 new achievements to earn. Track creators will find a nice selection of new Rustlands pieces in the Track Editor to use in their custom content. You can pick up the Riders of the Rustlands now on your platform of choice, or purchase the Season Pass and secure all six downloadable content packs that will be available over the next year at a savings of over 30%.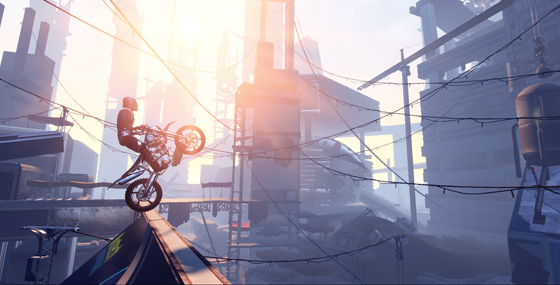 Future Content
With over one million players, Trials Fusion continues to gain traction as riders strive for perfection and leader board position on each course. The team at RedLynx Studios has no plan to slow down; five more downloadable content packs are being created including Empire of the Sky, the next piece of DLC set in floating islands, as well as free Feature Pack updates coming throughout the year that introduce exciting new features to the game.
Discuss this new Trials Fusion DLC
here
. For the latest on Trials Fusion, visit Trials
on the web
, follow
@TrialsGames
on Twitter,
Trials Official
on Facebook, and catch the official live streams on
Twitch
.
11 commenti
Ulteriori informazioni
Deluxe Edition
Acquista ora la Deluxe Edition: include gioco completo e Season Pass!

Aggiungi altra follia al gioco grazie ai contenuti aggiuntivi! Il Season Pass ti offre 1 anno di contenuti aggiuntivi e include 6 DLC che saranno disponibili entro il maggio 2015. Acquista il Season Pass per ricevere tutti i 6 DLC, con nuovi tracciati, pezzi per le moto, equipaggiamenti per il pilota, oggetti per l'editor dei tracciati, e un nuovo evento per la modalità Carriera in ciascun DLC.
Infine, ciliegina sulla torta, nel Season Pass è incluso un oggetto esclusivo: la tuta Antiradiazioni Crater! Distinguiti nell'universo di Trials Fusion e guadagnati il rispetto dei tuoi pari grazie a questa nuova, esclusiva skin per il tuo pilota.
Se acquisti il Season Pass, non comprare anche i pacchetti DLC, o ti saranno addebitati.
La pubblicazione dell'ultimo dei 6 pacchetti DLC è prevista entro il maggio 2015.
Informazioni sul gioco
"Assolutamente credibile ed eccezionalmente appassionante" – Everyeye.it

"Non sbaglia un colpo" - IGN.com

"Un Trials senza limitazioni" - Destructoid.com

Affronta una serie interminabile di sfide nel mondo surreale di Trials Fusion. Utilizza le tue abilità per attraversare ostacoli e rampe, impegnati per segnare record sempre più alti e poter battere campioni di Trials in tutto il mondo. Sia che tu stia gareggiando da solo, contro gli amici o in un torneo mondiale, la competizione è sempre presente. Percorrere i tracciati classici è solo l'inizio. Un mondo di piste inedite – create da alcuni tra i più creativi designer del settore – aspetta i giocatori in cerca di una nuova, folle strada da percorrere. Grazie alla continua disponibilità di nuovi contenuti per un lungo periodo, l'esperienza di Trials continuerà ad espandersi e a crescere nel tempo.
Caratteristiche principali

IL MIGLIOR GIOCO DI QUESTO GENERE
Grazie ad un attento studio della fisica, l'esperienza di gioco che Trials Fusion offre è unica. Sfida le leggi della gravità grazie al nuovo sistema di tricks FMX e percorri la strada verso la vittoria su tracciati sempre nuovi. Il traguardo è solo l'obiettivo finale, la vera sfida è arrivarci!

GAREGGIA, SFIDA, COMPETI!
Sia che tu stia giocando da solo, con gli amici o in un torneo mondiale, Trials Fusion è una sfida continua. La vasta scelta di tracciati e modalità di gioco offre spunti sempre nuovi per la community. Inoltre, con il continuo supporto a tornei, eventi speciali, competizioni a squadre e molto altro, i tuoi giorni in pista non avranno fine!

UN'AMPIA COMMUNITY PER CONTENUTI SEMPRE NUOVI
Immergiti nella Trials experience provando una delle piste create e condivise in rete dagli utenti grazie all'Editor disponibile nel gioco. I contenuti generati dalla community permettono di moltiplicare all'infinito il divertimento di Trials Fusion, mettere alla prova la creatività degli appassionati di Trials e condividere sfide sempre nuove. In Trials Fusion niente è impossibile, basta crearlo!
Requisiti di sistema
Minimum:


OS: Windows Vista SP2, Windows 7 SP1, Windows 8 or Windows 8.1

Processor: Intel Core i3 550 @ 3.2 GHz or AMD Athlon II X4 620 @ 2.6 GHz

Memory: 3 GB RAM

Graphics: NVIDIA GeForce GTS450 or AMD Radeon HD5770 (1024MB VRAM with Shader Model 5.0 or higher)

DirectX: Version 11

Hard Drive: 8 GB available space

Sound Card: DirectX 10.1 Compatible Sound Card

Additional Notes: DirectX 10.1 or higher required
Recommended:


OS: Windows Vista SP2, Windows 7 SP1, Windows 8 or Windows 8.1

Processor: Intel Core i5 2400s @ 2.5 GHz or AMD Phenom II X4 955 @ 3.2 GHz

Memory: 4 GB RAM

Graphics: NVIDIA GeForce GTX 560 Ti or better / AMD Radeon HD7850 or better

DirectX: Version 11

Hard Drive: 8 GB available space

Sound Card: DirectX 10.1 Compatible Sound Card

Additional Notes: DirectX 10.1 or higher required
2014 Ubisoft Entertainment. All rights Reserved. Trials Fusion, Ubisoft and the Ubisoft logo are trademarks of Ubisoft Entertainment in the US and/or other countries.
Recensioni utili dai clienti