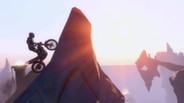 Trials Fusion is the gold-standard platform racer for the next-generation of gaming. Built upon the Trials franchise's proven gameplay foundations, Fusion challenges players endlessly in both classic and all-new ways.
Julkaisupäivä: 24. huhti, 2014
Katso HD-video
Osta Trials Fusion - Deluxe Edition
Osta Trials Fusion Season Pass
Click Here for more information on the Season Pass.
Tämän pelin lisäsisältö
19. elokuu
Empire of the Sky, the next DLC for Trials Fusion is now available on the Steam Store, and will be available globally as a digital download for $4.99 (free for Season Pass holders) on the Xbox One, Xbox 360, PS4, and PC. This DLC is the second installment of six DLCs that will be coming in Trials Fusion's first season.




This DLC will be free for Season Pass holders who will be receiving five additional packs that will be released through May 2015 (inlcuding Riders of the Rustlands). You are still able to purchase the Season Pass for Trials Fusion from the Steam Store Page or you can pick up the DLC by heading directly to the Empire of the Sky DLC page.




Let's dive right into it and take a look at what you are getting:

Nine exciting new tracks, including:

Six Classic Trials Tracks

One new Supercross (local multiplayer) track

One new Skill Game "Freefall"

One new FMX Track, "High Society"
Eighteen new Track Challenges
Each Classic Trials Track features three surprising Track Challenges

Track Challenges range from secret locations to surprising mini-games, such as:

Crash the dinner party

Skydive with the Penguins!

Please the Paparazzi!
Dozens of new Editor Objects, including:
Anti-gravity technology

Resort homes

Force fields

Floating platforms
There are four more DLC packs planned for Trials Fusion's first season. Stay tuned to keep up to date on all things Trials Fusion; you never know when we'll have more info to drop.
16 kommenttia
Lue lisää
30. heinäkuu
Rev up your engines, Riders of the Rustlands is available right now on Steam & all console platforms! Head to the Store Page or visit the Riders Of The Rustlands page to pick up this new DLC.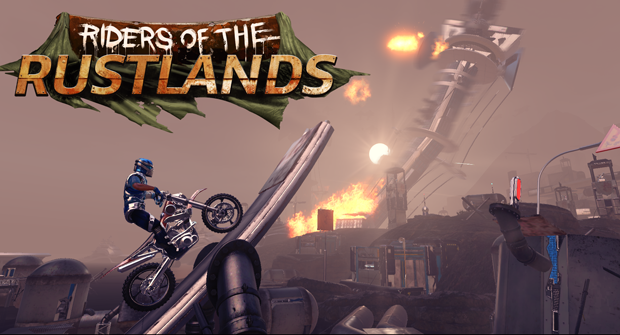 Riders of the Rustlands
It's time to continue your journey of racing dominance on the leader boards by venturing out into the fringes of civilization, leaving the cityscapes and high-tech regions in your dust. In the Rustlands, you will encounter the home of people who have been ignored and forgotten by their government, people forced to scavenge through the shambles of once-thriving facilities in an effort to survive outside of the gleaming high-rises and vast cities. Warring factions, neglected laboratories and tetanus boosters are a way of life in the Rustlands.
What You Will Receive
Riders of the Rustlands brings ten new tracks to Trials Fusion, adding six medium-and-up difficulty classic Trials Tracks, two Supercross Tracks, one Skill Game, and one FMX Track. There are also 18 Track Challenges, with new secret locations, and additional squirrels to be discovered, as well as 5 new achievements to earn. Track creators will find a nice selection of new Rustlands pieces in the Track Editor to use in their custom content. You can pick up the Riders of the Rustlands now on your platform of choice, or purchase the Season Pass and secure all six downloadable content packs that will be available over the next year at a savings of over 30%.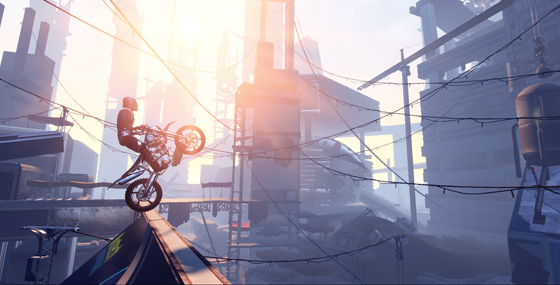 Future Content
With over one million players, Trials Fusion continues to gain traction as riders strive for perfection and leader board position on each course. The team at RedLynx Studios has no plan to slow down; five more downloadable content packs are being created including Empire of the Sky, the next piece of DLC set in floating islands, as well as free Feature Pack updates coming throughout the year that introduce exciting new features to the game.
Discuss this new Trials Fusion DLC
here
. For the latest on Trials Fusion, visit Trials
on the web
, follow
@TrialsGames
on Twitter,
Trials Official
on Facebook, and catch the official live streams on
Twitch
.
11 kommenttia
Lue lisää
Deluxe Edition
Hanki pelin täysversion ja Season Passin sisältävä Deluxe Edition nyt!

Lisää hulluttelua peliisi lisäsisällön avulla! Season Pass tarjoaa vuoden verran lisäsisältöä ja tarjoaa kuusi ladattavaa sisältöpakettia ennen toukokuuta 2015. Hanki Season Pass saadaksesi kaikki kuusi ladattavaa sisältöpakettia, joiden mukana tulee uusia ratoja, pyöränosia, ajajan varusteita ja rataeditorin esineitä. Jokainen ladattava sisältöpaketti sisältää myös uuden uratilan tapahtuman.
Season Pass sisältää näiden lisäksi myös yhden rajoitetun esineen: Crater Hazmat Suite! Erotu Trials Fusion -maailmassa ja nauti tovereidesi kunnioituksesta tämän uuden ja rajoitetun ajajaolemuksen avulla.
Älä osta erillisiä ladattavia sisältöpaketteja ostettuasi tämän Season Passin, sillä sinua veloitetaan niistä.
Viimeisen kuudesta sisältöpaketista odotetaan saapuvan ennen toukokuuta 2015.
Tietoja pelistä
"The most ambitious Trials yet." – EDGE

"The next step in the franchise's evolution." – CVG

"Once the Trials bug has bitten you, it's hard to go back." – GameSpot

Take on an unlimited array of platform-racing challenges in the unreal world of Trials Fusion. Using your skills to traverse across obstacle-laden, ramp-ridden courses, you must strive to set track records against the best Trials players around the globe. Whether you're racing alone, with friends, or in a global tournament, competition is always around you. And racing on official courses is just the beginning. A rich world of custom courses — built by some of the most creative and skilled content creators in gaming — awaits those who are continually searching for a new, insane track to conquer. And with long-term support of fresh features and content, the Trials experience will continue to expand and challenge players in new and exhilarating ways.



Key Features

BEST-IN-CLASS PLATFORM RACING
Rock-solid motocross physics and reality-bending course designs come together for an over-the-top racing experience that no other game can provide. Show your fearless side with the brand new FMX tricks system, and choose your path towards victory on branching courses. The finish line is the ultimate goal, but the challenge is everything before it.

UBIQUITOUS COMPETITION
Whether you're racing alone, with friends, or in a worldwide tournament, competition is all around you. Its variety and depth will offer limitless ways to scratch your competitive itch, and the opportunities keep coming. With ongoing support for special tournaments and events, team racing, and much more coming soon, the competition is never ending.

VIBRANT USER-GENERATED CONTENT COMMUNITY
Immerse yourself in a boundless Trials experience with custom track designs made possible by the in-game Editor Mode. With a user-generated content community that boasts some of the most creative and skilled track creators in the world, Trials Fusion offers new track after new track and opens the door to a world of possibilities only the crazy minds of Trials fans can bring.
Järjestelmävaatimukset
Minimum:


OS: Windows Vista SP2, Windows 7 SP1, Windows 8 or Windows 8.1

Processor: Intel Core i3 550 @ 3.2 GHz or AMD Athlon II X4 620 @ 2.6 GHz

Memory: 3 GB RAM

Graphics: NVIDIA GeForce GTS450 or AMD Radeon HD5770 (1024MB VRAM with Shader Model 5.0 or higher)

DirectX: Version 11

Hard Drive: 8 GB available space

Sound Card: DirectX 10.1 Compatible Sound Card

Additional Notes: DirectX 10.1 or higher required
Recommended:


OS: Windows Vista SP2, Windows 7 SP1, Windows 8 or Windows 8.1

Processor: Intel Core i5 2400s @ 2.5 GHz or AMD Phenom II X4 955 @ 3.2 GHz

Memory: 4 GB RAM

Graphics: NVIDIA GeForce GTX 560 Ti or better / AMD Radeon HD7850 or better

DirectX: Version 11

Hard Drive: 8 GB available space

Sound Card: DirectX 10.1 Compatible Sound Card

Additional Notes: DirectX 10.1 or higher required
2014 Ubisoft Entertainment. All rights Reserved. Trials Fusion, Ubisoft and the Ubisoft logo are trademarks of Ubisoft Entertainment in the US and/or other countries.
Hyödylliset arvostelut