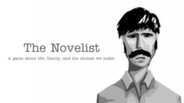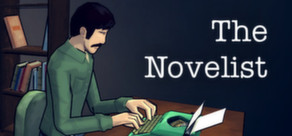 Finalist - Outstanding Achievement in Story: 2014 DICE Awards Finalist - Gamer's Voice Award: SXSW Gaming Expo The Novelist asks one central question: can you achieve your dreams without pushing away the people you love?
Release Date: Dec 10, 2013
Watch all 2 trailers
April 7th, 2014
Hey everyone, just a quick note to let you know that the game is 50% off this week as part of Steam's Weeklong Deals.

There's also a new patch to the game with two important changes.

You can read more about everything here.
3 comments
Read more
February 14th, 2014
Hey everyone, I know it's been a while since I've posted but today's a big day for The Novelist!

First off, the game is currently on sale for 40% off to celebrate Valentine's Day. The sale will run from today, February 14th, at 10am PST until Sunday February 16th at 10am PST, so take advantage of the discount this weekend and tell your friends to do the same!

But the sale isn't the only news; today there's also a big update to the game that adds two features players have been asking for: customizable controls and a Linux version. There are also a number of bug fixes in the build. Here are the full patch notes:

Major Changes

Added Linux support

Added customizable controls

Upgraded to Unity 4.3, which brings performance and memory improvements
Minor Changes
Improved rendering of thoughts above character heads to reduce popping

Added animation to the loading screen

Disabled the ability to flicker lights during sleeping sequences

Improved audio handling of character interactions

Fixed a bug where menu option descriptions would incorrectly show

Fixed a bug where resolutions below 800x600 could be selected

Fixed a bug where "The Story So Far" text would be misaligned on Retina displays

Fixed a rare bug where players would not be able to view objectives if they quit during a specific point in the intro

Fixed a bug where some UI elements would scale incorrectly in high resolutions

Fixed a typo in the objective screen

Fixed a black outline on the loading screen in some resolutions

Fixed a bad lighting seam in the art studio

Fixed a typo in a playtester's name (sorry, Aaron!)
The patch brings the game to version 1.1. It was fun bringing the game up to this latest release, and I'm very happy with the polish and performance it adds.
And there are a few other bits of Novelist news. First, I'll have the game at the SXSW Gaming Expo, where it's been nominated for the Gamer's Voice Award. The show runs from March 7th to 9th, so if you're in Austin stop by the expo floor and say hi. It's free!
And lastly, I'll be talking about the dynamic narrative systems in The Novelist at GDC. If you're attending the show and you want to know how the underlying story systems in the game work, I'll be explaining them in detail. It's going to be a busy month and a half, so I'm looking forward to some downtime once GDC wraps up.
That's all I've got for now. As for what's next, I'm toying with a few ideas. New platforms for The Novelist? Novelist-related apps? Kicking off a new game altogether? I'm not quite sure yet, but it's an exciting time. Thanks, as always, to everyone who's supported the game or shared a kind word. I hope you enjoy the new update!
5 comments
Read more
Reviews
"The Novelist affected me, deeply and painfully ... I frequently cried at the outcomes of the decisions I made for the Kaplan family."
Rock Paper Shotgun

"While it arrives on the heels of other notable non-combat, story-based games, it still manages to feel fresh and emotionally resonant. This is thanks to sincere, realistic writing and an inspired approach to player choice, which has you picking sides and making difficult compromises in the context of family conflicts."
Polygon

"The Novelist is the most personal and beautiful game I have ever experienced. The creator, Kent Hudson, has quite plainly poured his heart and soul into this game, and the outcome is genuinely something to behold. Never before have I felt so emotionally involved in the characters, their situation and potential future, as in this truly player-driven story."
10 out of 10 – GameGrin

About the Game
Finalist - Outstanding Achievement in Story:
2014 DICE Awards
Finalist - Gamer's Voice Award:
SXSW Gaming Expo
The Novelist asks one central question: can you achieve your dreams without pushing away the people you love? The game focuses on Dan Kaplan, a novelist struggling to write the most important book of his career while trying to be the best husband and father he can be. The Kaplans have come to a remote coastal home for the summer, unaware that they're sharing the house with a mysterious ghostly presence: you.
Read the family's thoughts. Explore their memories. Uncover their desires and intervene in their lives. But stay out of sight; you can't help the Kaplans if they know there's a ghost in the house. It's up to you to decide how Dan's career and family life will evolve, but choose carefully; there are no easy answers, and every choice has a cost.
Dan's relationships – to his work, his wife, and his son – react and shift in response to your choices. With a different sequence of events in every playthrough, The Novelist gives life to a unique experience each time you play.
The decisions you make will define the Kaplans' lives, but they may also tell you something about yourself.
PC System Requirements
Minimum:


OS: Windows XP SP2 or higher

Processor: 1.8 GHz

Memory: 2 GB RAM

Graphics: 256 MB VRAM video card

Hard Drive: 800 MB available space
Recommended:


OS: Windows 7

Processor: 2 GHz

Memory: 4 GB RAM

Graphics: 512 MB VRAM video card
Mac System Requirements
Minimum:


OS: OS X Lion (10.7) or higher

Processor: 1.8 GHz

Memory: 2 GB RAM

Graphics: 256 MB VRAM video card

Hard Drive: 800 MB available space
Recommended:


OS: OS X Mountain Lion (10.8)

Processor: 2 GHz

Memory: 4 GB RAM

Graphics: 512 MB VRAM video card
Linux System Requirements
Minimum:


Processor: 1.8 GHz

Memory: 2 GB RAM

Graphics: 256 MB VRAM video card

Hard Drive: 800 MB available space

Additional Notes: Built with Unity 4.3.4, tested in Ubuntu 12.04 and 13.10
Recommended:


Processor: 2 GHz

Memory: 4 GB RAM

Graphics: 512 MB VRAM video card
© Orthogonal Games, LLC 2013
The Novelist™ and Orthogonal Games™ are trademarks of Orthogonal Games, LLC 2013-14
Helpful customer reviews