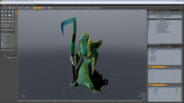 MODO Steam Edition is for DOTA 2 enthusiasts, modders, and hobbyists who need professional polygon modeling and sculpting, streamlined UV editing, and an easy to use direct export straight into DOTA 2. Purpose built for the STEAM community, MODO Steam Edition delivers a complete content creation solution for Source engine games.
Fecha de lanzamiento: 10 de Dic, 2013
Ver vídeo en alta definición
Contenido descargable para este juego
10 de Julio
Do you own full MODO 801? The MODO Steam Compatibility Kit has been updated for compatibility. All registered 801 users can find the kit on the Registered Plug-ins page of your Foundry Community account.

Enjoy!
0 comentarios
Leer más
Análisis
"Modelling tools are best in class"
DigitalArts

"One of the best tools that a 3D artist can have"
Creative Bloq

"The best modeling tool on the market, and has been since its first release"
VFXWorld

Acerca del software
MODO Steam Edition is for DOTA 2 enthusiasts, modders, and hobbyists who need professional polygon modeling and sculpting, streamlined UV editing, and an easy to use direct export straight into DOTA 2. Purpose built for the STEAM community, MODO Steam Edition delivers a complete content creation solution for Source engine games.
MODO has the fastest, most advanced polygonal and subdivision surface 3D modeler anywhere. MODO's flexible modeling tools are ideal for precision modeling of hard surface objects and environment structures, and for freeform organic sculpting of virtually any shape. The integrated multi-res sculpting tools work alongside traditional modeling and UV toolsets to offer a superior experience for game artists. The combination of modeling, sculpting and UV tools in a single application delivers a uniquely powerful content creation toolset.
Often used as the primary 3D content creation tool by professional game development teams like Valve. MODO is a favorite tool for game developers creating everything from DOTA 2 weapons to best-selling titles for desktop PC's and consoles. Level designers, technical artists, environment artists, modders, hobbyists, and multimedia developers are creating 3D models, environments, and texture maps of all kinds for games and other real-time titles using MODO. Packed with many of the same powerful features as the award-winning modeling suite it's based-on, MODO Steam Edition offers a more affordable, streamlined workflow for DOTA 2 item creation.
MODO Steam Edition Includes Features For:
Highly technical 3D modeling that's undeniably fun

Dynamic sculpting tools for expert tinkering

UV Editing tools makes texturing objects in 3D a breeze

Texture baking lets you package everything quickly for export

Materials setup and painting gives you great artistic flexibility

Easy export to DOTA 2 and FBX output to other Source Engine games

Save and load from Steam Cloud
Key Features and Workflows Explained
Modeling:
Unhindered by polygon limits, MODO Steam Edition contains the industry-leading modeling toolset found in MODO 701. Leverage professional quality tools and streamlined modeling methods to produce the best DOTA 2 models out there. Easily create 3D-based details with instancing and bake to textures that standout from the rest.
Sculpting:
Spend less time sending models back and forth between applications, as MODO Steam also contains powerful sculpting tools. Do you already have models created in another app? Don't worry, we have that covered too! MODO Steam is better at high resolution data exchange with other sculpting apps than most applications out there. Exchange models with almost 1 to 1 accuracy using vector displacement maps and convert to multiresolution.
Painting:
Paint on a 2D plane or directly on the surface of your 3D model. From connecting to texturing, MODO Steam's robust painting tools can be leveraged to improve the speed and quality of almost every stage of the workflow.
UV's:
UV's were never fun until now. MODO Steam comes complete with UV tools that allow for both accuracy and precision. Create that perfect, low-distortion UV map for when painting textures in 2D. Or create an efficient and compact uv map to capture extra detail for 3D painting and baking workflows. It's all about flexibility with MODO Steam and more importantly keeping technical tasks fun!
Topology:
Too many polygons, no attention paid to surface topology? This and other things can lead to odd, unrealistic animations in DOTA 2. The solution is to 'retopologize' the model. MODO is known as the retopology tool of choice for professional game developers, and again MODO Steam also includes all of these powerful features.
Shading:
Use Modo's Shader tree to develop high quality materials and aid in the creation of in-game textures. Full GI, ray-traced reflections and render outputs let you take your textures to the next level. You can even use MODO Steam to composite your shader mask layers together for even greater precision, or use advanced shaders like the occlusion shader to create painterly effects and add dirt/grime.
Baking:
Quickly bake textures and visually get a feel for how your assets will look in context without having to jump into the game. Render layered shader mask outputs to streamline the baking process and provide you with more options to control your texture painting.
Preview/Rendering:
Leverage MODOs powerful rendering engine to preview surfaces and adjust lighting and shader setups directly in app. This allows you to easily visualize complex materials, such as fur, without the need to export to DOTA 2.
Streamlined asset packing:
When the creative vision is complete pack your assets, launch DOTA 2 and submit your model in just a few clicks. We've dramatically simplified the technical process for testing and publishing your items to the DOTA 2 Workshop, heck even Magi could do it!
Learning:
Professional 3D authoring tools can sometimes take a career to learn and afford, with MODO Steam Edition everyone can learn the basics of game content creation without breaking the bank. Combined with MODO's exceptional community of learning resources and the future MODO Steam Workshop, hobbyists and independent content creators around the globe can grow their 3d skills and publish items in a few simple clicks.
Requisitos del sistema
Minimum:


OS: Windows XP, Vista, Windows 7 and 8 (only 64-bit supported)

Processor: Intel Xeon/Core 2 Duo, Quad/Core i7 or AMD Opteron/ Phenom processor(s). Must support SSE2 instruction set.

Memory: 2 GB RAM

Graphics: OpenGL 2.0 accelerated graphics, at least 1280 x 800 resolution

Network: Broadband Internet connection

Hard Drive: 2 GB available space

Additional Notes: Mouse or pointing device, including pressure sensitive tablets or 3Dconnexion 3D mouse
MODO Steam Edition is restricted to personal, recreational and non-commercial use, except only for uses of the Software to create assets and content for sale through Valve's Steam Workshop.
Análisis útiles de usuarios
Detalles del software
Título:
MODO Steam Edition
Género:
Animación y modelado
Desarrollador:
The Foundry
Editor:
The Foundry
Fecha de lanzamiento:
10 de Dic, 2013
Idiomas:
| | Interfaz | Voces | Subtítulos |
| --- | --- | --- | --- |
| Inglés | | | |
Premios
MODO was a winner of the renowned Game Developer Front Line Award (
Best Art Tool
category) for 2006 & 2012, and was nominated as a finalist in 2009 as well.