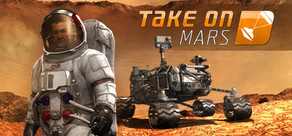 Explore the rocky terrain and sandy wastes of Mars in this brand new installment to the Take On series. Developed by the creators of the award-winning Arma™ series and DayZ™, Take On Mars places you right in the middle of mankind's most exciting undertaking. Start out in the seat of a rover operator, pushing your vehicles to the max.
Release Date: Aug 1, 2013
Watch HD video
Early Access Game
Get instant access and start playing; get involved with this game as it develops.
Note: This Early Access game may or may not change significantly over the course of development. If you are not excited to play this game in its current state, then you may want to wait until the game progresses further in development. Learn more
What the developers have to say:
"Welcome to Take On Mars. Just as with any space exploration mission, the initial launch of TKOM is the start of a journey. By making the game available as an Early Access title, we hope to receive feedback and suggestions from players, and work together to create the most dynamic exploration sim game - driven by everyone's passion for exploration and interest in extra-terrestrial bodies, such as Mars... Better said, especially Mars!" Read more
August 28
Hello everyone!

I know it has been some time since we updated the main branch, and there is a good reason for it: Multiplayer.

Yes, that's right, in case you have not been following things on the forums or the development build, Take On Mars now features multiplayer. At the moment this includes a cooperative mode where players can build bases and vehicles together.

As I am sure many questions will come up surrounding this, I'll try to answer a few straight away:


Q) What is currently possible in multiplayer?
A: Everything that is possible in single player with the Mars Astronaut. That includes the following:
* Building habitats from individual pieces
* Printing building pieces and vehicles via the 3D Printer
* Mining materials from the location, however the materials themselves are not used yet
* Driving vehicles, including with friends
* Full physics simulation over the net
* Having fun!


Q) Who can start a server?
A: Anyone can start a server, simply select Multiplayer in the main menu and select Create Game. There, choose a scenario and begin! In case you are wondering who will be able to see your server, the answer is anyone!


Q) I built an awesome base with a friend, but don't want to lose it, can we save the game somehow?
A: Yes, the multiplayer implementation features a unique saving system. Connected players may vote for a save or the server may initiate a save directly. The server saves the game to his hard drive and sends the save file to all connected players. This means that any one of those players may then re-host that save in their own server.


Q) Are our characters and their last known positions stored in the save?
A: Yes, each player that joins has his character stored exactly where he left it. This can be on a hill, in a base, or falling off a cliff. In all situations, the character is stored with his health and everything intact. We will be adding an inventory soon, so the storage of your items will also be guaranteed.


Q) When can we load a saved game?
A: When you start to host a server you can select to start the server from stored save games on your hard disk. Information about the save is displayed when you select it. Once you start the server anew or from a save, you can load the game at any time via player vote or directly by the server. The interruption in play is very short.


Q) Will future builds render my save incompatible?
A: No, the save files have been written to save in a format which ensures compatibility between builds. They are in fact stored almost identically to a scenario file.


Q) Take On Mars has very detailed physics simulation... Is that present in multiplayer?
A: Yes, everything in multiplayer and single player is fully physically simulated, which includes vehicles, characters and so on. Yes, this does mean vehicles can be smashed in multiplayer :)


Q) Did you say save similar to a scenario? Does that mean we could adjust a save into a scenario?
A: Yes, a save is similar to a scenario, so with some minor editing a scenario may be derived from the save. We intend to add an option to Export Save To Scenario soon.


Q) It crashed... What do I do with the crash info?
A: If you started in Developer mode (the yellow Play Game button in the loader), then it could help us track down the bug. When you see the crash window appear, press Ctrl + C and then paste it into a new thread or post on the forums, along with as detailed as possible set of steps as to how the crash occurred. We do not expect you to test the game for us of course, but will appreciate feedback and bug reports :)


Q) What can I expect in the next update?
A: Survival elements, including oxygen simulation, using mined resources to fill habitats with air, a flatbed-truck-like vehicle for transporting larger cargoes, and an inventory for objects such as soil samples, food and water, etc.


Q) When can we expect another update?
A: I am heading on a 3 week vacation as of the 30th of August and will return on the 18th of September, so expect full-speed development to continue then, with an update following within two weeks.


Q) Just tried the multiplayer, love it! How can I help?
A: Thank you! We always appreciate when our games are enjoyed :) You can help us by giving us feedback, posting screenshots, sharing videos and spreading the word if you like it!


Q) I recall the expected release date being at the end of August... Is this still true?
A: In short, no. We have pushed the final release date back to allow for proper and full implementation of the multiplayer features as well as the entire Expedition One addition, both in terms of single player (Space Program) and multiplayer (survival elements, base management, additional game modes, etc). This is good news as you get highly refined content, and more of it!


Q) What has changed in the game? Any chance of a change log?
A: There is a change log directly accessible through the main menu, top right corner as Change Log. Alternatively, check here: mars.takeonthegame.com/changelog/mainbranch


Q) I'm enjoying the game, but want to finish my in-progress Space Program. Can I go back to a previous build?
A: Yes, we have added a build titled 'Legacy', which is the previous Main Branch build. Switch to this if you want to continue using the older build for now. To switch to the build, select Take On Mars in your steam library, right-click, select Properties. Switch to the BETAS tab, and select 'Legacy' in the list, ignoring password input.


Q) Sounds great... Screenshots or it didn't happen!!!
A: Of course, screenshots are mandatory :) There have been plenty released over the past few weeks as we have been testing the builds. Here are some highlights:

Collaborative building with the 3D Printer:
http://steamcommunity.com/sharedfiles/filedetails/?id=306547495

Base interior, under construction:
http://steamcommunity.com/sharedfiles/filedetails/?id=305677900

Physics... Forklift lifting Scout Buggy:
http://steamcommunity.com/sharedfiles/filedetails/?id=304590734

After over 5 hours of printing and building, and composed of over 800 individual pieces, a bridge coming together on Mars, across Victoria Crater:
http://steamcommunity.com/sharedfiles/filedetails/?id=304790952

A player standing on the edge of the bridge:
http://steamcommunity.com/sharedfiles/filedetails/?id=304790913


We really hope you enjoy the newest update! Please keep in mind this is an Early Access game, and bugs are to be expected. We are sorting them as fast as we can, and apologize for frustration some bugs may cause!

Kind and sincere regards,
Martin Melicharek
(Project Lead)
17 comments
Read more
June 23
To resupply the first people on Mars, Bohemia Interactive today released a major content update for the Expedition One campaign of Take On Mars – the studio's new space simulation game. The update delivers a manned scout buggy, mobile laboratory, an improved 3D printer, and many general fixes and improvements to the core game. The full changelog of the latest update is available at http://mars.takeonthegame.com/changelog.

Expedition One, which serves as the second part of Take On Mars' Space Program campaign, provides players with the opportunity to take part in the first manned mission to the Red Planet. After they arrive on Mars, they will need to perform a multitude of scientific experiments, construct habitats spanning from shelters to entire installations, and search for viable sources of oxygen, water, and raw materials. Due to the limited amount of supplies the space shuttle can carry, one of the most significant challenges for the marsonauts will simply be surviving the harsh Martian environment. This means that participants will have to actively manage their oxygen levels, food stocks, grow plants, and operate drilling rigs in the search for new resources. Unpressurized and pressurized manned vehicles will be at their disposal to increase their mobility across the vast alien terrain.

To enlist for the Expedition One mission, people can sign up for Take On Mars' Early Access program on Steam, where the game is temporarily available with a 15% Summer Sale discount (11.89 EUR/ 15.29 USD/ 10.19 GBP).

For more information on Take On Mars, please visit http://mars.takeonthegame.com/ and/or follow Take On Mars on Twitter and Facebook.
1 comments
Read more
Expedition One now available!

About the Game
Explore the rocky terrain and sandy wastes of Mars in this brand new installment to the Take On series. Developed by the creators of the award-winning Arma™ series and DayZ™, Take On Mars places you right in the middle of mankind's most exciting undertaking. Start out in the seat of a rover operator, pushing your vehicles to the max. Finish as the first human to have ever set foot on Mars. With a scientific arsenal at your disposal, you will pioneer the exploration of another planet, unlocking the secrets of Mars' distant past.
Early Access
Get immediate access to the game while it is still being developed. The game evolves as you play it, as you give feedback, and as the developers update and add content.
Key Features
Space Program Campaign - Explore the Red Planet from the perspective of a science-driven space agency. Become a rover operator, allowing you to control various fully simulated mobile rovers and stationary landers, and make your way through numerous scientific missions.

Realistic Terrain - Travel across a vast, unforgiving Martian terrain with locations based on actual satellite data from famous locations such as Victoria Crater and Deimos.

Economy - Increase your budget by completing missions and individual tasks. Develop new technologies, vehicles and instruments to tackle the challenges you meet along the way.

Dynamic Destruction System - Break off cameras, robotic arms, even individual struts and wheels, all affecting the way your vehicle handles.

Content Creation - Create your own scenarios and share them on the Steam Workshop, or just play around with whatever you wish in this limitless, free-form mode. Dive into Take On Mars' powerful Workbench editing suite to develop new terrains, addons and total modifications.

Expedition One - Take on the role of a marsonaut and establish the foundation for a human colony on Mars. Build your own habitat, drive unpressurized and pressurized manned vehicles, and manage the resources needed to keep you alive.
Explore content made by other players via the Steam Workshop!
System Requirements
Minimum:


OS:Windows Vista or Windows 7

Processor:Intel Core2Duo 2.5Ghz or AMD Athlon Phenom X4 or faster

Memory:2 GB RAM

Graphics:Nvidia Geforce 8800GT or ATI Radeon HD 3870 with Shader Model 3 and 512 MB VRAM, or faster

DirectX®:9.0c

Hard Drive:2 GB HD space

Sound:DirectX Audio compatible
Recommended:


OS:Windows 7

Processor:Intel Core i5 or AMD Athlon Phenom X4 or faster

Memory:4 GB RAM

Graphics:Nvidia GeForce GTX 560 or AMD Radeon HD 7750 or faster
Helpful customer reviews
Title:
Take On Mars
Genre:
Simulation
,
Early Access
Developer:
Bohemia Interactive
Publisher:
Bohemia Interactive
Release Date:
Aug 1, 2013
Languages:
| | Interface | Full audio | Subtitles |
| --- | --- | --- | --- |
| English | | | |