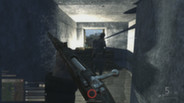 Verdun is a squad-based multiplayer FPS in a realistic WW1 setting. The merciless trench warfare offers a unique battlefield for tactical squad play in the Frontlines game mode.
Release Date: Sep 19, 2013
Watch all 2 trailers
Early Access Game
Get instant access and start playing; get involved with this game as it develops.
Note: This Early Access game may or may not change significantly over the course of development. If you are not excited to play this game in its current state, then you may want to wait until the game progresses further in development. Learn more
What the developers have to say:
Why Early Access?
"M2H and BlackMill Games took the opportunity to work with you on polishing the game Verdun. By entering Steam Early Access in September 2013 we managed to get the attention needed to vastly improve the gameplay and user experience. Verdun will leave Early Access this summer, tied in with the WW1 centenary."
How long will this game be in Early Access?
"Verdun will leave Early Access this summer, tied in with the WW1 centenary."
How is the full version planned to differ from the Early Access version?
"We are set to take Verdun to the next level in terms of visuals, but also mature its gameplay to become a more tactical game in which our unique squad co-op gameplay flourishes. In addition there will be more maps and more squad types available at launch."
What is the current state of the Early Access version?
"Verdun is very stable in its current form with most of the gameplay fully operational. Visually mostly the characters and their animations are heavily Work In Progress (Early July will see their complete overhaul). Also the immersion will be massively improved in the months to come."
Will the game be priced differently during and after Early Access?
"The Game will remain at the same price point."
How are you planning on involving the Community in your development process?
"Since the alpha in April of 2013 we have continuously involved the community. It has helped shaping the tactical frontline gameplay that mimics the trench warfare. We have taken many community features and implemented them into the game." Read more
July 3rd, 2014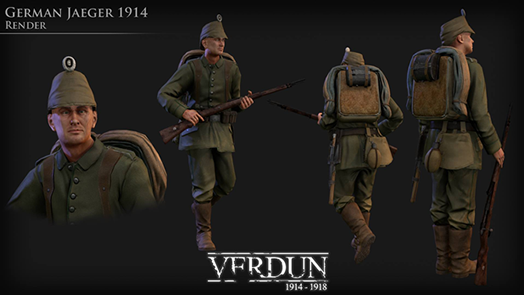 This update polishes the character voices and packs some minor fixes. Bigger improvements are in the works, with the character overhaul being the most promising as you can see from the images in this post

Changelog V153 - July 3rd 2014

More ambience character voices (e.g.: "Incoming grenade!") & tweaked 3D sound range

Temp. voice command menu: press E and then 1-6 to use. Will be revised.

Flanders fixes

Friend only lobbies are now truly locked to friends-only

Role locking in lobbies will now persist (used to reset when a new player joined)
Want to know what we are working on next? Read our roadmap
here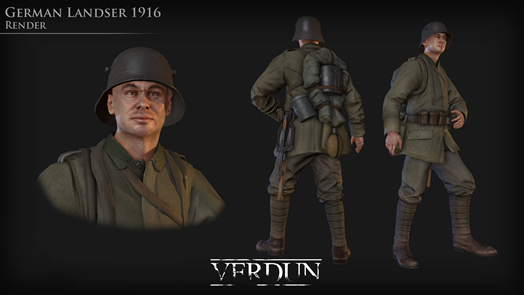 45 comments
Read more
June 3rd, 2014
A minor update has just been launched, this contains some general improvements.
The character overhaul is progressing nicely we hope to show you preview screenshots soon.

v150 Changelog:
- Upgraded the engine (Unity 4.5). Level loading speed greatly improved and more fixes.
- Role switching in-game is now saved: next round will keep using the same role instead of reverting to the first role.
- "Play now" will make sure to fill the most populated games first instead of filling all games evenly.
- In-game loading screens added
- Loading screen positioning corrected
- Flanders: bunker collission fixed. Fire now linked to quality settings
- Tooltip improvements
11 comments
Read more
About the Game
Verdun is a squad-based multiplayer FPS set in First World War. The game is inspired by the infamous battle of Verdun in 1916.
The game includes historically accurate features such as true WW1 weaponry, historical maps based on sectors of the Western Front and authentic uniforms and equipment. The game immerses you audiovisually into one of the bloodiest conflicts fought in Europe.
The merciless trench warfare offers a unique battlefield for tactical squad play in the Frontlines game mode.
The Frontlines game mode is unique in its tactical complexity, where you are levelling in different types of squads, each with your own tactics and roles. The realistic trenches are an extra challenge in the fight, where teamwork and tactical cunning are essential for success. Drive your enemies from their trenches and conquer the Western Front!
Verdun key features include:
•
Unique World War 1 gameplay:
Authentic weaponry, characters levelling and realistic historical battlefields set in France and Belgium
•
Tactical squad-based FPS:
Squad compiling and levelling
•
True trench warfare:
Real-time dynamic frontline
•
WW1 atmosphere:
Typical WW1 music, art, character, the grim battlefields and an immersive user interface
•
Challenging game modes:
Dynamic Frontline and riffle Deathmatch
The team has done extensive research in the field at Verdun and has been advised by knowledgeable historians to make sure Verdun is historically accurate.

Teamplay is what lies at the heart of Verdun. You fight for either the Entente or the Central Powers. Within each side up to 4 players can form 1 of the different squad types available to that side. These squads each have a specific tactic, and are based on real historical units of that time. Depending on your squad's type, players can choose a specific role within the squad, complete with the historical attire, weapons and abilities. The more experience (XP) you and your squad mates earn together, the more powerful your squad will become..
A true WW1 experience has been captured by the historically accurate battlefields, divided into multiple sectors that can be captured by either side. The real-time dynamic frontline shows every captured or lost meter by your side
A real WW1 feeling has been created in the game by using a grim WW1 style, historical weaponry, authentic uniforms and equipment, typical WW1 music and maps based on real locations (e.g. Flanders, Vosges, Picardie, Vauquois and Argonne).
PC System Requirements
Minimum:


OS: Windows XP/Vista/7/8

Processor: Intel Core2 Duo 2.4Ghz or Higher / AMD 3Ghz or Higher

Memory: 2 GB RAM

Graphics: Nvidia 8600 / Radeon equivalent (2009 era)

DirectX: Version 9.0c

Network: Broadband Internet connection

Hard Drive: 2 GB available space
Mac System Requirements
Minimum:


OS: 10.8

Processor: Intel Core2 Duo 2.4Ghz or Higher / AMD 3Ghz or Higher

Memory: 2 GB RAM

Graphics: Nvidia 8600 / Radeon equivalent (2009 era)

Network: Broadband Internet connection

Hard Drive: 2 GB available space
Linux System Requirements
Minimum:


OS: Ubuntu 12.04 or later

Processor: Intel Core2 Duo 2.4Ghz or Higher / AMD 3Ghz or Higher

Memory: 2 GB RAM

Graphics: Nvidia 8600 / Radeon equivalent (2009 era)

Network: Broadband Internet connection

Hard Drive: 2 GB available space
Helpful customer reviews
Title:
Verdun
Genre:
Action
,
Indie
,
Simulation
,
Strategy
,
Early Access
Developer:
M2H
,
BlackMill Games
Publisher:
BlackMill Games
,
M2H
Release Date:
Sep 19, 2013
Languages:
| | Interface | Full audio | Subtitles |
| --- | --- | --- | --- |
| English | | | |
| French | | | |
| Italian | | | |
| German | | | |
| Dutch | | | |