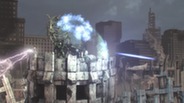 ...Large-Scale Multiplayer Combat, New Light-Powered Legends Characters and an All-New Weapon.
リリース日: 2011年11月2日
すべてのトレーラーを見る(全 7 本)
DC Universe™ Online Free-To-Play. Your Way.® をプレイ
このゲーム用のダウンロードコンテンツ
ゲームについて
DC Universe™ Online is a Free-to-Play, massive multiplayer online action game set in the popular DC Comics universe. Create your own powerful Hero or Villain and experience true action combat as you fight alongside and against legendary characters such as Batman, Superman and The Joker. Play for free now!
Key Features
Experience the power of visceral combat where you control every blow your character strikes, delivering a level of action that is unparalleled in the MMO segment.

Choose your side, superhero or villain, as you battle to save or conquer the universe

Fight alongside or against your favorite DC heroes and villains including Batman, The Joker, Superman, Wonder Woman and others…The next legend is YOU!

Experience the intensity of a world created in the artistic vision of legendary comic book artist Jim Lee.

Take advantage of the state-of-the-art physics engine and use objects in the world around you as weapons, including even your enemies!

Players will create their own DC-style hero or villain, each with a unique look and combination of superpowers.

Embark on heroic or villainous story-driven adventures penned by famous DC writers including Geoff Johns and Marv Wolfman.

Gameplay is optimized for both the PS3 computer entertainment system and PC.

Explore the DC Universe; walk the darkened streets of Gotham City, investigate the mysteries of the futuristic cityscape of Metropolis and travel to legendary locations including Arkham Asylum and the Justice League of America Watchtower.
DC Universe Online is free to play, your way
®
– including *Legendary Membership access which includes more features and options, including extra character slots, expanded inventory, free access to DLC Packs, and unlimited cash balances (visit the DCUO website for full details).
*Optional content available for purchase.
システム要件
OS: Windows XP 32-bit

Processor: P4 3.0GHz or AMD equivalent

Memory: 1GB RAM

Hard Disk Space: 30 GB of Free Hard Drive Space

Video: NVIDIA 7800GTX+ or ATI 1950+ Video Card

Audio: on Board




 
DC UNIVERSE ONLINE software © 2012 Sony Online Entertainment LLC. All other elements © 2012 DC Comics. SOE and the SOE logo are registered trademarks of Sony Online Entertainment LLC. "PlayStation" and the "PS" Family logo are registered trademarks and "PS3" and the PlayStation Network Logo are trademarks of Sony Computer Entertainment Inc. The ratings icon is a registered trademark of the Entertainment Software Association. All other trademarks and trade names are the property of their respective owners. All rights reserved.

 

DC UNIVERSE and all related characters and elements are trademarks of and © DC Comics.
WB GAMES LOGO, WB SHIELD: TM & © Warner Bros. Entertainment Inc.
(s12)
参考になったカスタマーレビュー