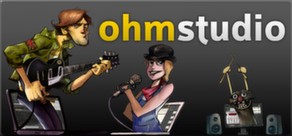 Ohm Studio is the first real-time, pro-grade collaborative digital audio workstation. Record seamlessly with distant friends and meet other Steam musicians. Learn from them, teach to them, get inspired with them...
Datum vydání: 9 pros. 2013
Sledovat všechny 2 upoutávky
Koupit Ohm Studio Pro
More info HERE
Koupit Ohm Studio Pro XL
More info HERE
Subscriptions
Buy Ohm Cloud
Get up to 200 Projects in your Ohm Studio account! To be billed on a recurring basis.
Vyberte možnost nákupu
15 prosince 2013
I guess a release on Steam is always a memorable time for a small dev and it certainly was to us. So much new people, so much info and help needed, oh and that article in the doc is actually not helpful at all, and damn it the banner to the getting started page is not displaying why is that, oh oh the chat is starting to lag badly, the public project pages is taking too long to refresh, etc.

To be honest we expected to meet with the steam audience a slightly wilder bunch, less educated regarding audio production than what we had in the little world of audio application prior to it. Turns out we were completely wrong and that you can't judge the Steam Community on the sole basis of reading a chat during a Dota 2 game!

Monitoring newcomers we discovered quite a lot of pro, a heap of stupidly talented musicians, and an overall ability to get it sorted slightly better than the non steam users. Not to say they weren't a heap of people who really didn't want to click the help menu, but a bit less than usual (in ratio, brute quantities were overwhelming sometimes :P)

So Bravo for that, but the most amazing part to me is something else. It's the fact that, especially during the last two days the level of assistance on the chat was absolutely... completely... super amazing...

First helpers, of course, were core members of the cohmmunity, people here since the opening of the beta. It was not a surprise to see them helping. But it was to see how much they helped. Jamie57lp have been spending a tremendous amount of time in and out project, spreading info, monitoring things. Nick.in.Holland apparently didn't sleep, or has been sleepwalking helping people with ASIO4ALL issues. And every other, Bioxid, Cloud Patrol, Mqe2345, Herman and all the one I am forgetting (because they were so many)... feeling you guys wanted this steam release to work like a charm as much as we did here was a blessing. A Big Thank You.

And then, it went even more mindblowing. The last day and a half, most of the time I was checking the chat, there were as much answer than questions. People who were struggling two days earlier were now sending the links to newcomers, providing assistance and giving me some headroom to rework documentation. I will miss even more names but people who helped people like InkDropFalls, ProSound, Irockus, SCAndroid890 and many many more did, A. Big. Thank. You.

This weekend Ohm Studio looked like what we were dreaming of in... 2000. So, shall I take a whisky and a cigar, tonight?

"Chances are very good".

Santé!

- Red
1 komentářů
Zjistit více
11 prosince 2013
Took the Pro version and feeling you've missed a better opportunity? It's not to late to take advantage of the launch offer to get the ProXL and all its industry landmark FX and Instruments (favourites of hardly known musician such as Trent Reznor, Skrillex, Tom Rowlands, Herbie Hancock, Martin Gore...) thanks to the newly available upgrade offer!

Just go the Ohm Studio Pro XL page while logged in and assuming you have an Ohm Studio Pro license, upgrade will be made available to you. Enjoy!
1 komentářů
Zjistit více
Recenze
"Ohm Studio now frees us from the previous limitations that we may not have even been aware of. The future is here."
9/10 – MusicTech

"Ohm Studio is a fantastic tool for producers and non-producers alike. It's native and natural workflow allows collaborative creation to be a breeze."
8.6/10 – EDMProd

"Ohmstudio 1.0 succeeds entering the world of online-music-production with an effective, interesting approach."
Keys (german)

DAWs on Steam
Ohm Studio is a Digital Audio Workstation. For more information on DAWs please read our DAW FAQ.
Steam Greenlight
O softwaru
Ohm Studio is the first real-time, pro-grade collaborative digital audio workstation. Record seamlessly with distant friends and meet other Steam musicians. Learn from them, teach to them, get inspired with them... or just invite your band to get that demo/commercial production done without the usual time & space constraint you've been striving for until now. Ohm Studio is a dramatic change in the way music is created and developed… and a wonderful place to hang around for every musician!
Key Features
Pro grade audio engine (low latency, up to 24 bit 96kHz audio, MIDI, VST plugins)

Pro grade features (full audio routing, unlimited tracks, automation, etc.)

State of the art UI providing unmatched edition in context, very fast project navigation and composition

Landmark FX and instruments from the Audio Industry + partner plugins (Voxengo, Poulyn)

Extensive sound library provided by UVI workstation "Ohm Plug"*

You are the most important feature of Ohm! Musicians sound better than machines and skill & talent are the key to making good tracks. Inspiration comes with emulation. In Ohm Studio like in a real studio, people matter most!
Free version is limited to compressed audio export and 16 bit audio recording. It features basic FX and UVI Ohmplug instrument. It still can use 3rd party vst plugins and you can make complete song with it (within the limit of 10 projects).
Upgrades:
Ohm Studio Pro:
Record in 24-bit. Export to WAVE format.
Includes Ohm Studio Plugins: OhmBoyz Delay + Minimonsta Synth*
More info
HERE
Ohm Studio Pro XL:
Get the ultimate Ohm Studio version!
Includes Ohm Studio Pro + ALL the famous Ohm Force plugins*
More info
HERE
Ohm Cloud:
Ohm Cloud subscriptions for adding up to 200 cloud based tracks can be purchased
HERE
.
* Included as native Ohm Studio plugins only. These plugins will not work in 3rd party DAW software.
Systémové požadavky (PC)
Minimum:


OS: Windows XP Service Pack 2

Processor: Pentium 4 or Athlon 64

Memory: 2 GB RAM

Graphics: 9 years old graphic card

DirectX: Version 9.0c

Network: Broadband Internet connection

Hard Drive: 400 MB available space

Sound Card: DirectX/MME compatible sound card
Recommended:


OS: Windows 7

Processor: Pentium 4 or Athlon 64

Memory: 4 GB RAM

Graphics: 3 years old graphic card or better

DirectX: Version 9.0c

Network: Broadband Internet connection

Hard Drive: 2 GB available space

Sound Card: ASIO compatible sound card
Systémové požadavky (MAC)
Minimum:


OS: MacOS 10.5.8

Processor: Intel Processor

Memory: 2 GB RAM

Graphics: Integrated Intel graphics

Network: Broadband Internet connection

Hard Drive: 400 MB available space

Sound Card: Integrated sound card
Recommended:


OS: MacOS 10.5.8 or later

Processor: Intel Processor

Memory: 4 GB RAM

Graphics: Original graphic card or better

Network: Broadband Internet connection

Hard Drive: 2 GB available space

Sound Card: CoreAudio compatible sound card
Copyright © 2013 Ohm Force — In order to use Ohm Studio, Users must indicate that they have read and agreed to the Terms of Use.
Užitečné recenze od zákazníků
Detaily o softwaru
Název:
Ohm Studio
Žánr:
Tvorba zvuku
,
Softwarový trénink
Vývojář:
GRAOUMF
Vydavatel:
Ohm Force
Datum vydání:
9 pros. 2013
Jazyky:
| | Rozhraní | Zvuk | Titulky |
| --- | --- | --- | --- |
| Angličtina | | | |