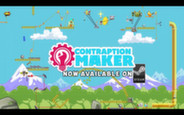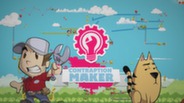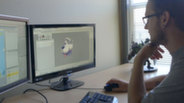 The team that created the original Incredible Machine® is bringing all of the Rube Goldberg craziness to the modern age. Solve puzzles involving ridiculous chain reactions full of hamster motors, trampolines, alligators, cats, and so much more.
Release Date: Jul 7, 2014
Watch all 3 trailers
September 22


After just a couple months of being 1.0, we are super excited to bring you the first major update to Contraption Maker. This update adds new parts, features, puzzles, and even JavaScript mod support. This is completely free, so go update your game and start playing today!

To celebrate this update, we are also running a huge sale on Contraption Maker this week. Contraption Maker is 90% off making it only $1.50 for the 2-key pack! If you have been holding off on getting the game, now is the time to come check it out. Come make some puzzles or contraptions, and join everyone else in our Steam Workshop!


New Parts
Tinker: Tinker is the newest addition to Contraption Maker's cast of characters. He loves eating and chasing cats. Attach a leash (rope) to him to control your contraptions in a new way.

Dozer: All Dozer wants to do is sleep. Like Steve the Crocodile, Dozer doesn't move. If something falls on his back, they will bounce off of him like a trampoline. Just stay away from his mouth, he will eat anything!

Dog House: Tinker's house. Use this as a puzzle goal.

Dog Bone: The dog bone will attract Tinker. Tie a rope to it to pull it around. It can be set to 3 different sizes that determine how long Tinker takes to eat it.

Dog Toy: Tinker loves to chase these toys.
This update introdues a whole new class of parts called "Tim Parts" that we are really excited about. These parts don't do anything untl they are activated and used by Tim. Tim Parts are going to add a new level of control in contraptions, and there will be more added in future updates.
Dog Toy: This dog toy behaves just like the other, but it wont move until Tim picks it up. When he does, he will throw the ball a short distance. If it hits another Tim after being thrown, the new Tim will throw it again.

Dog Treat: Once Tim picks up the dog treat, he wont use it until he gets in range of Tinker. Once he sees Tinker, Tim will place the treat on the ground to bring Tinker to him.

Dog Whistle: When Tim picks this part up, he uses it immediately. The whistle will attract any dogs in a circle around Tim.
As an extra little added bonus, the egg now has 10 different looks to choose from.
Mod Support
We now have the first version of mod support in the game. Mods are made using JavaScript and can be directly coded and edited in the game. Mods are integrated into the Workshop, so they can be easily shared and played. There are 3 example mods already in the Worklshop, so check them out! Here is a short example video of how the system works:
http://youtu.be/nPg-3oJJI_g?list=UUP583MHrl-OKrPRL8dDhRtA
Check out our
WIKI DOCS
if you want to get started out!
New Puzzles
10 new official puzzles have been added. These puzzles focus mainly on Tinker and the new parts that have been added along with him.
New Scenery & Music
A new "neighborhood" scenery set and 6 new songs have been added to give more variety to your contraptions and puzzles.
Camera Animation & YouTube Uploading
You can now animate the camera for when you record your contraptions. Open your contraption options and activate the CAT (Camera Animation Tool) to activate the tool. The camera can then be animated just like scenery parts. Official documentation for this will be coming soon.
Once you make your awesome contraption movie, it can now be uploaded directly to youtube. After the movie is done recording, just select the "Upload to YouTube" button to go through the quick initial process. Once your account is linked, the process becomes instant!
Assorted Fixes
More thoroughly integrated script collision callback handlers into chipmunk and CMLevel code. Also made how they are tracked and store for the callbacks to the script much more efficient. Added 8 Waldos to the PlatformTim level, gave them all onSensor handlers in script, and then copied and pasted a bunch of walls in front of their sensors and script was only taking roughly 2% of total time profilier.

Added a #ifndef check to chipmunk_private.h to keep from being included twice (and causing a boatload of compile errors)

Set up some flags so shapes can be marked as sensors in chipmunk but be treated as "onCollision" calls in script

Converted a few sensor flagged collision into real flagged collision but didn't change actual behavior.
Do not call handleCollision if there is no collision callback function

Added applyForce to script part proxy to allow force (impluse) to be applied at the passed in angle

Added new routines to allow getting and setting of part's rot, setting of part's rot velocity, setting part disabled gravity, setting disabling of creature intelligence, and setting of creature's state

Deduping collisions

Remove onSensorCollision call

Do not redirect stdout/stderr in testcompat mode

Changed force value passed into jsAddForce so it is 1000x less powerful to allow smaller forces to be applied. Current forces used should just be scaled up by 1000 and the mods will then run the same.

Created a faster rope segment integration method to be used by electrical cords

Made number of integrate steps used by dynamic rope segments a var instead of a fixed value

Made the high priority repulse distance a var that can be set by different creatures instead of a fixed value

Clamped Creature rotations to min/max values - only used by Tinker for now

Clean up Fishbowl and Hamster Cage - same behavior but more efficient code

Script window comes up too large on small screens

Egg contraption states

Modified animations to to handle looping animations that have a intro that don't loop

Clear console on play, also scroll to bottom when new text

Can now scroll console too

Handle scroll wheel in the script editor

Fixed: Milton's goal state crashes game

Republished mod to Steam - it was blank

Fixed: :Big grey pipe" part message

Misspelling on plug in bulb message

Fixed touch activated sound block help

Missile now plays blast off sound

Fixed: Highlight for spring board is not drawing correctly
0 comments
Read more
September 3

Now that we've had all of your submissions for a week, it's time to announce the winners. This took a little longer than expected because you guys definitely didn't make this easy on us! The quality of the submissions was absolutely amazing, and it was very hard to decide on the top 3.

There were a couple of bumps in the road along the way, but this was our very first contest. Things will go smoother and easier as we do more of them. This contest was definitely not some one-off thing. We plan to do these fairly often, so if you didn't win this one you can come back and try again next time!

If you didn't make it into the top three, don't fret. Like I said, this was a super hard decision and I wish you could all be winners. I know that sounds cheesy, but we were seriously blown away by everything you guys submitted :-)


3rd Place: Four Seasons Of Eggtraption, by aztimh
http://youtu.be/ffmAN-WhBSU
From the beautiful scenery, to the poem in the description, this is a super cohesive contraption. This is one of those contraptions that you need to watch a few times to really catch everything that's going on.
2nd Place: Egg Coloring, by Scott
http://youtu.be/24Vhys-42fw
This contraption really pushes the egg to its absolute limit. Bouncing off of toast, getting hit by a swinging bucket, landing on top of a rocket, so many things in this contraption make you say "wow!"
The finale is what really puts it over the top. What looks like a boring grey contraption comes to life with a great scenery animation that pulls everything together.
1st Place: Eggcity, by Thesandwichcake
http://youtu.be/yjTs3_d9ZbQ
Eggcity is unlike anything we have ever seen created in this game. Thesandiwchcake came at this in such a crazy creative way. The contraption really is a little city. There is a bar, eggs going to school, eggs gambling with each other, and eggs driving cars.
There are so many fun little details scattered around the scene. Add to this a crazy awesome laser system powering the whole thing, and you've got yourself our first place winner!
There you have it folks, our first build-off contest is in the books.
Wait just a few short weeks and we will be having our second contest with a new theme!
I'm real excited to see what awesome stuff you guys make next time!
1 comments
Read more
Reviews
"Contraption Maker is from the makers of that genre-defining classic, and it's already a recognisable heir to the throne...It's already worth your time and money."
PC Gamer

"This is a cool game that really tests your imagination."
Yogscast Sjin

"It is a from-the-ground-up modernization, with enough familiar elements to instantly excite old fans of The Incredible Machine and enough modern touches to fuel the imaginations of gamers who have never touched the original."
Gaming Trend

Steam Workshop

About the Game
The team that created the original Incredible Machine® is bringing all of the Rube Goldberg craziness to the modern age.
Solve puzzles involving ridiculous chain reactions full of hamster motors, trampolines, alligators, cats, and so much more. Everything you loved about the original game is back and improved with a new physics engine, high definition art, new parts, and even online multplayer. Currently the game has 140 official puzzles, and a whole bunch of community creations.
Steam Workshop integration allows you to share your creations with the world.
Features
So Many Parts: An assorted batch of parts from paper lanterns to cats are available for all of your contraption building needs.
Ridiculous Size: There's no part or size limitation to your contraptions. Build as much as you can to bring your computer to its knees.
Puzzles!: There are 140 official puzzles and over 100 community puzzles (with more every day) for you to play.
Cooperative Multiplayer: Play online with friends to build contraptions together.
Fun Characters: Toolman Tim and Waldo the Cat are the first of many characters that will add life to your creations.
Layered Background Tool: Use the background tool to create settings for your contraptions to exist in.
Background Animation: Animate your backgrounds with our easy to use background animation tool.
Video Recording: Record and share videos of your contraptions directly from the game without the need of any third party software.
Steam Workshop Integration: Share your puzzles and creations easily through Steam Workshop.
PC System Requirements
Minimum:


OS: Windows XP

Processor: 1.7Ghz or Higher

Memory: 2 GB RAM

Graphics: 512MB VRAM, Pixel Shader 2.0 or higher

DirectX: Version 9.0c

Hard Drive: 80 MB available space
Mac System Requirements
Minimum:


OS: OS/X 10.7

Processor: 1.7Ghz or Higher

Memory: 2 GB RAM

Graphics: 512MB VRAM, Pixel Shader 2.0 or higher

Hard Drive: 80 MB available space
© 2013 Spotkin LLC - All Rights Reserved
"The Incredible Machine" is a registered trademark of its respective owner.
Helpful customer reviews
Title:
Contraption Maker
Genre:
Casual
,
Indie
,
Simulation
Developer:
Spotkin
Publisher:
Spotkin
Release Date:
Jul 7, 2014
Languages:
| | Interface | Full audio | Subtitles |
| --- | --- | --- | --- |
| English | | | |