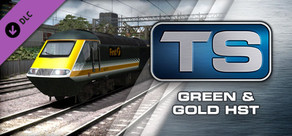 Per giocare è necessario possedere su Steam il gioco di base Train Simulator 2014.
Data di rilascio: 17 Set 2010
Contenuti scaricabili
Per giocare è necessario possedere su Steam il gioco di base Train Simulator 2014.
Acquista Railworks Green and Gold HST Add-On
Informazioni sul gioco
In 1999, after acquisition by FirstGroup, Great Western Trains applied a revised livery to their existing stock without the need for repainting! This involved the use of vinyl decals applied to the lower sides of the HSTs. The existing green and ivory colouring remained but the decal featured a central gold stripe and a series of parallel green lines which had the appearance of fading the ivory into the green. This early green and gold livery was referred to as the "fag packet" (British slang for cigarette packet) livery due to its similarity to certain cigarette packets of the time, and this is the version recreated in this add-on. The "Night Riviera", a sleeper service from Paddington to Penzance, retained the green and gold livery until 2007..
Key Features
4 Scenarios:

Free Roam: Paddington FGW Mix

Pick a train and click on it to drive it
No Sleep Tonight - Career System Scenario

It's just after midnight, and you are required to haul the 1A40 2345 Paddington to Penzance sleeper service which is delayed. Another problem is that the sleeper stock is unavailable, so your train is formed of a HST. Starting from Paddington, stop at Reading and Didcot Parkway. You will be relieved at Didcot Parkway by another driver.
Semi-Fast Stand-In - Career System Scenario

Due to a shortage of class 166 DMUs, First Great Western have had to stand in with the use of a Green and White-livered HST. Your task is to take the train on a morning semi-fast service, from Oxford to Reading. Your only stop will be Didcot Parkway.
When the Snow Falls - Career System Scenario

It's a freezing cold afternoon in January, and you are required to battle the weather with the last leg of a HST bound for Paddington. The snow is falling heavy, visibility is minimal, so all concentration is required. It may not be as simple as Didcot to Paddington, mind!
Requisiti di sistema
Sistema Operativo: Windows XP / Vista

Processore: 1.7 GHz o più veloce

Memoria: 512 MB RAM

Scheda Grafica: 64 MB con Pixel Shader 2.0* (solo AGP PCIe)

DirectX®: Versione 9.0c (Incluso)

Hard Disk: 6 GB di spazio libero

Scheda audio: Direct X 9.0c compatibile
*Supported chipsets: NVIDIA GeForce FX 5200 or greater; ATI Radeon 9500 Pro or greater. Laptop versions of these chipsets may work but are not supported. Updates to your video and sound card drivers may be required.



Rail Simulator 2: RailWorks. RailSimulator.com Limited, Compton House, Walnut Tree Close, Guildford GU1 4TX. ©2009 RailSimulator.com Limited. All rights reserved. Portions originally developed by Kuju Entertainment Limited in association with F4G Software plc. Portions copyright Kuju Entertainment Limited 2007. Physics engine provided by Ageia Technologies Inc. The Rail Simulator Logo is a registered trademark. The RailWorks logo is a trademark of RailSimulator.com Limited. DB and the DB logo are trademarks of Deutsche Bahn AG. First and the First Logo are trademarks of the First Group plc. The Creative logo is a trademark of Creative Labs Inc. The Union Pacific shield is a trademark of the Union Pacific Railroad Company. All other trademarks are the property of their respective owners
Non ci sono ancora recensioni pubbliche per questo prodotto
Puoi scrivere una recensione per questo prodotto per condividere la tua esperienza con la Comunità. Utilizza l'area sopra i pulsanti di acquisto su questa pagina per scrivere la recensione.
Titolo:
Green & Gold HST DMU Add-On
Genere:
Simulazione
Sviluppatore:
RailSimulator.com
Editore:
RailSimulator.com
Data di rilascio:
17 Set 2010
Lingue:
| | Interfaccia | Audio completo | Sottotitoli |
| --- | --- | --- | --- |
| Inglese | | | |