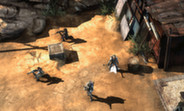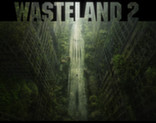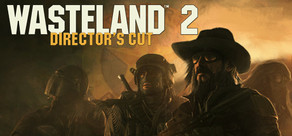 Welcome back to the Citadel, Rangers! Join the over 70,000 Kickstarter backers and interact with the development team to help shape the ending of an already historic post-apocalyptic story. The Wasteland's hellish landscape has been waiting for you to make your mark… or die trying.
Julkaisupäivä: 13 Joulukuu 2013
Katso kaikki 3 traileria
Early Access -peli
Voit pelata näitä pelejä viipymättä - jo niiden kehitysvaiheissa.
Huomio: Tämä Early Access -peli saattaa muuttua merkittävästi sen kehityksen aikana. Jos et ole innostunut pelin pelaamisesta sen nykyisessä muodossa, haluat ehkä odottaa, kunnes peli on pidemmälle kehitetty. Lue lisää
Kehittäjien kertomaa:
"Here's the thing: we've got a sequel to the classic Wasteland 1, one of the original RPG's and the godfather of the Fallout™ series. Like the original, this one's a turn-based, isometric, story-intensive exploration of the radioactive wastes of the American Southwest, heavy on choice and consequence. 20 years we have been waiting for the moment to have a sequel to Wasteland and the moment is near.

Now, time was we could get a publisher to do the beta for us… but like the United States in 2112, those days are long gone, a windswept, radioactive memory. Like the Desert Rangers risin' from the ashes of the old world, we're building a new community, a new reality for the world as it is: from the Kickstarter community to the Steam community, this new world only works when people are weighing in with their ideas and impressions.

We're starting out at $59.99 and you're going to get a lot for your money over time, including a truckload of digital extras, including:

-- A free copy of Wasteland 1 - The Original Classic
-- Two digital novellas set in The Wasteland world
-- Mark Morgan's Wasteland 2 OST in digital format
-- A digital concept art book

* We expect the final release price will be lower, but the digital novellas, OST and concept art book are exclusive to Early Access

You also are joining our indie dev team. Your participation is going to make this game better.

We're looking for your input to help us tailor the remainder of the development process into the best experience we can deliver. The audience input has been hugely useful throughout the process, and we want to make sure your voice is heard clear through to the end. Do you see areas where you could improve the art? Systems? Dialogue? Find anything that's broken? We want to hear it; because we're going to fix it.

This game's basically feature-complete. We're including over 40% of the game levels so you can see how Wasteland 2 plays: AI, gear, inventory, creatures, line-of-sight, exploration, world-maps, fast travel, dialogue, and more. Oh yeah: you'll also get to test out the combat system. Hell, that's a big part of the fun here. We've got a cartload of quests, memorable characters, NPCs who'll be happy to join your party for a price (or for vengeance), and all the explosive fun of a radioactive monk without any of that actual radiation. During this early access phase we'll be adding even more content in the form of new levels, killer weapons and NPCs and of course fixing those pesky bugs that the programmers put in the code. (We keep telling them to stop putting them in because they're just going to have to take them out later.)

What's missing? We still have UI to improve on, more skills to add, more player choice, more SFX and of course more areas to explore and we will hone these elements based on your experiences.

We're offerin' an Early Access and Kickstarter Backer-exclusive site so you can report bugs and deliver your feedback. This is where you get to interface directly with the development team and shape the direction of the final candidate for release. We've been making games for a long time—some of the members of the team were on the original, back in '87—and our decades of experience have taught us that the best measure of quality is the happiness of the customer.

Help us deliver the quintessential post-apocalyptic RPG." Lue lisää
30 kesäkuu(ta) 2014
The latest Wasteland 2 Kickstarter update contains a lot on our current progress and plans, covering topics like the local area map, loot drops, jamming changes and frequency increase of alarm disarm and demolitions.

But aside from that, it speaks a bit to how Early Access has gone for us, and how we handle the revenue. Here is that section of the update:


Wasteland 2 is 2x bigger than Kickstarter budget allowed!

Wasteland 2 is a hell of a project. One that is larger and more nuanced than we had imagined even when completed our Kickstarter campaign and knew what our budget was. We've had the good fortune of having a nicely selling back catalog, which allowed us to put a good chunk of our own money into making this the best experience possible. That along with some help from Early Access on Steam provided additional revenue along with a great influx of feedback.

We made this promise a while back and it still holds true. Every penny coming in from sales is still going back into making Wasteland 2. By this stage, it means we have doubled Wasteland 2's initial budget.

There was discussion when we put the game up on Early Access whether it was a good idea or not. I can promise that the game we are close to releasing would not have been the same without it. While Wasteland 2 would have been released months ago without Early Access, it would not have the polish, detail, and scope that we are bringing to you in very near future. The past few years have been one large learning and refining process for all of us, and in hindsight, we can measurably say this had a huge positive impact on the game. Nothing beats the feedback from tons of you playing the game and the resources and time to act on that feedback.

At this stage in production we are thinking about practical tasks such as getting a gold master version so we can start printing discs. We're currently aiming to have that done in late July, but that doesn't mean we wrap up the project. Some people will stay on (as others move fully to Torment) and continue working on the game until its release to provide a day one patch, and we fully plan on significant post-release support.

The most obvious of that will be the mod-kit and of course post-release patches. We do not have any expansions currently planned but that doesn't mean there won't be any in the future. We will keep an eye on feedback just like we have during the beta period and be open to taking another look at features that are highly requested. Basically, while we are nearing the release date and thus nearing "the end" in that sense, we are looking forward to working on this game for quite some time yet!
15 kommenttia
Lue lisää
29 toukokuu(ta) 2014
The Earth Transformed - Ghost Book I is now available. If you have the digital deluxe version installed the novella will be added in .epub, .mobi, .pdf, and .azw3 formats under your install folder, at Program Files (x86)\Steam\SteamApps\common\Wasteland 2\Books.

We also updated the beta with a hotfix to the latest release that addresses the issue of locations not popping up on the world map.
21 kommenttia
Lue lisää
Arvostelut
"Wasteland 2 is looking increasingly like one of the most delicious fruits of Kickstarter."
Rock, Paper, Shotgun

"Wasteland 2 is a modern reflection of glorious retro gaming."
Polygon

"Wasteland 2 is nothing if not a game all about player agency."
Dealspwn

Early Access Offer
A free copy of Wasteland 1 - The Original Classic.

A free copy of The Bard's Tale.

Two digital novellas set in The Wasteland world.

Mark Morgan's Wasteland 2 original sound track in digital format.

An incredible digital concept art book showcasing many of the world's characters and environments.
You also are joining our indie dev team. Your participation is going to make this game better.
Tietoja pelistä
Welcome back to the Citadel, Rangers! Join the over 70,000 Kickstarter backers and interact with the development team to help shape the ending of an already historic post-apocalyptic story. The Wasteland's hellish landscape has been waiting for you to make your mark… or die trying.
Wasteland 2 is the direct sequel to 1988's Wasteland, the first-ever post-apocalyptic computer RPG and the inspiration behind the Fallout series. Until Wasteland, no other CRPG had ever allowed players to control and command individual party members for tactical purposes or given them the chance to make moral choices that would directly affect the world around them. Wasteland was a pioneer in multi-path problem solving, dripping in choice and consequence and eschewing the typical one-key-per-lock puzzle solving methods of its peers, in favor of putting the power into players' hands to advance based on their own particular play style.
The Wasteland series impressive and innovative lineage has been preserved at its very core, but modernized for the fans of today with Wasteland 2. Immerse yourself in turn-based tactical combat that will test the very limits of your strategy skills as you fight to survive a desolate world where brute strength alone isn't enough to save you. Deck out your Ranger squad with the most devastating weaponry this side of the fallout zone and get ready for maximum destruction with the RPG-style character advancement and customization that made the first Wasteland so brutal. Save an ally from certain death or let them perish – the choice is yours, but so are the consequences.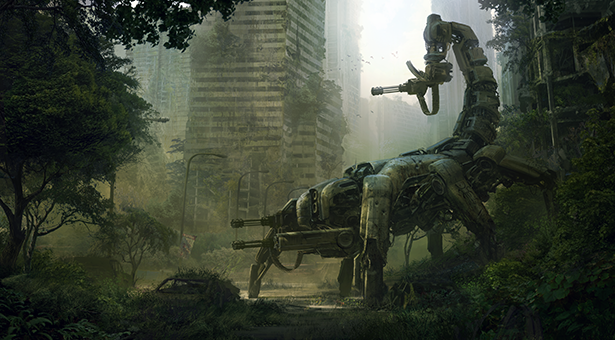 Key Features
One Size Does Not Fit All: Don't feel like finding the key for a door? Why not try a Rocket Launcher! Basically the same thing... right?

Enhanced Classic RPG Game Play: Classic RPG game play ideas updated with modern design philosophies.

Decision Making... with Consequences: With both short and long term reactivity to the players choices, every decision matters in the outcome of the story.

Huge & Customizable: Dozens of hours of game. Hundreds of characters. Thousands of variations on your Rangers' appearance. Over 150 weapons. Dozens of skills. Even the UI can be customized.
Järjestelmävaatimukset (PC)
Minimum:


OS: Windows 7/8/8.1/XP/Vista (32 or 64 bit)

Processor: 2.4ghz Intel Core 2 Duo or equivalent

Memory: 4 GB RAM

Graphics: Nvidia 260 GTS or Radeon HD 4850 - 512 MB of VRAM

DirectX: Version 9.0c

Hard Drive: 30 GB available space

Sound Card: DirectX compatible sound card
Recommended:


OS: Windows 7/8/8.1 64bit

Processor: Intel i5 series or equivalent

Memory: 4 GB RAM

Graphics: Nvidia 460 GTX / Radeon 5770 - 1 GB of VRAM

DirectX: Version 9.0c

Hard Drive: 30 GB available space

Sound Card: DirectX compatible sound card
Järjestelmävaatimukset (MAC)
Minimum:


OS: Mac OSX 10.5 or higher

Processor: 2.4GHz Intel Core i5

Memory: 4 GB RAM

Graphics: NVIDIA GeForce GT 300 Series or Radeon equivalent

Hard Drive: 30 GB available space
Recommended:


OS: Mac OSX 10.5 or higher

Processor: 2.66GHz Intel Core i7

Memory: 4 GB RAM

Graphics: NVIDIA GeForce GT 400 Series or Radeon equivalent

Hard Drive: 30 GB available space
Järjestelmävaatimukset (Linux)
Minimum:


OS: Ubuntu 12.04 or later

Processor: 2.4ghz Intel Core 2 Duo or equivalent

Memory: 4 GB RAM

Graphics: Nvidia 260 GTS or Radeon HD 4850 - 512 MB of VRAM

Hard Drive: 30 GB available space
Recommended:


OS: Ubuntu 12.04 or later

Processor: Intel i5 series or equivalent

Memory: 4 GB RAM

Graphics: Nvidia 460 GTX / Radeon 5770 - 1 GB of VRAM

Hard Drive: 30 GB available space
inXile entertainment Inc., 2727 Newport Blvd., Newport Beach, CA 92663. Copyright 2014 inXile entertainment Inc., Wasteland, the Wasteland logos, and inxile entertainment and the inXile entertainment logo are trademarks or registered trademarks of inXile entertainment Inc. in the U.S. and/or other countries. Copyright 2002 - 2014, inXile entertainment, Inc. All Rights Reserved. Fallout is a registered trademark of Bethesda Softworks LLC
Hyödylliset arvostelut
Nimi:
Wasteland 2 Digital Deluxe Edition
Lajityyppi:
Seikkailu
,
Indie
,
Roolipelit
,
Strategia
,
Early Access
Kehittäjä:
inXile Entertainment
Julkaisija:
inXile Entertainment
Julkaisupäivä:
13 Joulukuu 2013
Kielet:
| | Käyttöliittymä | Puhe | Tekstitykset |
| --- | --- | --- | --- |
| englanti | | | |