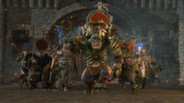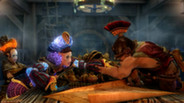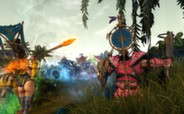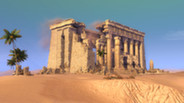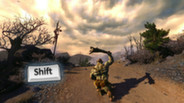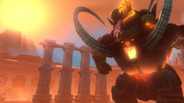 PANZAR is a fantasy multiplayer third-person shooter. You get to choose from eight unique character classes, team-based PvP battles, exciting PvE adventures and regular tournaments with real prizes. Advanced RPG elements, the non-target combat system and the most modern graphics by CryEngine 3 will make your combat experience...
Date de parution: 12 avr 2013
Regarder les 6 vidéos
Contenu téléchargeable disponible pour ce jeu
12 août 2014

Update #35 is successfully installed.

The update is working like it's supposed to – and that's why, if you launch PANZAR now, you'll see a lot of wonderful innovations: new PvE-map, Weapons of Victory, Lucky Horseshoe (which increases the chance of hitting the orange and red zones during item upgrading), permanent Runes, Energy Stones kits, three unique hats for Berserkers, permanent paints kits and a great amount of other breathtaking stuff.

The whole list you can find here. Be ready for a new, more exciting and challenging PANZAR!


1 commentaires
Lire la suite
23 juillet 2014


New generation of Panzarians, it is time to heed the War God's call to arms. Find yourself a clan and a team to battle it out for crystals and glory every week. Every Thursday, you can earn a bad-ass reputation for your killer moves and perfectly placed teleport in teams of 6 from level 10 to 19.

The Prizes:

1st place: 666 crystals
2nd place: 555 crystals
3rd/4th place: 444 crystals

Registrations open Tuesday July 22 and close the day of the tournament at 16.00 CET. The tournament starts at 20.00 CET on Thursday July 24.

Check the rule changes below!




The Prizes:

1st place: 4000 crystals
2nd place: 3000 crystals
3rd/4th place: 2500 crystals

Registrations open Tuesday July 22 at 8am.

Level 20-30: get in the game and get yourself a reputation for your bad-ass moves and awesome chars. Earn Your Gold League is for our top players. Persistence, courage, regularity and more teams will earn you a Gold and Silver League, like they have on our Russian servers. Don't forget to register before 24 July at 16.00 CET. Teams must be ready and online for the matches at 20.00 CET on Thursday July 24.

Rules Changes: Clans may register maximum two teams for one tournament. The tournament grid is checked 60 minutes before the tournament starts. If a clan has more than two teams registered at this time, every team from this clan will be disqualified.

Player rerolls between teams (including of the same clan) are strictly forbidden. Any teams that add players registered to another team, including characters of the same account, will be disqualified.
1 commentaires
Lire la suite
À propos du jeu
Au cœur d'un monde dévoré par les océans tumultueux du Chaos, quatre races ancestrales se livrent une lutte sans merci pour gagner les faveurs de déités maléfiques. Croisant le fer au beau milieu des vestiges calcinés de civilisations décimées, ces guerriers enragés et farouches sont guidés par une soif inextinguible de sang et de destruction. Ici-bas, le salut de tout combattant dépend de sa maîtrise des armes les plus redoutables (épées, massues...) et des sortilèges les plus dévastateurs...

Montrez que votre bravoure est inébranlable lors d'affrontements titanesques ! Rejoignez un clan pour fouler le sol meurtri des champs de bataille aux côtés de vos compagnons d'armes, dénichez des artefacts magiques, enchaînez les victoires, apprenez les techniques guerrières les plus efficaces et devenez une véritable force de la nature! Forgez-vous une réputation qui fera trembler les plus téméraires... Que vos exploits entrent dans les annales et que votre nom soit légende !
Caractéristiques principales

Monde "heroic fantasy" saisissant de réalisme
Exploitant au maximum la puissance brute du moteur CryENGINE®3, Panzar propose des graphismes à couper le souffle et un gameplay ravageur. Mesurez-vous à des adversaires en chair et en os dans des environnements tout aussi riches que détaillés (chutes d'eau en pleine montagne, villages perdus au plus profond de la jungle, châteaux ancestraux et ruines de temples païens...). Malgré cette débauche visuelle, Panzar est capable de s'adapter aux ordinateurs de générations précédentes grâce à de nombreuses options graphiques.

Tactiques variées
Découvrez un monde regorgeant de lieux pittoresques, d'armes meurtrières et d'armures en acier trempé ! Libre à vous de faire appel à vos compétences, votre arsenal et l'environnement pour élaborer d'innombrables tactiques et stratégies guerrières qui vous mèneront tout droit à la victoire ! Choisissez parmi huit classes de personnage possédant chacune ses techniques, des dynamiques de jeu bien particulières et un rôle qui lui est propre au sein d'un groupe. Grâce à des modes de jeu d'une grande diversité (Domination, Siège, Rugby et Roi de la colline), Panzar offre un gameplay qui se renouvelle sans cesse.

Combats dynamiques JcJ par équipe
Dans Panzar, l'union fait la force ! Jouer les loups solitaires se solde systématiquement par une mort atroce ! La clé de la victoire sur le champ de bataille n'est autre que votre capacité à œuvrer de concert avec vos coéquipiers ! Ce gameplay résolument collectif est particulièrement adapté aux assauts de grande envergure. Particulièrement bien pensé, le système de clan vous permet de disputer des tournois globaux pour que vous puissiez asseoir votre renommée et vous emparer de superbes récompenses !

Héros uniques
Donnez naissance à votre guerrier, puis faites-le évoluer et équipez-le comme bon vous semble ! Quand la bataille fait rage, vous pouvez à tout moment acheter, vendre, fabriquer et améliorer armes, armures et potions magiques ! Personnalisez votre alter ego virtuel en lui conférant une physionomie et une apparence qui vous correspondent : choisissez parmi une grande variété de coiffures et d'expressions corporelles, puis sélectionnez la couleur de votre armure. Laissez libre cours à votre imagination !

Système social avancé
Communiquez directement avec les autres joueurs depuis l'interface du jeu. Faites de nouvelles connaissances et retrouvez des amis perdus de vue ! Gagnez des bonus chaque fois que vous invitez quelqu'un ! Créez des équipes, participez à des tournois, fondez votre propre clan et battez-vous côte à côte pour atteindre le même objectif... la victoire !
Configuration requise
Minimum:


OS: Windows® XP

Processor: Intel® Core 2 Duo 2.4 GHz or AMD Athlon™ 64 X2 5600+ 2.8 GHz

Memory: 2 GB RAM

Graphics: NVIDIA® GeForce® 8800 GT or ATI Radeon HD 4870

DirectX: Version 9.0c

Hard Drive: 7 GB available space
Recommended:


OS: Windows® Vista/7/8

Processor: Intel® Core Quad Q9450 2.6 GHz or AMD Phenom II x4 920 2.8 GHz

Memory: 4 GB RAM

Graphics: NVIDIA® GeForce GTX 470 or AMD Radeon HD 6790

DirectX: Version 11

Network: Broadband Internet connection

Hard Drive: 7 GB available space
© 2013 Troxit Services Ltd. All rights reserved.
Évaluations intéressantes des utilisateurs
Titre:
Panzar
Genre:
Action
,
Gratuit
,
Massivement multijoueur
Développeur:
Troxit Service
Éditeur:
Panzar
Date de parution:
12 avr 2013
Langues:
| | Interface | Son | Sous-titres |
| --- | --- | --- | --- |
| Français | | | |
| Anglais | | | |
| Allemand | | | |
| Espagnol | | | |
| Russe | | | |
| Polonais | | | |
Tout afficher 6 langues supportées