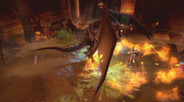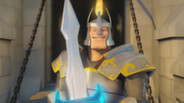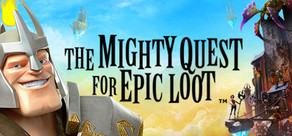 The Mighty Quest for Epic Loot is a brand new game from Ubisoft Montreal that thrusts you in an outrageous medieval fantasy world called Opulencia where wealth, status and showboating are the name of the game!
Release Date: Nov 18, 2013
Watch all 3 trailers
Play The Mighty Quest For Epic Loot
Free to Play
Downloadable Content For This Game
August 1st, 2014


Opulencians,

We first hinted at it when we transitioned to our Open Beta phase, a few months ago. We gave you a little more details this week in our Dev Post. The whole Hero Draft event was to prepare your Heroes for it. Well, things are about to get real: the first version of Defense Crafting will soon be available for all in Opulencia.


Defense Crafting: why?
The Defense Crafting is one of this summer's biggest, game-changing features.
The very purpose of Defense Crafting is to introduce a lot more variety and depth to Defending in the kingdom of Opulencia and to give you even more tools to express your creativity. We have been building this feature with the aim to begin to address the feedback that was given regarding the variety in Castles buildups.
As we have just introduced this important new feature, please bear in mind that this is just the very first version of the Defense Crafting. As such, it may bring its fair share of bugs in the first few weeks, but it will evolve quickly in the upcoming weeks, following your feedback and the game data you will all generate.
How does Defense Crafting work? You will be able to find more detailed scenarios focused on each type of players down below, but here is the gist of it.
Defense Crafting: what?
20 Materials have been introduced to the game. These Materials are lootable in any player-created Castle in Attack mode, and will be stored in your inventory. They can stack up until 99 for each Material.
Thanks to these Materials, you will be able to craft Creatures and Traps in the new Crafting Lab Machinery. Players will need to reach a level 10 Castle Heart to unlock this new Machinery. Below that level, players will be able to buy Creatures directly from Cornelius in his Emporium, but in very limited quantities.
Creatures are now separated by specialization, meaning that you will be able to have Creatures with different specializations in the same Castle. A "Fists of Rage" Cyclops can now be placed next to an "Offensive Tackle" Cyclops, along with numerous other new combinations. Of course, crafting different specializations of the same Creature will require slightly different Materials, so you will have to be even more strategic than before when setting up your Castle's Defense.
What is even more interesting is the fact that new, rare and super powerful Creatures will make time-limited appearances every week in the kingdom. Getting them will be challenging, especially since they will not be available for a while once they are removed from the Crafting Lab, but the reward should definitely be worth it!
Creatures and Traps will now be linked to their Castle Heart's level, and will not require to be upgraded manually anymore. Along with the Summoning Portal, the Research Lab machinery is therefore gone. This decision will help fixing the "Odd Castle Levels issue", where players could only upgrade their Creatures and Traps once every 2 levels.
You will be able to loot the most Material in Castles of your own level, with the loot drop decreasing when attacking lower level ones. When your Creatures/Traps defeat a Hero in your own Castle, its tombstone will now reward you with Materials linked to these Creatures/Traps too.
Your main source of Materials is definitely going to be the Attack mode and other players' Castles. However, if you were looking to find one extra Material of a particular rarity or type, we also have developped Material Packs that you will be able to purchase in the Crafting Lab. They will grant you up to 25 random Materials depending on their sizes, sorted by rarity:
• The Dabbler's Pack contains 5 random Materials, of which 4 are Common and 1 has a 60% chance of being Exceptional, a 35% chance of being Legendary, or a 5% chance of being Epic. It costs 50 Blings.
• The Enthusiast's Pack contains 12 random Materials, of which 9 are Common and 3 have each a 60% chance of being Exceptional, a 35% chance of being Legendary, or a 5% chance of being Epic. It costs 100 Blings.
• The Connoisseur's Pack contains 25 random Materials, of which 18 are Common and 7 have each a 60% chance of being Exceptional, a 35% chance of being Legendary, or a 5% chance of being Epic. It costs 200 Blings.
Now to give you more detail on how the transition goes down for each and every type of players.
Scenario 1: Existing Player over level 10
All of our existing players with a Castle Heart that is equal or above level 10 will see their Creatures and Traps contaminated by a very strong case of eternal Chickenpox. These Creatures and Traps now have a more greener conplexion, complete with spots and flies!
The new, craftable (and vaccinated) generation of Creatures will be twice as strong as the poor diseased previous generations' ones: in short, players should look into replacing them as soon as possible! And don't worry: thanks to your training during the Hero Draft, all of our 4 Heroes have been buffed to be able to cope with this new breed of Creatures.
To replace their Creatures and Traps, they will have the Crafting Lab at their disposal, accessible from the Machinery Tab directly. All players are also able to purchase Creatures and Traps in the Cornelius Emporium in limited quantities.
Scenario 2: Existing Player under level 10
All of our existing players with a Castle Heart that is under level 10 will also see their Creatures and Traps contaminated by the same case of eternal Chickenpox. Since the Crafting Lab will only be available at level 10, they will need to visit the Cornelius Emporium under the Defense Tab to purchase new, stronger Creatures to replace the old ones.
Players under level 10 will still be able to loot Materials in the Castles they attack but at a much lower rate, to begin stacking them up until they get access to the Crafting Lab.
Scenario 3: New Player
A Player starting the game now will be presented with a redesigned tutorial that directly introduces the new Creatures and Traps' purchase through the Cornelius Emporium. They will unlock the Crafting Lab when they reach level 10. No case of the Chickenpox here!
Defense Crafting: What's next?
Allowing several specializations of the same Creature is only the first step toward better diversity and variety in Castles setups. As we stated earlier, we will start introducing limited and powerful new rare Creatures that you will be able to craft with specific Materials, for limited periods of time only.
Conclusion
Please keep in mind that this is a big, game-changing feature we have just introduced to a game that is still in Open Beta. As such, it might be prone to generate a fair share of bugs, especially during this first few weeks. It might take us some time to adjust and fix all the issues you will find with it, but we will get there, don't y'all worry about that.
Again, feedback, feedback and feedback will be extremely important for us.
Here you go to share yours on our forums!
3 comments
Read more
August 1st, 2014
IMPROVEMENTS

New Cornelius Emporium

The Cornelius Emporium now becomes your one-stop shop for all Heroes and Castle related content, including:


Basic Creatures and Traps, Barricades, Castle Themes, Costumes, Pets, Boosts & Dyes.


Until your Castle reaches level 10 and you unlock the Crafting Lab, Creatures and Traps will be obtained through the Cornelius Emporium rather than the Summoning Portal.

Creatures & Traps will have limited quantities; some quantities will be updated every time you level up your Castle Heart.

Heroes


The amount of XP required for each level has been reduced from levels 5 to 25, meaning you'll gain levels faster than before.




The Archer's Hawk skills no longer share a common cooldown. You can now use multiple Hawk skills during combat. This skill tree has been renamed "Hawk Spirit".


Hawk Sentry:


Mana Cost: 35

Cooldown: 10s


Hawk Dive:


Mana Cost: 35

Cooldown: 8s


Hawk Harass:


Mana Cost: 12

Cooldown: 7s

User Interface Improvements


The Attack HUD has been completely reworked. The new HUD uses a new UI technology, meaning it uses fewer system resources, improving the performance of the game.

Other UI Improvements:


Chat window

User interface changes could improve game fluidity during Attack on some computers.

Game is letterboxed (black bordered) to 16:9 widescreen ratio to allow for consistency in the display of the New UI system across all monitor resolutions.

New objectives are now indicated with the number of objectives that have been unlocked in the user interface.

Barricades


A new 3x1 Barricade (The big crate) has been added and is available for 95 Blings or 20,000 Gold.

4 new decoy Barricades have been added :


Bag of Bones decoy (footprint 1x1)

Fallen Knight decoy (footprint 1x1)

Defend-o-Tron decoy (footprint 2x1)

Smelly Archer decoy (footprint 1x1)


Barricade's health points are now visible in their tooltip.

The Barricade meter is only shown when a barricade is selected. The meter now displays an informative tooltip.

New User Experience Changes


The tutorial has been updated to support changes to where we purchase Creatures.

Paid Validation:


The cost of a Validation Ticket for your Castle has been reduced from 99 to 30 Blings.

Attackers that successfully validate a player's Castle will now receive 3 Blings.

In the case of multiple attackers validating the same Castle before any validation is complete, the attacker with the quickest time will be used as the Castle's time to beat.

Loot Visuals:


The generic item drop mesh has been improved.

Inventory:


Existing players will be given an additional Inventory page for free to hold their crafting Materials.

The second Inventory tab will be available for 100 Gold instead of 200 Blings.

This is to soften inventory stresses that are likely to occur while we investigate alternative solutions

More Castles Option:


The "More Castles" option can now be purchased either in Blings

BALANCING

Heroes:


Heroes now deal twice as much damage than before.

The Knight has received additional armor resistance and HP to help compensate against the increased damage of new Creatures.

Creatures:


The new generation of Creatures deals twice as much damage as the older generation. Their HP has not changed. Since the Creatures now deal more damage, we've tweaked the base stats of certain Creatures to avoid one-shot kills:


Critical hit damage lowered on all Creatures from 150% to 25%.


Elite Splitshot Archer: decreased physical damage

Elite Sniper Archer: decreased physical damage

Elite GroundPunch Cyclops: decreased physical damage

Elite Beholder Eyeline: decreased magical damage

Elite Jimbo Smelly Warrior: decreased physical damage

Elite Spider (webmaster): decreased physical damage

Duke of Stabbington: decreased physical damage

Stabassassin: reduced defense rating from 3 to 2 points.

Traps:


We've improved the crafted Traps so they can keep up with the buffed Creatures and Heroes:


All Mines will explode more quickly, from 1s to 0.8s

Spike Trap: Faster interval timing from 0.5s to 0.4s

Springboard: Decreased the amount of time before it triggers from 0.45s to 0.40s, and the amount of time it takes to return to its default armed state from 3.5s to 2.5s

Hamster Wheel: Increased the damage by 20%

Ballistic Cannon: Increased rate of fire by 50% and decrease damage by a 50%. Rotation speed increased as well.

All Rotating Cannons: Increased damage by 20%.

Corrosion Mine: Increased damage by 20%.

Haunted Gramophone: Decreased the area of effect from 3s to 2s.

Traps in Ubisoft-created Castles now deal 20% more damage.

GENERAL FIXES


By default, the shop filters are now displayed on "all".

Fixed an exploit with Legendary and Epic items forging.

Fixed a bug where a Castle's Defense rating could be invalid after using the Castle Rollback function.

Bling Mines have now a specific selection sound.

The Paid Validation popup is now bigger.

Creatures stuck behind Barricades and unable to pathfind their way to the hero will no longer cause the Treasure Room gate to be locked.

KNOWN ISSUES


Cornelius' voice has been turned off during the tutorial.

Tooltips displaying damage values may display incorrect information:


Creature & Trap damage

Hero stats (DPS)

Hero Skills (cooldown/mana/damage)


Objectives refer to old Creature names.

Some long Creature names may be cut in the HUD.

The user interface may not refresh or display everything correctly.

Some words are misplaced in the User Interface.

Lag can occur in the inventory

The text may become difficult to read in certain screen resolutions or certain UI panels.

Some Creatures of the same family have the same icon.

Increased Z bias to make the Castle comments appear above the Castle banner.

Items in the Buy Back might be missing their icons.

Some texts are difficult to read due to font changes.

After removing a Creature in the Castle it may not immediately appear in the castle Inventory. The Creature will appear after restarting the game.

Equipping items, Dyes and Skills using a single click doesn't work. Please use drag & drop (click & hold).

Some Creatures reappear in a "Chickenpox'd" state when they are resurrected:


Durrr comes back in "Chickenpox'd" form when resurrecting in a player Castle.

General Cluckenstein spawns "Chickenpox'd" Chickens.

Explodifier Spawns "Chickenpox'd" Blomblets.


The Mage's Vortex Rift skill can create a crash when used to destroy two or more Mines at the same time

Targeted Attack cannot be performed unless the user goes through the friend profile.


2 comments
Read more
Previews
"Diablo meets Dungeon Keeper"
PC Gamer

"Mighty Quest is like pop-corn. You take just a few to taste them and you end up finishing the whole pot without noticing."
http://www.jeuxvideo.com/articles/0001/00018382-the-mighty-quest-for-epic-loot-preview.htm

"At its core, The Mighty Quest for Epic Loot shows a lot of promise. I love the dungeon building and the quick and instant gratification the hack n' slash looting gives."
Destructoid

"The name may be a bit confusing, then, but there's no mistaking the warmth lurking within wonderful chunky art and the neat dovetailing of complimentary systems."
Eurogamer

"Mighty Quest is on its way to becoming the essential multi-player game for the non-multi-player"
The Examiner
About the Game
The Mighty Quest for Epic Loot is a brand new game from Ubisoft Montreal that thrusts you in an outrageous medieval fantasy world called Opulencia where wealth, status and showboating are the name of the game!
As a newcomer to Opulencia, you will hack n slash your way through hundreds of castles designed by the ingenious minds of your fellow players!
Don't forget to show them who's boss by constructing deadly keep of your very own – in this kingdom, size really does matter!
Key Features
Castle Looting: Prepare your hero for battle and charge into one of many player-created castles to test your skills and might! Oh yeah, and don't forget all the loot and gold waiting for you in the treasure room at the end of the castle.

Castle Defense: Protect your treasure from the greedy hands of your neighbors. You and your friends can build custom castles with majestic rooms and fill them with deadly monsters like fire-breathing dragons, nose-picking Cyclopes, swarming vampires and more. Then, surprise your foes by boosting your castle's defenses with fearsome fire cannons, spike traps and other surprises. The more enemies perish in your castle, the higher the reward.

Variety of Heroes: The outlandish world of Opulencia has an eccentric cast of characters ranging from the knight, Sir Painhammer, a good-natured tough guy to Blackeye Bowgart, an archer with a chip on his shoulder. More will be available in the near future.

Character Customization: Plain armor is out this season, shiny metal is in. Use your well-earned gold to shop and customize and level up your heroes in style.

Showboating: Think you are the baddest of the bad in all of Opulencia? Prove it by creating different challenges for your foes and compare yourself on the leaderboards.

Intense Action: Play on your own schedule. Short sessions means you can play when you want to. It also doesn't hurt to have others playing at the same time, but you don't need them playing simultaneously to experience looting at its best.
System Requirements
Minimum:


OS: Windows XP SP3

Processor: 3.00 Ghz Intel Pentium IV or equivalent processor

Memory: 2 GB RAM

Graphics: DirectX 9 compliant Video Card with at least 256 MB of memory

DirectX: Version 9.0

Network: Broadband Internet connection

Hard Drive: 600 MB available space

Sound Card: DirectX compatible sound card

Additional Notes: The minimum configuration is currently higher than what it might be when the development is complete. Please understand that the current version is work in progress and is not yet optimized.
© 2012 Ubisoft Entertainment. All rights reserved. The Mighty Quest for Epic Loot, Ubisoft and the Ubisoft logo are trademarks of Ubisoft Entertainment in the US and/or other countries.
Helpful customer reviews