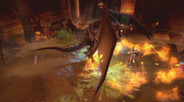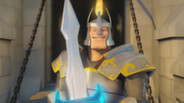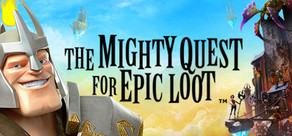 The Mighty Quest for Epic Loot is a brand new game from Ubisoft Montreal that thrusts you in an outrageous medieval fantasy world called Opulencia where wealth, status and showboating are the name of the game!
Release Date: Nov 18, 2013
Watch all 3 trailers
Play The Mighty Quest For Epic Loot
Free to Play
Downloadable Content For This Game
September 11
Hello Opulencians,

As announced earlier this week, the Rancid Runner left us today. That will give Cornelius some time to get that stench of his favorite sofa. Let's now welcome our new rare trap. Joining the Wanted list today is the Chargoyle:






The Chargoyle is now available to craft in the Lab. It will only be here for a limited time, so don't wait too long before you grab it!
1 comments
Read more
September 11
Hello looters!

Today is a big day for Opulencia!

Indeed, Totems has finally arrived in the game, along with many other surprises. Time for us to introduce you to all of this.

So take a seat, have a glass of eau de trap, and read on!



Why are we adding totems to the game?
Totems were created to regulate kiting and limit its effect on the defensive aspects of our game.
It was too easy to just aggro a group of creatures and then to take the fight to a more secure place.
The Attacker using that strategy wasn't trying to rise to the challenge of the castle, but to find a way to exploit the game flaws.
We observed that Defenders had trouble preventing this kind of (unwanted) behaviour, and thought of a tool that would allow them to control where the fight would happen.
The rules
Where can I find a Totem ?
You will find totems in the Crafting Lab. Which means you will need a level 10 or higher castle.
How much does it cost?
To craft a totem, you'll need 12 Eagle Souls, 12 Defenderiums, 6 Smothering Eyes, and 145 Gold
Putting a totem in your castle will also cost 2 Defense Points.
For the first phase of totem testing, we'll allow two totems for each castle. Of course if the mechanic proves successful we'll consider a higher limit.
How do totems work?
A totem has a 2x2 footprint, and a 10x10 area of effect where you can place up to 28 defense points.
You'll see a circle on the outer edge of the area that symbolizes the totem's exclusion zone. This area has a double purpose:
o Exclusion : Two exclusion zones cannot overlap, preventing Defenders from setting two totems too close to each other.
o Kiting limit : Creatures that cross this limit are automatically called back to their initial position and their health is restored to 100%.
Please note that for now it's impossible to set totems in the Boss Room.
How do I place my creatures?
Creatures must be placed inside the dedicated yellow square area. Each creature's defense rating will be deducted from the totem's total defense limit (28 defense points for thos who don't follow).
When a totem's limit is reached, additional placed creatures won't be affected by the totem's influence.
Please also note that only creatures set in a totem's placement area will be affected by its powers.
Can I "manually" link creatures to a totem?
In this first version of the totem feature, creatures are automatically linked to the totems as you place them. If you want to link different creatures than those you have already placed, you will have to remove the ones you placed and then set them in your favorite order.
What happens to the aggro mechanic?
The aggro is still triggered by the creature's line of sight. But whenever a creature linked to a totem is aggroed, it will aggro all the other creatures under the totem's influence.
If you attack a totem directly, you will automatically be attacked by all creatures linked to it.
How does this affect the attack ticket distribution?
Creatures linked to a totem have the priority when it comes to attack tickets. If other creatures have attack tickets, they will give them away to creatures linked to a totem.
What happens if I walk away after aggroing creatures linked to a totem?
Creatures will go back to their initial position and get healed, but they will also stay "on alert". This means that you won't be able to access the treasure room without killing them before.
The mini-map displays their positions in the form of red dots so you can find missing creatures easily.
Can I destroy totems?
Yes you can, and you'll enjoy it!
Totems have a certain amount of health, that grows with the castle level. We will need your feedback to adjust them.
A destroyed totem won't affect any creature anymore.
Artificial Intelligence
Introducing totems will greatly change the Attackers' behaviour and the Defenders' strategies.
In our first test sessions with totems, we noticed that Defenders were using the totems to focus their defense setups on smaller precise areas.
In this situation, totems were becoming a hindrance for two reasons :
- Combat was becoming less readable for Attackers.
- Our Artificial Intelligence had trouble managing these complex situations, causing bugs and illogical behaviour (in terms of navigation and health regeneration).
That's why we decided to throw away the old AI system to improve your gaming experience.
Will I see a change?
Creatures won't be "scared" of traps anymore. They won't try to escape traps, they'll keep on attacking the hero.
Creatures won't have any trap resistance anymore, or regeneration power after they've been hurt by traps.
This lead to more interesting, strategic fights. Attackers can now lure creatures into traps to take advantage from them.
Defenders will have to adapt to these changes. They won't be able to just stack creatures in the same place without putting their defense at risk.
Balancing
You may have guessed it already: this AI change will affect the way our game is balanced.
In our first tests, we noticed that creatures were now too weak against traps. So we buffed their health. But this made the heroes too weak.
So we drastically changed our base ratios to adapt our balancing to the new gameplay, without altering how the Mighty Quest feels.
That's it for today's update!
We can't wait to see what you'll make of this new feature, and to get your feedback.
Have fun and keep on looting!
0 comments
Read more
Previews
"Diablo meets Dungeon Keeper"
PC Gamer

"Mighty Quest is like pop-corn. You take just a few to taste them and you end up finishing the whole pot without noticing."
http://www.jeuxvideo.com/articles/0001/00018382-the-mighty-quest-for-epic-loot-preview.htm

"At its core, The Mighty Quest for Epic Loot shows a lot of promise. I love the dungeon building and the quick and instant gratification the hack n' slash looting gives."
Destructoid

"The name may be a bit confusing, then, but there's no mistaking the warmth lurking within wonderful chunky art and the neat dovetailing of complimentary systems."
Eurogamer

"Mighty Quest is on its way to becoming the essential multi-player game for the non-multi-player"
The Examiner
About the Game
The Mighty Quest for Epic Loot is a brand new game from Ubisoft Montreal that thrusts you in an outrageous medieval fantasy world called Opulencia where wealth, status and showboating are the name of the game!
As a newcomer to Opulencia, you will hack n slash your way through hundreds of castles designed by the ingenious minds of your fellow players!
Don't forget to show them who's boss by constructing deadly keep of your very own – in this kingdom, size really does matter!
Key Features
Castle Looting: Prepare your hero for battle and charge into one of many player-created castles to test your skills and might! Oh yeah, and don't forget all the loot and gold waiting for you in the treasure room at the end of the castle.

Castle Defense: Protect your treasure from the greedy hands of your neighbors. You and your friends can build custom castles with majestic rooms and fill them with deadly monsters like fire-breathing dragons, nose-picking Cyclopes, swarming vampires and more. Then, surprise your foes by boosting your castle's defenses with fearsome fire cannons, spike traps and other surprises. The more enemies perish in your castle, the higher the reward.

Variety of Heroes: The outlandish world of Opulencia has an eccentric cast of characters ranging from the knight, Sir Painhammer, a good-natured tough guy to Blackeye Bowgart, an archer with a chip on his shoulder. More will be available in the near future.

Character Customization: Plain armor is out this season, shiny metal is in. Use your well-earned gold to shop and customize and level up your heroes in style.

Showboating: Think you are the baddest of the bad in all of Opulencia? Prove it by creating different challenges for your foes and compare yourself on the leaderboards.

Intense Action: Play on your own schedule. Short sessions means you can play when you want to. It also doesn't hurt to have others playing at the same time, but you don't need them playing simultaneously to experience looting at its best.
System Requirements
Minimum:


OS: Windows XP SP3

Processor: 3.00 Ghz Intel Pentium IV or equivalent processor

Memory: 2 GB RAM

Graphics: DirectX 9 compliant Video Card with at least 256 MB of memory

DirectX: Version 9.0

Network: Broadband Internet connection

Hard Drive: 600 MB available space

Sound Card: DirectX compatible sound card

Additional Notes: The minimum configuration is currently higher than what it might be when the development is complete. Please understand that the current version is work in progress and is not yet optimized.
© 2012 Ubisoft Entertainment. All rights reserved. The Mighty Quest for Epic Loot, Ubisoft and the Ubisoft logo are trademarks of Ubisoft Entertainment in the US and/or other countries.
Helpful customer reviews