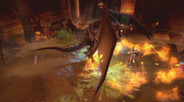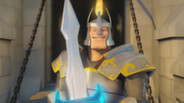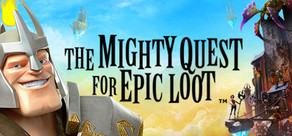 The Mighty Quest for Epic Loot is a brand new game from Ubisoft Montreal that thrusts you in an outrageous medieval fantasy world called Opulencia where wealth, status and showboating are the name of the game!
Release Date: Nov 18, 2013
Watch all 3 trailers
Play The Mighty Quest For Epic Loot
Free to Play
Downloadable Content For This Game
July 9th, 2014


Greetings Opulencians,

Here are the changes brought to the game by our latest patch:


Balancing
Several skills in the game have been updated as part of our ongoing balancing . The biggest change is to the healing component of certain skills, which has been replaced with another defensive ability. Read on for more details about the changes to skills.
Knight:
- Healing Strike:
- The healing effect has been removed.
- Now creates a shield that absorbs damage, lasting up to 8 seconds.
- The skill is now named Shielding Strike.
- Jab:
- Cooldown reduced to 0.2 seconds.
- Mana cost increased to 8.
- Punt:
- Changed the aiming mechanic of this skill so that it works in whatever direction the mouse cursor is facing, rather than automatically targeting the closest enemy. This lets you have more control over how you use Punt.
Mage:
- Death Bolt:
- Now creates a shield that absorbs damage for up to 4 seconds and weakens the attacks of the targeted creature.
- Death Grip:
- The healing effect has been removed.
- Now increases your Armor by +5% per affected Creature up to 200% total.
- The armor buff disperses when you stop casting the spell.
- Increased the cooldown to 7 seconds.
- Fireball:
- The time between casting the spell and the impact of the projectile has been reduced. The area of effect is the same across all the levels of the skill. Both impact damage and damage over time affect the same area.
Staying on the topic of balancing, here are the changes to the Creatures:
Bad Dog:
- Improved the creature's harassing capabilities
- Added 30% Snare Resistance.
- Movement speed increased from 4 to 5.5 meters per second.
- Easier navigation when in large groups (seems legit, it's a pack creature!).
- New quicker attack.
- New "Howl" Buff
- Increases the movement speed for every creature in a 5 meter radius for 5 seconds by 30%.
- Buff Cooldown: 10 seconds
- New health values:
Mittens:
- Improved the creature's ability to harass the attacker
- Added 30% Snare Resistance
- Easier navigation in large groups
- New quicker attack
- New "Howl" Buff
- Increases the movement speed of every creature in a 5 meter radius for 5 seconds by 30%
- Increases the snare resistance of every creature in a 5 meter Radius for 5 seconds (except for Bad Dog and Bad Dog Elite) by +60%
- Buff Cooldown: 10 seconds
- New health values:
Crowns system
- We've made changes to how often the same attacker gives crowns to the defender. As a defender, you will now gain crowns by beating the same attacker once per 24 hour period, up from 15 minutes. This addresses an exploit where some players would let themselves die intentionally in a castle to boost that player's crowns.
- Fixed a bug that caused defenders to win Crowns from much higher level attackers who died in their castle even though the big difference in the number of Crowns between the attacker and the defender should result in no Crowns gained/lost on either side.
Barricades
Destructible barricades can be placed to hinder an attacker's passage in your castle and provide some temporary cover for your creatures. You can find barricades in the Architect's Office. More barricades will be coming soon, including a 1x3 crate variant available in either gold or blings.
Other changes and novelties
Marleybone has started a career as a designer and is proud to present you his creations: a new theme for your castle, a fetching hat and new Voodoo Doll pets!
Cornelius has reorganized his store counters to make it easier for his customers to find the Castle Themes, Costumes and Pets that they desire. Visit his shop by clicking on the button in the upper left corner of the screen.
Reduced the occurrence of a bug that caused animated loading icons to remain stuck on the screen.
Upgrading your Castle buildings is now easier: open the specific building's window by clicking on the menu icons in the center-top of the screen (or by using the F1 to F6 keys) then click on the up-arrow next to the X button of the building's interface that pops-up on the left side of the screen.
The Watch_Dogs and Chickenwalk castles in the Competition Zone have been demolished. I wonder what construction project will spring up in their place...
9 comments
Read more
July 4th, 2014
The judges had a hard time picking out one winner per class and after hours of heated debates, Chevalier-Noir-, Gaw, -:[NAION]:- and Keeperofthelight were chosen to receive an Ultimate Pack each. Here's some insight into the judging process:



This way to the video!

Knight

Chevalier-Noir- starts off our selection today with a wonderful Banishing Black ensemble. Touches of Ominous Orange and Madness Magenta remind us of burning embers, something the superb Lil Smokey Pet and burning Sword complement nicely. Dancing among his enemies while his Damage-Reflecting-Armors do the dirty work was an impressive show of confidence! Runner-up is Godefroilehardi with a chic combination of Gang Green armor and Watch Dogs Bandana.


Archer

Sir Painhammer warned us that choosing the most beautiful Archer would be difficult, but Gaw really went all the way. Actually, he went even further than all the way! Purple Special Edition Bat Brigade Hat, Watch Dogs Legendary Cape, a delightful mélange of Venturous Violet and Youthful Yellow armors, and the exquisitely paired Lil Arachbro to go with it. He even has the Double O Eagle to follow him around! Dhoinne came in close second by rocking the Pirate Hat and a Rockin' Red Tunic set like no other.


Mage

-:[NAION]:- took everyone by surprise with an electric and eclectic Earl of Evilosity. Closely followed by his loyal Mr. Squiddlins, this Blurred-Blue-and-Ogre-Ochre version of the Earl really put on the show for our greatest pleasure. And we are still wondering where he got that silly but avant-garde hat! Master Shake was a strong runner-up, his Banishing Black-and-Youthful-Yellow costume being the best outfit to emphasize his remarkable set of Icy Crown and Wings and his Epic Weapon. And Bubble Tom adds the perfect finishing touch.


Runaway

Finally, with Keeperofthelight the Runaway found herself the best stylist in Opulencia. Colors are flying everywhere in this fantastic apparel, and her paired Watch Dogs Axe - Baby Blue Pet is a touch we only expect from the most trendy Opulencian. Claudlorr also rocked our hearts and souls with a mix of Banishing Black, Madness Magenta and Turbulent Turquoise. The Tuxedo Nigel Pet was icing on a cake so good that it would make us not fit in our designer clothes anymore!

2 comments
Read more
Previews
"Diablo meets Dungeon Keeper"
PC Gamer

"Mighty Quest is like pop-corn. You take just a few to taste them and you end up finishing the whole pot without noticing."
http://www.jeuxvideo.com/articles/0001/00018382-the-mighty-quest-for-epic-loot-preview.htm

"At its core, The Mighty Quest for Epic Loot shows a lot of promise. I love the dungeon building and the quick and instant gratification the hack n' slash looting gives."
Destructoid

"The name may be a bit confusing, then, but there's no mistaking the warmth lurking within wonderful chunky art and the neat dovetailing of complimentary systems."
Eurogamer

"Mighty Quest is on its way to becoming the essential multi-player game for the non-multi-player"
The Examiner
About the Game
The Mighty Quest for Epic Loot is a brand new game from Ubisoft Montreal that thrusts you in an outrageous medieval fantasy world called Opulencia where wealth, status and showboating are the name of the game!
As a newcomer to Opulencia, you will hack n slash your way through hundreds of castles designed by the ingenious minds of your fellow players!
Don't forget to show them who's boss by constructing deadly keep of your very own – in this kingdom, size really does matter!
Key Features
Castle Looting: Prepare your hero for battle and charge into one of many player-created castles to test your skills and might! Oh yeah, and don't forget all the loot and gold waiting for you in the treasure room at the end of the castle.

Castle Defense: Protect your treasure from the greedy hands of your neighbors. You and your friends can build custom castles with majestic rooms and fill them with deadly monsters like fire-breathing dragons, nose-picking Cyclopes, swarming vampires and more. Then, surprise your foes by boosting your castle's defenses with fearsome fire cannons, spike traps and other surprises. The more enemies perish in your castle, the higher the reward.

Variety of Heroes: The outlandish world of Opulencia has an eccentric cast of characters ranging from the knight, Sir Painhammer, a good-natured tough guy to Blackeye Bowgart, an archer with a chip on his shoulder. More will be available in the near future.

Character Customization: Plain armor is out this season, shiny metal is in. Use your well-earned gold to shop and customize and level up your heroes in style.

Showboating: Think you are the baddest of the bad in all of Opulencia? Prove it by creating different challenges for your foes and compare yourself on the leaderboards.

Intense Action: Play on your own schedule. Short sessions means you can play when you want to. It also doesn't hurt to have others playing at the same time, but you don't need them playing simultaneously to experience looting at its best.
System Requirements
Minimum:


OS: Windows XP SP3

Processor: 3.00 Ghz Intel Pentium IV or equivalent processor

Memory: 2 GB RAM

Graphics: DirectX 9 compliant Video Card with at least 256 MB of memory

DirectX: Version 9.0

Network: Broadband Internet connection

Hard Drive: 600 MB available space

Sound Card: DirectX compatible sound card

Additional Notes: The minimum configuration is currently higher than what it might be when the development is complete. Please understand that the current version is work in progress and is not yet optimized.
© 2012 Ubisoft Entertainment. All rights reserved. The Mighty Quest for Epic Loot, Ubisoft and the Ubisoft logo are trademarks of Ubisoft Entertainment in the US and/or other countries.
Helpful customer reviews