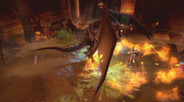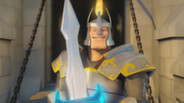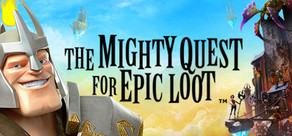 The Mighty Quest for Epic Loot is a brand new game from Ubisoft Montreal that thrusts you in an outrageous medieval fantasy world called Opulencia where wealth, status and showboating are the name of the game!
Data de lançamento: 18 Nov 2013
Ver todos os 3 trailers
Jogar The Mighty Quest For Epic Loot
Free to Play
Conteúdo transferível para este produto
29 agosto 2014
Hello Opulencians,

Starting today and until Wednesday, September 3rd at 11.59pm EDT, the Bling Mines are available for purchase again!




As stated above, you can have up to two in your Castle, so if you missed the first Bling Rush or would like to complete your collection, now is the time!

Good luck to all!
2 comentários
Ler mais
29 agosto 2014


Hello Opulencians,

As announced earlier this week, our first Most Wanted Creature, the General Pow had to leave for an indefinite period of time. Don't worry, all the crafted ones will stay in their Castles.

This means that it's now time for a new entry in the Wanted series! This week, you will be able to craft the Caustic Carpet, an acid version of the Spike Trap that deals corrosive, long lasting damages!

Don't forget that the Caustic Carpet will only be available for a limited time Opulencians, so get to it!

Good luck to all!
3 comentários
Ler mais
Previews
"Diablo meets Dungeon Keeper"
PC Gamer

"Mighty Quest is like pop-corn. You take just a few to taste them and you end up finishing the whole pot without noticing."
http://www.jeuxvideo.com/articles/0001/00018382-the-mighty-quest-for-epic-loot-preview.htm

"At its core, The Mighty Quest for Epic Loot shows a lot of promise. I love the dungeon building and the quick and instant gratification the hack n' slash looting gives."
Destructoid

"The name may be a bit confusing, then, but there's no mistaking the warmth lurking within wonderful chunky art and the neat dovetailing of complimentary systems."
Eurogamer

"Mighty Quest is on its way to becoming the essential multi-player game for the non-multi-player"
The Examiner
Acerca do Jogo
The Mighty Quest for Epic Loot is a brand new game from Ubisoft Montreal that thrusts you in an outrageous medieval fantasy world called Opulencia where wealth, status and showboating are the name of the game!
As a newcomer to Opulencia, you will hack n slash your way through hundreds of castles designed by the ingenious minds of your fellow players!
Don't forget to show them who's boss by constructing deadly keep of your very own – in this kingdom, size really does matter!
Key Features
Castle Looting: Prepare your hero for battle and charge into one of many player-created castles to test your skills and might! Oh yeah, and don't forget all the loot and gold waiting for you in the treasure room at the end of the castle.

Castle Defense: Protect your treasure from the greedy hands of your neighbors. You and your friends can build custom castles with majestic rooms and fill them with deadly monsters like fire-breathing dragons, nose-picking Cyclopes, swarming vampires and more. Then, surprise your foes by boosting your castle's defenses with fearsome fire cannons, spike traps and other surprises. The more enemies perish in your castle, the higher the reward.

Variety of Heroes: The outlandish world of Opulencia has an eccentric cast of characters ranging from the knight, Sir Painhammer, a good-natured tough guy to Blackeye Bowgart, an archer with a chip on his shoulder. More will be available in the near future.

Character Customization: Plain armor is out this season, shiny metal is in. Use your well-earned gold to shop and customize and level up your heroes in style.

Showboating: Think you are the baddest of the bad in all of Opulencia? Prove it by creating different challenges for your foes and compare yourself on the leaderboards.

Intense Action: Play on your own schedule. Short sessions means you can play when you want to. It also doesn't hurt to have others playing at the same time, but you don't need them playing simultaneously to experience looting at its best.
Requisitos do Sistema
Minimum:


OS: Windows XP SP3

Processor: 3.00 Ghz Intel Pentium IV or equivalent processor

Memory: 2 GB RAM

Graphics: DirectX 9 compliant Video Card with at least 256 MB of memory

DirectX: Version 9.0

Network: Broadband Internet connection

Hard Drive: 600 MB available space

Sound Card: DirectX compatible sound card

Additional Notes: The minimum configuration is currently higher than what it might be when the development is complete. Please understand that the current version is work in progress and is not yet optimized.
© 2012 Ubisoft Entertainment. All rights reserved. The Mighty Quest for Epic Loot, Ubisoft and the Ubisoft logo are trademarks of Ubisoft Entertainment in the US and/or other countries.
Análises úteis de clientes