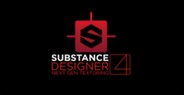 Substance Designer 4, with its new features, can definitely claim the title of "the first texturing tool dedicated to Next Gen". In particular, its new material layering workflow and its PBR shader are in par with what is going on with AAA studios around the globe.
Veröffentlichung: 6 Juni 2013
HD-Video ansehen
Substance Designer kaufen
Substance Designer Commercial Upgrade kaufen
This upgrade is for customers who ALREADY OWN the Substance Designer standard license and would like to upgrade to the more advanced COMMERCIAL license.
Substance Designer Commercial kaufen
Pakete, die diese Software enthalten
Substance Indie Pack kaufen
Enthält 4 Artikel: Substance Designer, Bitmap2Material, Substance Painter, Substance Indie Pack
Inhalte zum Herunterladen für dieses Spiel
16 April 2014
Substance Designer 4.2 is now available along with the free Substance Engine plugin for Unreal Engine 4!

SD 4.2 Main Features

Automatic and continuous export - Allows you to see updates to your substance in real time in any hot-reload enabled software (Toolbag2, Unity, Maya, etc.)

sRGB/Linear switch both for 2D and 3D visualization.

New wear and tear filters

Environment map can be displayed in the viewport

Improve antialiasing in bakers
Full Changelog
[Graph] Export outputs continuously
[3D View] display environment map in the viewport
[3D View] Allow to drag & drop images from the Library to the Viewport
[3D View] move the environment map/parameters to the scene parameters
[3D View] Handle rays going below the horizon in PBR shaders
[3D View] Control exposure instead of environment intensity
[2D View] switch to view image as srgb/linear
[Bakers] Improve antialiasing in bakers from high poly mesh
[Graph] Add the export output buttons in the graph toolbar
Deprecate the DirectX9 engine
Bug fixes
[Bakers] World Space normal map is not look normalized
[Bakers] Baked map has a wrong name
[Bakers] Display material name instead of id index
[Bakers] UV to SVG: Grayscale Mode: Black is a valid ID.
[Bakers] Image resource not reloaded after baking update
[Bakers] Auto-normalization of baked height maps with cages
[Cooker] Wrong SBSAR code generation
[3D View] Default material is still visible when using the "view outputs in 3D view" function
[3D View] 3d view is empty
[3D View] 4k textures are always displayed in 2K
[3D View] Cubemaps loaded from HDR panoramas are downgraded to 8bpc
[Library] Default filters are not sorted correctly
[Explorer] Export with dependancies does not keep default library path
[Explorer] crash when moving a graph inside a package
[Explorer] Crash when reloading package
[Explorer] Crash when unloading a package
[Graph] Editing a FX-Map creates a "Parameter" tab
[Graph] adding nodes in a frame deselects currently selected nodes
[Graph] Duplicating a node display the graph parameters instead of the new node ones
[Mac] Thumbnails of subgraphs are not correctly rendered
[Parameters] Step option does not work
1 Kommentare
Mehr erfahren
21 Februar 2014
Substance Designer 4.1 is now released, with lots of cool stuffs!
Find more information at http://www.allegorithmic.com/products/substance-designer


** Features

- Graph: Frames to group Nodes / Comment
- Graph: Action to create Inputs/Outputs nodes from node instance inputs/outputs connectors
- Explorer: export package with dependencies
- Explorer: Set Read Only files to a locked state in SD
- Explorer: Make "Close" action on package support multitple selection
- Explorer: Manage Version Control on packages
- Graph: delete unused nodes / clean graph
- 2D View: Reexport all outputs images
- 3D View: correct gamma management
- Gradient: delete key by moving it up only
- Bakers: new Bent normals baker
- Bakers: new Ambien Occlusion from mesh baker
- Bakers: bake multiple maps at once
- Bakers: Disable Ok button if high poly mesh is not set
- Bakers: Override or Rename resources with same name
- Bakers: use underscores instead of spaces in output file name
- Library: Add a condition "does not contain" in the filter definition
- Library: search by tags
- Parameters: TAB functionality in the parameter UI
- Use middle mouse button to close Tab Widget
- Console widget
- Add a F9 keyboard shortcut for the "Switch Engine" dialog
- Add aliases to custom library paths



** Bug Fix

- Crash when adding a new node after removing one just before
- Crash when using the create input/output feature on fxmaps
- Crash when creating graph inclusion cycles
- Crash when editing the value of a channel shuffle parameter that has been made into a constant
- Graph: Contextual menu spawned with Space bar is not sorted correctly
- Graph: Selection rectangle still displayed after Space menu displayed
- Graph: actions still gray when doing a checkout on package
- Engine build numbers are reported as 0 in the Switch engine dialog box
- Library: Performance Issue
- Preferences: "View outputs when opening graphs" does not work anymore
- Cannot go into the function graph of a parameter
- When opening ReadOnly packages, some modification actions are still available
- Bakers: loading a file containing "." in the name generate an error
- Bakers: Connectivity problem on fbx second UV
- Performance issue when linking PSD file
- 3D View: PBR shader does not set the default environment map
- Unable to export grayscale TGA in non indexed format
- [Mac Only] Pick color feature is broken / crash
- [Mac Only] Gradient Color picker don't get the right color
2 Kommentare
Mehr erfahren
Feature-Liste
Node based texture editor

Custom template for creating DotA2 characters.

Real-time 3D Preview, with physically based shader

Live link with Photoshop

Mesh driven map extraction (AO, Normal map, Curvature, Height map, etc.)

Library of hundreds of predefined filters and tools

Optimized pipeline with UDK, Unity, 3ds Max, Maya and others

The Steam version of Substance Designer comes with an exclusive template designed to help artists create textures for Dota 2. See the guide in the Community Hub for more info!

Sell your creations on the Steam Workshop-- even with the non-commercial version!
Steam Greenlight

Über die Software
Substance Designer 4, with its new features, can definitely claim the title of "the first texturing tool dedicated to Next Gen". In particular, its new material layering workflow and its PBR shader are in par with what is going on with AAA studios around the globe. And now the tool is here to accommodate this way of working and puts that in everyone's hands.

Substance Designer is the industry-reference, next gen texture authoring and management tool, already chosen by numerous great studios over the world as a hub in their pipeline. Jump in and join the quickly growing community of Substance Designer users!

NEW: The Indie license lets you use Substance Designer for commercial purpose, as long as your company/entity doesn't generate more than 10 000$ per year!
Systemvoraussetzungen (PC)
Minimum:


OS:Windows XP

Processor:X86 with SSE2

Memory:2 GB RAM

Graphics:DX9 - DX10 - Shader Model 3.0

Hard Drive:300 MB HD space
Recommended:


OS:Windows 7

Processor:X86 with SSE2

Memory:4 GB RAM

Graphics:Shader Model 3.0

Hard Drive:1 GB HD space
Systemvoraussetzungen (Mac)
Minimum:


OS:OSX 10.6

Processor:X86 with SSE2

Memory:2 GB RAM

Hard Drive:300 MB HD space
Recommended:


OS:OSX 10.8

Processor:X86 with SSE2

Memory:4 GB RAM

Hard Drive:1 GB HD space
Hilfreiche Kundenreviews
Software-Details
Titel:
Substance Designer
Genre:
Design & Illustration
,
Werkzeuge
Entwickler:
Allegorithmic
Publisher:
Allegorithmic
Veröffentlichung:
6 Juni 2013
Sprachen:
| | Oberfläche | Ton | Untertitel |
| --- | --- | --- | --- |
| Englisch | | | |