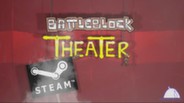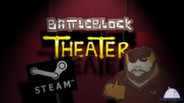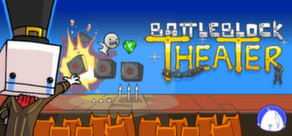 Welcome to BattleBlock Theater! You've got no where to go but up...on stage. Play single player or co-op to free your friends and save Hatty Hattington! Jump, solve and battle your way through a mysterious theater inhabited by highly technological felines.
Release Date: May 15, 2014
Watch all 2 trailers
Buy Ultra Baby's Co-op Chaos Pack
Includes 2 copies of Battleblock Theater.
Packages that include this game
Buy Can't Stop Laughing Bundle
Includes 2 items: Castle Crashers, BattleBlock Theater®
July 30th, 2014
EDIT: Rolled back to Update 1.1.3


Hello everyone!

This morning we did another mini update (1.1.4) to BattleBlock Theater Steam after viewing some of the end-user reporting. However, we had to roll back to Update 1.1.3 due to an issue with Windows XP users after they had installed Update 1.1.4. We're looking into the issue now and how to resolve it. So stay tuned!


Thank you again for your patience. 'Til next time, goodbye!

32 comments
Read more
July 18th, 2014
We will be delaying the ability to sell and trade newly released special unlocks for up to two weeks after release–depending on how long that unlock is available.

The special prisoner will still be available to unlock as usual and will be present in your inventory. However, you will not be able to sell or trade them until they are rotated out and new prisoners are released. This will help to minimize the creation of duplicates within the market at this time.

This new policy will start with this week's special prisoner unlocks. It does not affect special prisoners that were previously released.

Big thanks to the Steam Community for the recommendation!
27 comments
Read more
About the Game
Shipwrecked. Captured. Betrayed. Forced to perform for an audience of cats? Yes, all that and more when you unlock BattleBlock Theater! There's no turning back once you've started on your quest to free over 300 of your imprisoned friends from evil technological cats. Immerse yourself in this mind bending tale of treachery as you use your arsenal of weapon-tools to battle your way through hundreds of levels in order to discover the puzzling truth behind BattleBlock Theater.
If solo acts aren't your style, go online or bring a buddy couch-side to play a thoroughly co-optimized quest or enter the arenas. The game also includes a level editor so you can craft your own mind bending trials!
Key Features
CO-OPTIONAL GAMEPLAY - Work together... or not. Online Play! Couch Hi-Fives! Best Game Ever!


ARENAS: Whether you're king crowning or whale chasing, BattleBlock Theater performers have 8 arena modes to teach their enemies the real meaning of stage fright!


INSANE MODE: One life to live doesn't just happen on screen, it can happen on stage as well. Test your skills in the ultimate campaign challenge.


UNIQUE ANIMATIONS: New art created for the Steam version of BattleBlock Theater! Cat guard makes its way to center stage.



OVER 450 LEVELS! - Single player, multiplayer, arena, we have more levels than Hatty can count on his finger hands.


300 PRISONERS TO FREE! - Having been captured by the native feline population, it's up to YOU to liberate them! Earn gems to free your friends by participating in deadly, gladiatorial plays.


THEATRICAL WEAPONRY AND COMBAT! - Jump, push, pull and punch your way to victory! If that doesn't work you can explode, freeze, poison, or digest a baby! Plus, you'll be able to bring up two weapons at a time in a game and swap quickly.


CREATE AND SHARE LEVELS - Create works of art in our Level Editor and then share them with all your friends (or strangers). Over 20 interactive block types galore!




PC System Requirements
Minimum:


OS: Windows XP

Processor: 2.8 GHz Intel® Core™2 Duo or better

Memory: 1 GB RAM

Graphics: 512 MB

DirectX: Version 10

Network: Broadband Internet connection

Hard Drive: 2 GB available space
Linux System Requirements
Minimum:


Processor: 3.3 GHz Intel® Core™2 Duo or better

Memory: 1 GB RAM

Graphics: 512 MB

Network: Broadband Internet connection

Hard Drive: 2 GB available space
Helpful customer reviews