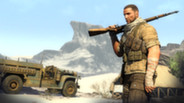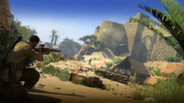 Sniper Elite 3 is a tactical third-person shooter that combines stealth, gameplay choice and genre-defining ballistics with huge, open levels and the exotic terrain of World War 2 North Africa.
Release Date: Jun 27, 2014
Watch all 4 trailers
Buy Sniper Elite 3
WEEKEND DEAL! Offer ends in
Buy Sniper Elite 3 Season Pass
Downloadable Content For This Game
September 18


Our fifth free multiplayer map, Night Watch is OUT NOW and available in all multiplayer modes.

Night Watch is one of the most challenging multiplayer maps in the series. Taking players to an oasis shrouded in darkness, the ruins of an old town turned into a makeshift camp for enemy troops.

New Multiplayer Mode – Capture the Flag – OUT NOW!




Capture the Flag has returned to the Sniper Elite series, offering players an objective focussed game with more speed and tempo than previous modes.

Good snipers are still key to victory, but players will need to co-ordinate together to successfully assault the enemy base and capture the flag, relying on each other to protect the flag bearer and their own base from enemy attack.

Save Churchill Part 3: Confrontation – OUT NOW!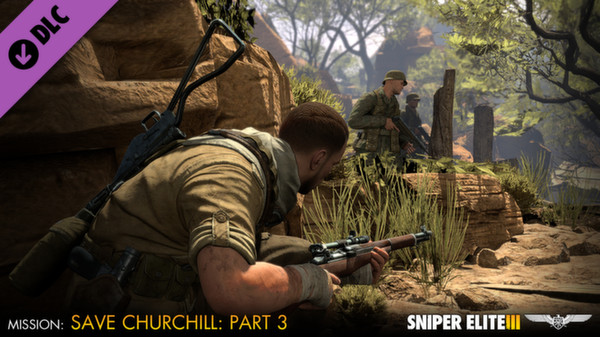 The final episode and conclusion to the explosive Save Churchill campaign for Sniper Elite 3, featuring the largest environment ever seen in the series. OUT NOW.

German sniper, Raubvogel lies in wait to ambush Churchill's convoy en-route to the Casablanca Conference. Fight your way through the Axis barricades scattered amongst the foothills, move up into the mountains, flank the enemy encampments and begin your final ascent up the mountain to confront Raubvogel in an epic sniper duel that could decide the fate of a continent.

Get the Sniper Elite 3 PC Limited Special Edition for 33% OFF!




Get yourself a piece of Sniper Elite history for 33% off with the Limited Special Edition of Sniper Elite 3 for PC. Packed full of rare collectibles and EXCLUSIVE to the Rebellion Gamestore, so don't miss out!

Get it now from www.rebellionstore.com/se3limited
17 comments
Read more
September 17
Version 1.10


New Content:
Capture The Flag - Back by popular demand, Sniper Elite 3 multiplayer now supports the Capture The Flag game mode on all maps.

Night Watch - A new multiplayer map, free to all owners of the game, supporting all competitive multiplayer game modes including No-Cross and Capture the Flag.
Bug Fixes:
Votes in multiplayer now show who called the vote and the player's own decision.

A "Map" keypress in multiplayer now temporarily shows the markers for ammo caches.

Various tweaks to stat calculations where errors could arise (accuracy, scoped accuracy, optional objective completion percentages, among others).

Client machines now get the notifications of AI incapacitation in co-op.

Increased texture streaming priority for characters and weapons.
10 comments
Read more
Reviews
"Immensely satisfying ... a smart, unexpectedly memorable experience."
8.2/10 – IGN

"Polished and refined, this is the best and most satisfying sniping that Rebellion has ever crafted. Sniper Elite 3 is the game I always wanted from this franchise"
8/10 – Strategy Informer

"Sniper Elite 3 is just downright enjoyable."
4/5 – Digital Spy

FREE Multiplayer Maps!
All Sniper Elite 3 players now have access to the FIFTH FREE new multiplayer map - "Night Watch" and the NEW multiplayer mode "Capture the Flag"- get sniping!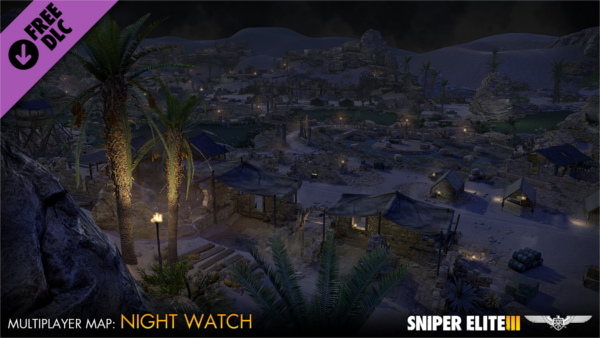 About the Game
Observe. Plan. Execute. ADAPT.
The latest chapter in the award-winning series, SNIPER ELITE 3 takes players to the unforgiving yet exotic terrain of North Africa in a savage conflict against Germany's infamous Afrika Korps.
Stalk your targets through the twisting canyons, lush oases and ancient cities of the Western Desert in the deadly rush to sabotage a Nazi super-weapons programme that could end Allied resistance for good.
Use stealth, planning and execution to hunt your targets – whether human or machine. From signature long distance kills, to melee takedowns, distractions and explosive traps, you are as deadly up close as you are from afar.
It must end here. You are the turning point. Because one bullet can change history...
Key Features
Award-winning gunplay – Experience celebrated rifle ballistics honed to perfection. Take account of distance, gravity, wind, even your heart rate for intensely satisfying third person combat.

Expansive new environments – Stalk huge multi-route levels with multiple primary and secondary objectives than can be tackled in any order. Never play the same way twice.

Real tactical choice – Adapt to any situation. Use stealth, distraction, traps and sound masking . If things go hot, use the new Relocate mechanic to slip into the shadows and start the hunt again on your own terms.

Revamped human X-Ray Kill cam – The acclaimed X-Ray kill-cam is back and bolder than ever, including a detailed muscle layers, 3D mesh particles and the complete human circulatory system.

New X-Ray vehicle takedowns – See vehicles disintegrate in intricate detail with X-Ray vehicle takedowns. Multi-stage destruction allows you to take out armoured cars, trucks and Tiger tanks piece-by-piece.

Tense adversarial multiplayer – Five unique modes of online competitive action. Earn Medals and Ribbons as you play. Gain XP across all game modes, customise your character, weapons and loadout. Become a true Sniper Elite!

Explosive co-op play – Play the entire campaign in two player online co-op, or put your teamwork to the ultimate test in two dedicated co-op modes, Overwatch and Survival.

Customise your experience – Veteran or Rookie, play your way. Turn off all assistance and turn up the AI, or customise the experience to your preferred playstyle. Tweak the regularity of X-Ray kill cams, or turn them off all together.
Extra features
Supports Steam Big Picture Mode

Supports Stereoscopic 3D + Ultra Widescreen + Eyefinity screens


System Requirements
Minimum:


OS: Microsoft® Windows® Vista (Service Pack 2) or Windows® 7 (Service Pack 1) or Windows® 8 or Windows 8.1. Windows® XP is NOT supported.

Processor: Dual-core CPU with SSE3 (Intel® Pentium® D 3GHz / AMD Athlon™ 64 X2 4200) or better

Memory: 2 GB RAM

Graphics: Microsoft® DirectX® 10.0 compatible graphics card with 256 MB of memory (NVIDIA® GeForce® 8800 series / ATI Radeon™ HD 3870) or better

DirectX: Version 11

Network: Broadband Internet connection

Hard Drive: 18 GB available space

Sound Card: Microsoft® DirectX® 10.0 compatible sound card or better

Additional Notes: Windows® XP is NOT supported. Ensure graphics and audio drivers are up to date.
©2014 Rebellion. The Rebellion name and logo and the Sniper Elite name and logo and the Sniper Elite Eagle are trademarks of Rebellion and may be registered trademarks in certain countries. All rights Reserved.
Helpful customer reviews
Title:
Sniper Elite 3
Genre:
Action
,
Adventure
Developer:
Rebellion
Publisher:
Rebellion
Release Date:
Jun 27, 2014
Languages:
| | Interface | Full audio | Subtitles |
| --- | --- | --- | --- |
| English | | | |
| French | | | |
| Italian | | | |
| German | | | |
| Spanish | | | |
| Polish | | | |
| Portuguese-Brazil | | | |
| Russian | | | |
| Czech | | | |
See all 9 supported languages