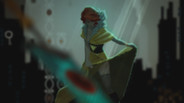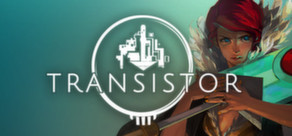 Discover the world of Transistor, a sci-fi-themed action RPG from the creators of Bastion.
Release Date: May 20, 2014
Watch all 2 trailers
Buy Transistor + Soundtrack
Downloadable Content For This Game
Reviews
"Transistor is a wildly smart action-RPG that places all of its trust into your intelligence."
9.0 / 10 – IGN

"The game's vision is intoxicating, and its execution is inspired."
8.5 / 10 – Polygon

"Its art style is divine, its soundtrack is remarkable, its combat is intricate, and the story of its odd-couple protagonists is both smartly written and deftly told."
9 / 10 – Edge

About the Game
From the creators of Bastion, Transistor is a sci-fi themed action RPG that invites you to wield an extraordinary weapon of unknown origin as you fight through a stunning futuristic city. Transistor seamlessly integrates thoughtful strategic planning into a fast-paced action experience, melding responsive gameplay and rich atmospheric storytelling. During the course of the adventure, you will piece together the Transistor's mysteries as you pursue its former owners.
Key Features
An all-new world from the team that created Bastion

Configure the powerful Transistor with thousands of possible Function combinations

Action-packed real-time combat fused with a robust strategic planning mode

Vibrant hand-painted artwork in full 1080p resolution

Original soundtrack changes dynamically as the action unfolds

Hours of reactive voiceover create a deep and atmospheric story

'Recursion' option introduces procedural battles after finishing the story

Fully customizable controls custom-tailored for PC
System Requirements
Minimum:


OS: Windows 7 32-bit

Processor: Dual Core CPU - 2.6ghz

Memory: 4 GB RAM

Graphics: 1GB of VRAM: Intel HD 3000 GPU / AMD HD 5450 / Nvidia 9400 GT

Hard Drive: 3 GB available space
© Supergiant Games 2014. All rights reserved.
Helpful customer reviews