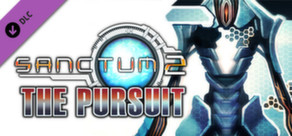 Om dit spel te kunnen spelen moet je het originele spel Sanctum 2 hebben.

Releasedatum: 25 okt 2013
HD-video bekijken
Downloadbare inhoud
Om dit spel te kunnen spelen moet je het originele spel Sanctum 2 hebben.
Sanctum 2 - The Pursuit kopen
Pakketten die deze game bevatten
Sanctum 2 Complete Pack kopen
Includes Sanctum 2, Sanctum 2: Britech Skin Pack, Sanctum 2: Road to Elysion, Sanctum 2: Ruins of Brightholme, Sanctum 2: The Pursuit and Sanctum 2: The Last Stand
Info over het spel
Pursue the Titan through the outskirts of Elysion One! This expansion adds even more replayability through four completely new maps! Use two new towers, including the Mind-Control Spire that takes control of enemies and lets them fight for you! Unlock new devastating weapons, such as the Drone Launcher, that launches target-seeking drones that home in on enemies and shoot lazors at them. They'll be all like "NOO NOT THE BEEES!"
Of course, there are going to be new enemies as well, such as the Heavy Pup that's far more aggressive than it's older equivalent, and the flying Bliskeblaske, which you'll just have to see for yourself.
Finally, you'll be getting seven new unlockable perks as well - for example, the Reinforcements perk has a chance to spawn Explorers with shields every time you kill an enemy!
Note:
The Pursuit is included in the Sanctum 2
Season Pass
and is part 3/4 in a series of DLC for Sanctum 2
Coffee Stain Studios and Sanctum are trademarks of Coffee Stain Studios AB. Sanctum game code, audio materials, and visual materials © Coffee Stains Studios AB. All Rights Reserved.
Er zijn nog geen openbare recensies voor dit product
Je kunt je eigen recensie voor dit product schrijven om je ervaring met de community te delen. Gebruik het gebied boven de aankoopknoppen op deze pagina om je recensie te schrijven.
Titel:
Sanctum 2: The Pursuit
Genre:
Actie
,
Indie
,
Strategie
Ontwikkelaar:
Coffee Stain Studios
Uitgever:
Releasedatum:
25 okt 2013
Talen:
| | Interface | Spraak | Ondertiteling |
| --- | --- | --- | --- |
| Engels | | | |
| Frans | | | |
| Italiaans | | | |
| Duits | | | |
| Spaans | | | |
| Japans | | | |
| Russisch | | | |
Alle 7 ondersteunde talen weergeven