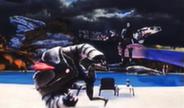 Om dit spel te kunnen spelen moet je het originele spel Sanctum 2 hebben.

Releasedatum: 26 jun 2013
HD-video bekijken
Downloadbare inhoud
Om dit spel te kunnen spelen moet je het originele spel Sanctum 2 hebben.
Sanctum 2: Road to Elysion kopen
Pakketten die deze game bevatten
Sanctum 2 Complete Pack kopen
Includes Sanctum 2, Sanctum 2: Britech Skin Pack, Sanctum 2: Road to Elysion, Sanctum 2: Ruins of Brightholme, Sanctum 2: The Pursuit and Sanctum 2: The Last Stand
Info over het spel
Play as the mysterious new character TSYGAN, a rogue insurgent that joins the Core Guardians in defending the only enclave of humanity left on the planet LOEK III. Road to Elysion features a new area to explore with four new maps, new unlockable towers, weapons and perks! This DLC is the first out of four contained in the Sanctum 2 Season Pass.
Note:
Road to Elysion is included in the Sanctum 2
Season Pass
and is part 1/4 in a series of DLC for Sanctum 2
Key Features:
New Playable Character - TSYGAN, the "Rogue Insurgent"

4 New Unique Maps – adding refreshing new tactics and replayability.

2 Weapons - Rapid-firing Gatling Laser & TSYGANs own handheld Ballista!

2 Towers - Range Spire that dramatically increases the range of nearby offensive towers and the Slow Field Dispenser letting you strengthen your choke points further!

Enhanced Enemies - From new support monsters that heal and mutate the attacking horde to a brand new aerial enemy boss, players should be prepared for this heightened challenge.

Additional Perks – Customize your character even more with six new perks, including a perk that gives you an in-game pet robot that will fight for you!
Coffee Stain Studios and Sanctum are trademarks of Coffee Stain Studios AB. Sanctum game code, audio materials, and visual materials © Coffee Stains Studios AB. All Rights Reserved.
Er zijn nog geen openbare recensies voor dit product
Je kunt je eigen recensie voor dit product schrijven om je ervaring met de community te delen. Gebruik het gebied boven de aankoopknoppen op deze pagina om je recensie te schrijven.
Titel:
Sanctum 2: Road to Elysion
Genre:
Actie
,
Casual
,
Indie
,
Strategie
Ontwikkelaar:
Coffee Stain Studios
Uitgever:
Coffee Stain Studios
Releasedatum:
26 jun 2013
Talen:
| | Interface | Spraak | Ondertiteling |
| --- | --- | --- | --- |
| Engels | | | |
| Duits | | | |
| Frans | | | |
| Italiaans | | | |
| Spaans | | | |
| Russisch | | | |
Alle 6 ondersteunde talen weergeven