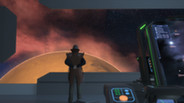 Horizon is a turn-based space strategy game of galactic exploration and conquest in which you are in control of humanity's destiny. You will explore deep space, find new frontiers and discover alien artifacts hidden on long-abandoned planets.
Release Date: Feb 6, 2014
Watch HD video
June 27
We have issued a minor update and some important fixes to last week's major update. Slow research progress has been fixed which should make the game flow at a much more reasonable pace once again.

Friday June 27, 2014 - Minor Update / Fixes
v1.0.1.103

New additions and improvements
* Added an outcome prediction bar to the combat prompt, race relations are also shown
* Added a 'Destroy Colony' option to the combat prompt for colonies, removed from orders list
* Invasion troop levels are now displayed on the after-battle Invade prompt

* Added Orbitals and Missions icons on the Galaxy Map (and to the Legend filters).
* Reduced by a factor of 2.5 the amount of soldiers that barracks can produce each turn
* Universal translator check will now work the same for player and AI races. As long as one side has it both sides can understand each other and make deals

* Space requirements for Survey Instruments and Supply Bays have been reduced. The former can now be fitted on small sized ships
* Hit Points for small sized ships were doubled (actually changed with the major update but not noted)

* Game difficulty settings "easy" and "very easy" now further reduce starting race levels in scenario mode

Fixes
* Fixed an uncommon crash bug related to the combat prompt system
* Fixed a combat prompt scenario where it would include the same colony twice
* Research buildings will once again receive the base amount of research. This was removed by error during the major update

1 comments
Read more
June 19
Thursday June 19, 2014

We are very happy to announce that our 2nd post-launch update is now available. We hope you will enjoy the new features! – Horizon Team

The update introduces a new combat management system, allowing players to better manage each and every battle. Battle engagements are now individually presented on the galaxy map for players to make quick and informed decisions to engage, retreat or auto-resolve. An after battle report summary is also displayed with the results. The system also enhances the participation of allies which can join the battle on either side.

Combat Management System / Instanced Combat
* A new instancing mode, allows the player to control every combat synchronously one at a time. If the player is involved in a battle - a prompt is shown with choices to engage/flee/auto-resolve or do nothing
* Engage sector can now be set to multiple sectors, it is necessary for attacking non-hostiles and quest/missions related monsters/ships. In all other cases the prompt will appear automatically at the end of movement if sector has not been engaged at the start of Turn.
* Allied ships can participate in instanced combat on either side
* When the battle begins ships in combat are already in close range of each other to allow for quicker engagements with less ship movements to manage
* The Galaxy map pinpoints every battle location before combat. While an after report summary is displayed after combat has ended. Orders such as Invade are now available immediately before combat ends to facilitate things.
* AI Ships have gained a new instinct mode that is used to assess when to retreat from battles. A new ship retreat and a group mass-retreat button has been added for the player's benefit as well
* Retreating ships are given a move order to their nearest base/colony if the battle is lost
* The number of combat rounds has been increased to 50 and ships are automatically resupplied after combat

Boarding Combat
* AI boarding now uses the new instinct system making boarding more common when ships are vulnerable
* We have added to and improved boarding combat messages to provide better progress info
* Ship scans will now reveal on-board marines (their own, as well as from allies and hostiles)

Other Combat Related
* Stealth, cloaked and weapon de-buff effect icons are now shown with tooltip info in tactical view
* Ship status panel info will now persist during attacks if player or an ally is involved during tactical combat showing their status during attacks
* Life-forms (such as monster) attacks now have appropriate names. Their attack types have also been improved and are much more powerful
* A Fast-resolve mode has been added for invasions, clicking on the screen during the combat phase will speed things up for quick results
* Relations are now shown for non-player ships and task forces when scanned or on the galaxy task force panel to identify more easily friend from foe
* Cloaked ship thrusters will now correctly fade along with the ship
* Fixed an issue where combat animation speed would not match the speed button setting due to accumulated frames buffering
* Fighters will no longer launch from carriers during attacks vs. planets

Ship Design and Technology
* Ship design limits for weapon refills and emplacements have been increased to allow for more configuration options
* Auto-repair bots technology has been buffed up - repairing ships to full after combat and to a lesser extent during combat
* Advanced refit will now set the colonizer role for ships that gain colonizer pods, fixing an issue where they could not execute colonize orders

Diplomacy related
* Race Report on Diplomacy now clears extinct races from each race's ally/enemy lists
* The "reckless expansion" controversy threshold is now dependent on the game difficulty setting
* Reduced the Diplomacy AI advisor's chance to offer systems to other races
* An armistice treaty will now work better with other checks like blockades etc. being suspended while the treaty remains active
* Cancel armistice will now work correctly by immediately cancelling the treaty effect
* Galactic council (classic mode) will now convene with a minimum of 3 races. The first council vote will also happen immediately once the player has discovered all races and at least 100 turns has been played

and more..

To view the full list of changes please visit the Official Horizon Forums.
0 comments
Read more
Reviews
"One to keep an eye on, definitely."
70 – Strategy Informer

"Best of all, the way Horizon handles technological progress is one of the most elegant I've seen in a grand strategy game."
65 – IGN

"With the excellent foundation that has already been developed and the dedication that L3O is showing to their fans, it promises to be a true 4X classic in its own right."
90 – Aesthetic Magazine Toronto

About the Game
Horizon is a turn-based space strategy game of galactic exploration and conquest in which you are in control of humanity's destiny.
You will explore deep space, find new frontiers and discover alien artifacts hidden on long-abandoned planets. You will also learn more about the galaxy as you come into contact with ten other species, each with their own unique culture, history and schemes.
A fully interactive galaxy allows you to navigate open space between stars and planets. Patrol your borders and, when the need arises, defend your territory by engaging in ship-to-ship tactical combat. Develop new colonies and then watch them become galactic centers for trade, industry and science - and of course military bases, outposts and shipyards to build your battle ships. Push your empire to its limits and go beyond the known horizon!
.
Key Features
Advanced turn-based tactical combat which many 4X fans have been requesting for years

Full Tactical ship control includes managing movement, weapons and more. Board other ships, attack from planetary and orbital defenses

A Distinct open world system, where ships can explore without artificial limits and where combat can span many turns before concluding

Interact with alien races of different levels, including ancient civilizations featuring their own unique storyline, schemes, ships and technology

An immersive galaxy storyline with open-ended missions that add another layer of gameplay over classic 4x mode which is also available

Engage in meaningful diplomacy choices that will impact the game outcome, includes coordinated actions with your allies against your enemies

Discover more than 80 technologies each with 10 levels of upgrades. Conduct planetary surveys and dig for artifacts

Design and customize your ships' weapons and systems based on available technology

A detailed economy and colony management system with different types and levels of colonies based on your build choices

Play in different galaxy configurations from a few dozen stars to over a hundred star systems containing more than a thousand planets

Fully Customize your race or play as one of eight original races
System Requirements
Minimum:


OS:Windows XP SP3

Processor:Intel Core 2 Duo 1.8 GHz or AMD Athlon X2 64 2.0 GHz

Memory:2 GB RAM

Graphics:512 MB Video Card w/Pixel Shader 3.0 Support

DirectX®:9.0c

Hard Drive:5 GB HD space

Sound:DirectX 9.0c-compatible
Recommended:


OS:Windows 7

Processor:Intel Core i3/i5/i7 or AMD equivalent

Memory:4 GB RAM

Graphics:1 GB ATI 4800 series or better, 1 GB NVIDIA 9800 or better

DirectX®:9.0c

Hard Drive:5 GB HD space

Sound:DirectX 9.0c-compatible
Horizon © 2014 L3O Interactive Inc. Developed by L3O Interactive. Licensed exclusively to and published worldwide by Iceberg Interactive. Iceberg Interactive design and mark are registered trademarks of Iceberg Interactive B.V. Microsoft®, Windows® and DirectX® are registered trademarks of Microsoft Corporation. All other brands, product names, and logos are trademarks or registered trademarks of their respective owners. All rights reserved. Made in Canada.
Helpful customer reviews