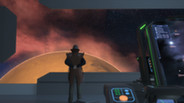 Horizon is a turn-based space strategy game of galactic exploration and conquest in which you are in control of humanity's destiny. You will explore deep space, find new frontiers and discover alien artifacts hidden on long-abandoned planets.
Release Date: Feb 6, 2014
Watch HD video
April 14th, 2014
Monday April 14, 2014

Today we are releasing a new update to Horizon with numerous changes, improvements and additions. Previously saved games remain compatible with the new update but to fully experience the changes requires starting a new game. We hope you enjoy the new changes! - Horizon Team


New Features, improvements and changes

* A much improved A.I. when managing fleets for attacks or when rallying to defend systems. A more aggressive A.I. when it comes to expansion and diplomacy
* A re-balanced economy and race relations/tolerance system to make games strategically more challenging and progress more evenly through the different stages of gameplay

* A new refit feature has been added to easily retrofit ships and starbases at nearby shipyards
* Scanning system extended to allow the detection of ships and fleets from several sectors away on the galaxy map, based on the current tech level

* A new logistics mechanic added that limits fleet supply range and slows down early expansion and contact
* New ship technologies added: Deep space scanner, Logistics, Auxiliary Pods, Survey Instruments. Other techs have seen improvements such as Engine types and generators while Armor types have gained resistances/vulnerabilities to certain types of weapons

* UI icons have been added with tooltip information to make it easier to distinguish surveyed planets, planetary reports, resources, quest related items, population and ground troops on galaxy view
* Diplomacy tooltips have been added explaining treaties and pacts

* Significantly improved Galaxy map performance for late games
* French language support added

And many other minor fixes and improvements...

To view the full list of changes please visit: Horizon Official Forums


2 comments
Read more
March 15th, 2014
Hello everyone, today's minor patch is an interim update that we did not want to hold off any longer until the next significant update to Horizon which we expect to have ready in a couple of weeks. Have a good weekend!

Version 1.0.0.82:

Changes:
* Artifact survey messages are now cleared in planetary survey reports once a race digs the planet
* Tourism Income is now affected by game difficulty level (similar trade income)
* Interstellar com will now account for anomalies correctly
* Transferring colonies to another race now resets previously selected builds
* Transient ability will no longer affect missiles
* Minor corrections made for Spanish Localization

Fixes:
* Fixed an issue where the AI would erroneously detect another opponent encroaching on its territory causing relations to deteriorate
* Fixed an issue where Assimilation and Colony Morale would not be updated
* Fixed a case where a very low number of invasion troops could become invincible
* Fixed a rare scenario where an eliminated race would continue on after losing it's last colony causing a late game crash
* Fixed an issue where the camera would switch to another sector (with player ships) while engaged in Sol during the probe quest
1 comments
Read more
About the Game
Horizon is a turn-based space strategy game of galactic exploration and conquest in which you are in control of humanity's destiny.
You will explore deep space, find new frontiers and discover alien artifacts hidden on long-abandoned planets. You will also learn more about the galaxy as you come into contact with ten other species, each with their own unique culture, history and schemes.
A fully interactive galaxy allows you to navigate open space between stars and planets. Patrol your borders and, when the need arises, defend your territory by engaging in ship-to-ship tactical combat. Develop new colonies and then watch them become galactic centers for trade, industry and science - and of course military bases, outposts and shipyards to build your battle ships. Push your empire to its limits and go beyond the known horizon!
.
Key Features
Advanced turn-based tactical combat which many 4X fans have been requesting for years

Full Tactical ship control includes managing movement, weapons and more. Board other ships, attack from planetary and orbital defenses

A Distinct open world system, where ships can explore without artificial limits and where combat can span many turns before concluding

Interact with alien races of different levels, including ancient civilizations featuring their own unique storyline, schemes, ships and technology

An immersive galaxy storyline with open-ended missions that add another layer of gameplay over classic 4x mode which is also available

Engage in meaningful diplomacy choices that will impact the game outcome, includes coordinated actions with your allies against your enemies

Discover more than 80 technologies each with 10 levels of upgrades. Conduct planetary surveys and dig for artifacts

Design and customize your ships' weapons and systems based on available technology

A detailed economy and colony management system with different types and levels of colonies based on your build choices

Play in different galaxy configurations from a few dozen stars to over a hundred star systems containing more than a thousand planets

Fully Customize you race or play as one of seven alien races
System Requirements
Minimum:


OS:Windows XP SP3

Processor:Intel Core 2 Duo 1.8 GHz or AMD Athlon X2 64 2.0 GHz

Memory:2 GB RAM

Graphics:512 MB Video Card w/Pixel Shader 3.0 Support

DirectX®:9.0c

Hard Drive:5 GB HD space

Sound:DirectX 9.0c-compatible
Recommended:


OS:Windows 7

Processor:Intel Core i3/i5/i7 or AMD equivalent

Memory:4 GB RAM

Graphics:1 GB ATI 4800 series or better, 1 GB NVIDIA 9800 or better

DirectX®:9.0c

Hard Drive:5 GB HD space

Sound:DirectX 9.0c-compatible
Horizon © 2014 L3O Interactive Inc. Developed by L3O Interactive. Licensed exclusively to and published worldwide by Iceberg Interactive. Iceberg Interactive design and mark are registered trademarks of Iceberg Interactive B.V. Microsoft®, Windows® and DirectX® are registered trademarks of Microsoft Corporation. All other brands, product names, and logos are trademarks or registered trademarks of their respective owners. All rights reserved. Made in Canada.
Helpful customer reviews