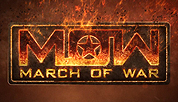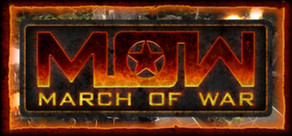 Lead your forces onto the battlefield in this competitive turn-based strategy game. Choose one of six unique factions, build your army from a diverse range of weaponry, and rise through the ranks as you fight for world domination. Join the online war!
Release Date: Jun 10, 2014
Watch HD video
August 1st, 2014
Blitz Battle Point reward factor reduced to 0.35 from 0.6.

Fix for "Cannot Authenticate Server" error preventing Battle Group leaders from accepting new members

Reworked maps for all game modes

AI: tweaked assault point rushing strategy to spread out better in the early game.

AI: More Siege tweaks and improvements

Added ignore list to chat

Adjust turn skipped text, to make it more clear that the user's turn was skipped, not just ended

Reduced starting resources in PvP

New battle pins

World player renamed to 'Creatures'

Some added avatar items

Tooltip updates and fixes.

Added a confirmation box when using hate speech and peace treaty

Fix for tree blocking path on Mountainside map

Automatic camera movement during AI turns it temporarily turned off when the player moves the camera

Alliance Flak38 animation/mecanim fixes

Increased size of small Toxin Pool so it's more clear when you'll enter it.

Fix for Computer not surrendering properly. Had a bug counting active capture points.

Fixed Heavy Bunker voice.

Reduced Daimyo tooltips slightly

Gray out healing action button when a unit has full HP

Fixed squares appearing during explosions

Fixed Empire CC Smoke Missiles so they can't target vehicles and their tip is correct
Balance
Alliance
Alliance Heavy Tank Shock Shell damage increased to 100-150 from 75-125.
Alliance Siege Tank cost increased to 5E 5C from 5E 4C.
Junta
Junta Panther AC was dealing 100-150 damage instead of 75-125 as intended.
Junta Trench Mortar health reduced to 100 from 125.
Junta Saw Walker can now target air units with Thrown Saw.
Republic
Republic Medic
• Cost changed to 1M 2C from 2M 1C.
• Stimm Boost no longer resets the movement of allied units.
Republic Field Artillery speed reduced to 6 from 7.
Republic Howitzer
• Secondary Triple Shot now hits target area one turn after being fired.
• Range increased to 45-140 from 45-120.
Republic Bell Helicopter secondary radius reduced to 16 from 24.
Union
Union Naval Infantry speed increased to 11 from 10.
Union Paratroopers
• Health increased to 180 from 160.
• Primary attack damage increased to 140-180 from 120-160.
Union AT Sniper
• Health reduced to 80 from 100.
• Armor boost when deployed increased to 50% from 25%.
• Range increased to 80 from 70.
• Cost reduced to 2M 1C from 3M 1C.
Union Maxim MG
• Health increased to 100 from 80.
• Secondary cooldown reduced to 2 from 3.
• Secondary fixed to always suppress infantry.
Union Commissar
• Armor type changed to Heavy Organic from Light Organic.
• Human Wave only resets movement of Light Organic allies.
This change, along with the Medic change, prevents one turn Blitz wins with AT Infantry and move resets.
Union Conqueror Tank secondary HE Rounds now targets 2 units.
Union Vulture Tank
• Primary attack type changed to Rending from Anti-Armor. Damage reduced to 80-120 from 100-150.
• Secondary attack type changed to Anti-Personnel from Force. Damage increased to 200-250 from 100-150. Range reduced to 60/100 from 60/120.
• Scatter on both attacks reduced to 0-6 from 0-10.
Empire
Empire Shadows Sticky Bombs can now target organic targets as well as vehicles.
Empire Light Tank critical AT chance reduced to Low from Average.
Empire Type 60
• Speed reduced to 11 from 12.
• Both attacks now have Medium Critical Chance instead of High Critical Chance.
Empire Shredder Tank minimum range removed on secondary attack.
Empire Daimyo health reduced to 100 from 125.
Empire Fear Rocket effect changed to -100% Move and -25% Damage, from -100% Move+Damage.
Warlords
Warlords Rhino Rider Health reduced to 100 from 120.
Warlords Beastmaster only targets units with Beast armor, instead of those with Heavy Organic (she can no longer target Rhino Riders).
Warlords Warbeast now has Beast armor instead of Heavy Organic.
Warlords Mortar Technical
• Damage increased to 75-125 from 50-100.
• Scatter reduced to 2-8 from 2-12.
Warlords Overlord cost increased to 4M 4E 4C from 4M 2E 4C.
Warlords Dirigible
• Health reduced to 200 from 250.
• Cost increased to 4E 5C from 4E 4C
General
Grunts, Footsoldiers, Peasant Militia and Rebel sight range decreased to 25 from 30 to match Conscripts and Volunteers.
Tactical Nuke Radioactive Cloud now remains for only one turn after the Nuke impacts.
Sabotage Bomb
• Is no longer untargetable – has Heavy Armor and 50 HP.
• Damage changed to 175-225 from 200, AoE increased to 20 from 16.
0 comments
Read more
July 25th, 2014
Across the forums, we've gotten a lot of questions regarding "When will we see new units for my faction?" Well, the truth is, we're working hard at developing new units and features all the time, though at the moment, you've probably noticed most of our patches relate more to major bug fixes. We're still trying to focus on that, but how can we deny so many requests? The truth is – we can't!

So today, instead of our usual "Freaky Friday" post, we're going to offer you a preview of things to come. The following are some blueprints that I managed to steal off of Merc-Oboema's desk!




What could this be? We know it's a new unit for one of our factions, but which one?

Post your theories in the comments below, and on Tuesday, we'll tell you what its name is, as well as who has the closest guesses! (Maybe by then, I'll have gotten Oboema talking, too… bring out the comfy chair!)
10 comments
Read more
About the Game
The year is 1947. The world lies ravaged by war. Align yourself with one of six warring factions and fight for global domination in a world where borders rapidly shift as battles are won and lost.
This is
March of War
. An online turn-based strategy game set in a dieselpunk world where strategy and firepower rule the day. Take command and lead your army into 3D battlefields that allow you to assess the war-zone from every angle. Deploy a wide range of vehicles, infantry and artillery where their specific weapons can be most effective.
Destroy your enemies and capture their territory to advance through the ranks of your faction. Rise high enough and you'll have the honour of joining your faction's High Command, or perhaps even be voted Faction Leader. Achieving High Command or Faction Leader status expands the game into an intricate web of political allegiances and betrayals, where your decisions directly influence the course of the war as you strive to lead your faction to global domination.
Key Features Include

Tactical warfare - Play smart and dirty to conquer this war-torn dieselpunk world.

Choose what you fight for - The six factions are very distinct. Who will you be loyal to?

Multiplayer gameplay - Players are waiting worldwide. Join a co-op or PvP and march on.

Start your own fights – Skirmish lets you set up custom battles for a new challenge or just for fun.

Realistic 3D battlefields – Watch the fireworks as your forces clash with the enemy across landscapes ranging from jungles to deserts.

A mix of classic and exotic units - Will a Sherman tank stand up to a Warbeast?

Between battles – Build up your army, form battle groups, and research new weapons and abilities.

PC System Requirements
Minimum:


OS:Windows Vista, Windows 7 or Windows 8

Processor:Intel Core 2 Duo E4600 2.4 GHz
AMD Athlon 64 X2 Duel Core 5200+

Memory:4 GB RAM

Graphics:nVidia GeForce 7 series or ATI Radeon HD 2000

DirectX®:9.0

Hard Drive:2 GB HD space

Sound:Generic Sound Card

Additional:Internet connection required
Recommended:


OS:Windows 7 SP-1 64-Bit

Processor:Mid to High Range Dual-Core 2.5GHz CPU

Memory:8 GB RAM

Graphics:Nvidia GeForce GTX 285 or AMD Radeon HD 5830

DirectX®:10

Hard Drive:2 GB HD space

Sound:Generic Sound Card

Other Requirements:Broadband Internet connection
Mac System Requirements
Minimum:


OS:OS X 10.7

Processor:2.6 GHz

Memory:4 GB RAM

Graphics:NVIDIA GeForce 9400M

Hard Drive:2 GB HD space

Sound:Generic Sound Card

Additional:Internet connection required
Recommended:


OS:OS X 10.8+

Processor:2.6 GHz dual-core Intel i5

Memory:8 GB RAM

Graphics:NVIDIA GeForce GT 650M (1GB GDDR5)

Hard Drive:2 GB HD space

Sound:Generic Sound Card

Other Requirements:Broadband Internet connection
Terms of Service:

Privacy Policy: http://www.isotx.com/privacy-policy/
Terms and Conditions: http://www.isotx.com/terms-and-conditions/
Helpful customer reviews
Title:
March of War
Genre:
Action
,
Free to Play
,
Massively Multiplayer
,
Strategy
Developer:
ISOTX
Publisher:
ISOTX
Release Date:
Jun 10, 2014
Languages:
| | Interface | Full audio | Subtitles |
| --- | --- | --- | --- |
| English | | | |