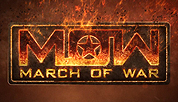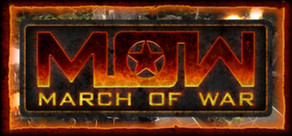 Lead your forces onto the battlefield in this competitive turn-based strategy game. Choose one of six unique factions, build your army from a diverse range of weaponry, and rise through the ranks as you fight for world domination. Join the online war!
Release Date: Jun 10, 2014
Watch HD video
July 22nd, 2014
As some of you may know, last Friday was Mecha's last day with ISOTX. Having her as a part of our team was a pleasure for all of us, and we wish her the best in future endeavors! Before she left, though, she was kind enough to help us pick out the winners of the Fan Art Contest – a difficult undertaking to be sure, as we received many wonderful entries. You guys are ridiculously talented!

We're proud to announce that the winner of the first place spot in the Fan Art contest and the March of War t-Shirt is none other than Yoska. First place in the Poster half of the challenge, and the winner of a printed copy of his poster goes to Color-Copycat!

Congratulations to both of our winners. Make sure you keep an eye on your real-life mail for your prizes to arrive, commanders! Second and third place recipients will receive a slightly less tangible, but equally exciting in-game mail within the next day or so as we sort through and pick out our runners-up.

Thanks to everyone who entered!


0 comments
Read more
July 18th, 2014
Your position on the battlefield can mean the difference between victory and utter defeat. If you can gain the higher ground, or outrun your enemy, the balance of battle can be tipped in your favor. Today we'll talk about how you can use the movement, position and size of your units to your advantage.




The most basic attributes of units relating to their mobility are their speed and size. Greater speed makes a unit more effective in almost every area, be it moving to attack enemies, scouting unknown terrain, or withdrawing from enemies it can't effectively fight. However, smaller units (such as infantry, Jeeps or Technicals) can often access areas larger units can't, so even with a lower speed, in tight maps with smaller routes through the terrain they can prove more manoeuvrable than larger units with greater speed. However, they will also be less effective at blocking the movement of enemy units.

There are some units in the game with the ability to ignore terrain entirely. Most of these are the flying units, which naturally aren't blocked by terrain, and can see across terrain. On the other hand, while they can be targeted by any anti-air attack regardless of terrain, they cannot be seen across terrain, so you can still conceal flying units from ground units by staying on the other side of blocking terrain. If you attack and reveal your position though, any unit with sufficient range will be able to immediately return fire.

The other units which can ignore terrain are the Republic Jump Troops and the Warlords Drill Tank. These units 'jump' across intervening terrain, but are otherwise still bound by normal Line of Sight rules.

Once you understand how a unit can move, the question is where to move it. Ending your turn behind cover where possible will make it harder for the enemy to spot you and make it easier to get the first hit on them, but will also limit your own vision (unless you used your first move to perform recon and then ended behind cover with your second move). Artillery should of course remain hidden behind blocking terrain where possible, but you will need other units to spot targets for them unless you have a good feel for where the enemy is likely to be.

Hills provide an advantage to whoever holds the high ground. Units on top of a hill can shoot down on units below them, but those units cannot return fire. In order to attack units on higher ground, you must move your unit fully onto a slope – at this point it will be able to target the enemies on higher ground. The point in between the two images here (where the Technical would be half on the slope and half off) would not allow it to shoot upwards. This means you could protect units on higher ground by blocking access to slopes. Units on slopes can be targeted by units below or above them, so your blocking unit on the slope would still be vulnerable.

The same system applies to Line of Sight – units cannot clear Fog of War on higher ground until they are fully on a slope. FoW on slopes can be cleared both from above and below.


2 comments
Read more
About the Game
The year is 1947. The world lies ravaged by war. Align yourself with one of six warring factions and fight for global domination in a world where borders rapidly shift as battles are won and lost.
This is
March of War
. An online turn-based strategy game set in a dieselpunk world where strategy and firepower rule the day. Take command and lead your army into 3D battlefields that allow you to assess the war-zone from every angle. Deploy a wide range of vehicles, infantry and artillery where their specific weapons can be most effective.
Destroy your enemies and capture their territory to advance through the ranks of your faction. Rise high enough and you'll have the honour of joining your faction's High Command, or perhaps even be voted Faction Leader. Achieving High Command or Faction Leader status expands the game into an intricate web of political allegiances and betrayals, where your decisions directly influence the course of the war as you strive to lead your faction to global domination.
Key Features Include

Tactical warfare - Play smart and dirty to conquer this war-torn dieselpunk world.

Choose what you fight for - The six factions are very distinct. Who will you be loyal to?

Multiplayer gameplay - Players are waiting worldwide. Join a co-op or PvP and march on.

Start your own fights – Skirmish lets you set up custom battles for a new challenge or just for fun.

Realistic 3D battlefields – Watch the fireworks as your forces clash with the enemy across landscapes ranging from jungles to deserts.

A mix of classic and exotic units - Will a Sherman tank stand up to a Warbeast?

Between battles – Build up your army, form battle groups, and research new weapons and abilities.

PC System Requirements
Minimum:


OS:Windows Vista, Windows 7 or Windows 8

Processor:Intel Core 2 Duo E4600 2.4 GHz
AMD Athlon 64 X2 Duel Core 5200+

Memory:4 GB RAM

Graphics:nVidia GeForce 7 series or ATI Radeon HD 2000

DirectX®:9.0

Hard Drive:2 GB HD space

Sound:Generic Sound Card

Additional:Internet connection required
Recommended:


OS:Windows 7 SP-1 64-Bit

Processor:Mid to High Range Dual-Core 2.5GHz CPU

Memory:8 GB RAM

Graphics:Nvidia GeForce GTX 285 or AMD Radeon HD 5830

DirectX®:10

Hard Drive:2 GB HD space

Sound:Generic Sound Card

Other Requirements:Broadband Internet connection
Mac System Requirements
Minimum:


OS:OS X 10.7

Processor:2.6 GHz

Memory:4 GB RAM

Graphics:NVIDIA GeForce 9400M

Hard Drive:2 GB HD space

Sound:Generic Sound Card

Additional:Internet connection required
Recommended:


OS:OS X 10.8+

Processor:2.6 GHz dual-core Intel i5

Memory:8 GB RAM

Graphics:NVIDIA GeForce GT 650M (1GB GDDR5)

Hard Drive:2 GB HD space

Sound:Generic Sound Card

Other Requirements:Broadband Internet connection
Terms of Service:

Privacy Policy: http://www.isotx.com/privacy-policy/
Terms and Conditions: http://www.isotx.com/terms-and-conditions/
Helpful customer reviews
Title:
March of War
Genre:
Action
,
Free to Play
,
Massively Multiplayer
,
Strategy
Developer:
ISOTX
Publisher:
ISOTX
Release Date:
Jun 10, 2014
Languages:
| | Interface | Full audio | Subtitles |
| --- | --- | --- | --- |
| English | | | |