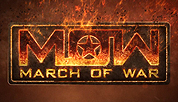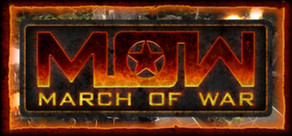 Lead your forces onto the battlefield in this competitive turn-based strategy game. Choose one of six unique factions, build your army from a diverse range of weaponry, and rise through the ranks as you fight for world domination. Join the online war!
發售日: 2014年6月10日
觀看 HD 影片
2014年7月11日
• Fix for End Turn button
• Chat resizable window
• 'I' overlay pointing to tutorial video's
• AI: fixed an issue with neutral captured points being counted incorrectly for surrender
• AI: fixed an issue with units defending capture points
• AI: fixed an issue with using the wrong ability for a target
3 則回應
繼續閱讀
2014年7月11日
Don't tell anyone, but I stole this work in progress image from the art team. Now it's time to speculate!
Obviously it will be an African Warlords unit, but what are those rockets for?




Following on from the recently released Char 2C heavy tank (which will be available for the first time next weekend), it will increase their selection of infantry which is currently fairly limited.
1 則回應
繼續閱讀
關於此遊戲
The year is 1947. The world lies ravaged by war. Align yourself with one of six warring factions and fight for global domination in a world where borders rapidly shift as battles are won and lost.
This is
March of War
. An online turn-based strategy game set in a dieselpunk world where strategy and firepower rule the day. Take command and lead your army into 3D battlefields that allow you to assess the war-zone from every angle. Deploy a wide range of vehicles, infantry and artillery where their specific weapons can be most effective.
Destroy your enemies and capture their territory to advance through the ranks of your faction. Rise high enough and you'll have the honour of joining your faction's High Command, or perhaps even be voted Faction Leader. Achieving High Command or Faction Leader status expands the game into an intricate web of political allegiances and betrayals, where your decisions directly influence the course of the war as you strive to lead your faction to global domination.
Key Features Include

Tactical warfare - Play smart and dirty to conquer this war-torn dieselpunk world.

Choose what you fight for - The six factions are very distinct. Who will you be loyal to?

Multiplayer gameplay - Players are waiting worldwide. Join a co-op or PvP and march on.

Start your own fights – Skirmish lets you set up custom battles for a new challenge or just for fun.

Realistic 3D battlefields – Watch the fireworks as your forces clash with the enemy across landscapes ranging from jungles to deserts.

A mix of classic and exotic units - Will a Sherman tank stand up to a Warbeast?

Between battles – Build up your army, form battle groups, and research new weapons and abilities.

系統需求 (PC)
Minimum:


OS:Windows Vista, Windows 7 or Windows 8

Processor:Intel Core 2 Duo E4600 2.4 GHz
AMD Athlon 64 X2 Duel Core 5200+

Memory:4 GB RAM

Graphics:nVidia GeForce 7 series or ATI Radeon HD 2000

DirectX®:9.0

Hard Drive:2 GB HD space

Sound:Generic Sound Card

Additional:Internet connection required
Recommended:


OS:Windows 7 SP-1 64-Bit

Processor:Mid to High Range Dual-Core 2.5GHz CPU

Memory:8 GB RAM

Graphics:Nvidia GeForce GTX 285 or AMD Radeon HD 5830

DirectX®:10

Hard Drive:2 GB HD space

Sound:Generic Sound Card

Other Requirements:Broadband Internet connection
系統需求 (MAC)
Minimum:


OS:OS X 10.7

Processor:2.6 GHz

Memory:4 GB RAM

Graphics:NVIDIA GeForce 9400M

Hard Drive:2 GB HD space

Sound:Generic Sound Card

Additional:Internet connection required
Recommended:


OS:OS X 10.8+

Processor:2.6 GHz dual-core Intel i5

Memory:8 GB RAM

Graphics:NVIDIA GeForce GT 650M (1GB GDDR5)

Hard Drive:2 GB HD space

Sound:Generic Sound Card

Other Requirements:Broadband Internet connection
Terms of Service:

Privacy Policy: http://www.isotx.com/privacy-policy/
Terms and Conditions: http://www.isotx.com/terms-and-conditions/
具參考價值的客戶評論