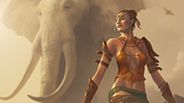 Join the online war and lead your army into battle against players worldwide. Assemble your forces, perfect your strategy, and conquer your enemies.
Fecha de lanzamiento: 27 Jun 2013
Ver vídeo en alta definición
Juego con acceso anticipado
Obtén acceso inmediato e involúcrate con este juego mientras se desarrolla.
Más información acerca del acceso anticipado.
Lo que dicen los desarrolladores:
""Experience a free to play, user driven, cross-platform game with vividly rendered, fully animated, 3D battles!"

March of War, our new, free-to-play, online multiplayer strategy game, tells the story of a dieselpunk, war-torn world carved up by 6 culturally different factions, all vying for power.

Players from all over the world side with a faction, and help their fellow soldiers conquer the world. All of the factions have their own unique strategy, so there isn't one group who has the upper hand. Whichever side you choose, it doesn't only come down to whose political ideologies you prefer, but also to your preferred style of play.

FEEDBACK
We are looking for your feedback. Please leave your suggestions on our forum and press F1 in-game to contact us if you encounter an issue.
During the last update we opened a questionnaire through which we would love to hear your feedback, to help us make March of War an even better game. We appreciate your opinion, and all of your feedback is of great value to us. Please visit http://marchofwar.isotx.com/vote4war to participate in the questionnaire."
Leer más
18 abril 2014
The politics in March of War determine the fate of the world, and have caused much drama over the past months. Factions rise and fall, allegiances are made and broken, political leaders shine and fall from their pedestal. Despite the lack of political tools, you have managed to make March of War come to live!




We want to make the political meta-game even more interesting and above all accessible. Over the past months we have noticed there are a couple of key problems that really clog up the system.

The most notable of these is the lack of communication channels available to the Faction Leader. As his role is to determine the course of the faction, together with the High Command, he needs to be able to let people know what to do, and to convince people to fall in line. For this reason we are adding an asynchronous communication channel for the Faction Leader. This means that he can post a message for the faction without having to be online, or trust his fellow HC to convey the message as he wishes.

At a later stage we also want to add a feature that will allow to Faction Leader to mark some territories as so called preferred territories for the HC to vote on, and for all the players in the faction to play in. We're not sure how this is going to work precisely, but we are researching the possibilities. This should make managing the 'rogue' votes, and 'rogue' players a lot easier.

The second issue that we have been seeing are the elections. Players create new accounts to vote for themselves, people can't find their way to elections – it's all a bit messy. Our solution is two-fold. First of all we will make elections available at (probably) level 10. This will eliminate the exploit of creating new characters, and draw attention to the elections for new players after they have experienced the core of the game: the battles. Second we will make the elections shorter. Every two weeks a new Faction Leader is selected, that doesn't change, but you can only vote in the four days leading up to the election. This will make campaigning more effective, and will notify you on an impending leadership change.

We also recognize that not everybody wants to participate in the meta-game. Therefore we are also adding an opt-out option. You will not be selected for the HC anymore, and players won't be able to vote for you. This will ensure that only dedicated players play this part of March of War, which should make it more interesting overall.

Please let us know what you think of these changes!
0 comentarios
Leer más
15 abril 2014
When the hoards of the African Warlords gather at the horizon most commanders would like to run and hide. Their War Elephants, Rhino Riders and Overlords form a fearsome beast army, with rickety, but deadly vehicles in the vanguard. As they storm down the savannah, there are a few things you need to know.

Dealing with these beasts is absolutely the first thing you need to prepare for. The large beasts, War Elephants and Overlords, have a unique Beast armor type. This means they are more resistant to Anti-Personnel and Rending than Light and Heavy Organics, but less than Heavy Armor. On the other hand the large beasts are more resistant to Anti-Armor damage than armored units. The only sure way to deal with them quickly is to unleash all your Fire and Hunting damage on them, as this is their weak spot. And if you can't deal considerable damage in one round, focus on other units. These large beasts regenerate each turn, which makes it useless to do a little damage.

Anticipating what's coming for you is also important. If you see a lot of light vehicles it's unlikely that you'll also see a lot of large beasts. The Warlords have a wide selection of fairly cheap vehicles, ranging in cost between 2-4E. However, the War Elephant and the Overlord cost both Manpower and Engineering. Keeping the Warlords low on Engineering CP is a sure way to limit their options.

Junta
You are well equipped to take on the Warlords. You have a wide selection of units that do poison damage, which is very effective against the beasts. So your Mortar Teams, Gas Bombs and, if you're lucky and you have one, the Chemical Bus will be essential. Of course your Hunter deals a fair amount of Hunting damage, and the Rending damage caused by the Air Boats, Hulks and Assault Busses will deal with both Beasts and Light Vehicles. However, you need to be careful with the Warlord Technicals as they are as fast as your quicker infantry and will seriously injure them, as your infantry generally have low health.

Republic
Granted, you don't have any Hunting or Fire damage unless you count the Marshal and the Flame Tank, which are both not part of the standard Republic army. You do, however, have good options to deal a lot of Rending damage at long range with both the Angel and the Hover Platform. Combine this with some smart recon and you should have no difficulty taking out their Light Vehicles and wear down the Beasts before they reach you. Finish off the Beasts with the Concussive damage of your Field Artilleries, Howitzers and G.I. grenades. Finally, use Strafing Runs to deal with any clusters of units.

Union
If you're lucky and you fight on a map that gives good cover, your Snipers can easily take out Large Beasts from a distance. You should also deploy your Flak Tank as it's a good all-rounder and deals Rending damage. Be careful though, the Flak Tank hasn't got much health so make sure to scout for Biker Bombers before you move it anywhere. It's also a good idea to use the Maxim MG which deals Rending damage and has the ability to deal infantry supressing AoE damage with a 3 turn cooldown. Finally, don't forget to toss some molotovs with your Red Army Soldiers to do fire damage to the beasts.

Alliance
The damage output of your heavy units should sufficiently compensate for your lack of specialist damage, like Fire and Hunting, when engaging the Warlords. Your Grenadiers will do a lot of damage if you can get them close enough, and Heavy Tanks and Panhards will also do a decent amount. Your superior armor will protect you from most Warlords' attacks as they pretty much only have Biker Bombers to take out tanks with tons of health. Your Engineers should have plenty of time to repair your units to fight another day.

Empire
It's time to unleash all you fire power and make some Overlord and Elephant steak! Your Flame Tanks will be very effective against anything the Warlords can throw at you. However, they can easily be destroyed by the faster Biker Bombers and the longer ranged War Elephants – you need to really watch out for those. Immortals will also help you a great deal in this fight with their Rending autocannon, effective against Beasts and Light Vehicles. The Melee attacks will also deal a lot of damage, but you need to get close first.


0 comentarios
Leer más
Recién actualizado
Welcome to March of War, the online turn-based strategy game. Your actions will shape the world!
We just introduced a new feature called Skirmish, in which you can customize your own battles. Now you can set up your own fights, with your preferred AI difficulty level, number of players (both friends and AI) and favorite maps. This way you can have frantic PVP battles or practice your skills against tricky AI.

We are still working on incorporating all feedback and will continue to optimize your experience. You can leave suggestions on the forums, and if you encounter a problem, press F1 to contact us.
Acerca del juego
Be one of the first players to participate in a whole new way of developing and playing games. Experience a new kind of turn-based-strategy game: intense, fast-paced action with vividly rendered 3D battles in a dieselpunk influenced 1940 world. In March of War you battle for world domination.
March of War Early Access delivers a rich gaming environment with six distinct factions, each with their own dirty tactics. You are not confined to one faction. You can join all of them! Some players will be die-hard faction fanatics while others will be multi-faction guns for hire. Pick your poison!
There are 80+ units, 60+ maps, four gameplay modes… and this is only the beginning! New content and features are to be released in the coming months, adding different ways to play to game.
March of War will soon support seamless, cross-platform gameplay on the PC, Mac, iPad and Android mobile devices. This will allow players to continue their war effort around the clock, whether at home or on the go.
It is your world; so make a difference! While in Early Access the developers of March of War are listening to all feedback and are implementing these comments into the game!
Key Features Include

Tactical online warfare - Deploy a variety of dirty tactics in a war-torn Dieselpunk world

Player-driven world - Side with one of six unique factions on your way to world supremacy

Seamless cross-platform gameplay - Experience a whole new way of playing games on PC, Mac and tablets

Tailor your own fights – In Skirmish you can create your own battles

Requisitos del sistema (PC)
Minimum:


OS:Windows Vista, Windows 7 or Windows 8

Processor:Intel Core 2 Duo E4600 2.4 GHz
AMD Athlon 64 X2 Duel Core 5200+

Memory:4 GB RAM

Graphics:nVidia GeForce 7 series or ATI Radeon HD 2000

DirectX®:9.0

Hard Drive:2 GB HD space

Sound:Generic Sound Card

Additional:Internet connection required
Recommended:


OS:Windows 7 SP-1 64-Bit

Processor:Mid to High Range Dual-Core 2.5GHz CPU

Memory:8 GB RAM

Graphics:Nvidia GeForce GTX 285 or AMD Radeon HD 5830

DirectX®:10

Hard Drive:2 GB HD space

Sound:Generic Sound Card

Other Requirements:Broadband Internet connection
Requisitos del sistema (MAC)
Minimum:


OS:OS X 10.7

Processor:2.6 GHz

Memory:4 GB RAM

Graphics:NVIDIA GeForce 9400M

Hard Drive:2 GB HD space

Sound:Generic Sound Card

Additional:Internet connection required
Recommended:


OS:OS X 10.8+

Processor:2.6 GHz dual-core Intel i5

Memory:8 GB RAM

Graphics:NVIDIA GeForce GT 650M (1GB GDDR5)

Hard Drive:2 GB HD space

Sound:Generic Sound Card

Other Requirements:Broadband Internet connection
Terms of Service:

Privacy Policy: http://www.isotx.com/privacy-policy/
Terms and Conditions: http://www.isotx.com/terms-and-conditions/
Análisis útiles de usuarios
Título:
March of War
Género:
Acción
,
Acceso anticipado
,
Free to Play
,
Multijugador masivo
,
Estrategia
Desarrollador:
ISOTX
Editor:
ISOTX
Fecha de lanzamiento:
27 Jun 2013
Idiomas:
| | Interfaz | Voces | Subtítulos |
| --- | --- | --- | --- |
| Inglés | | | |