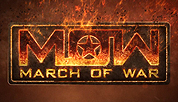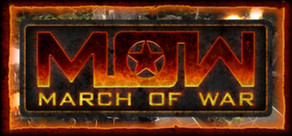 Lead your forces onto the battlefield in this competitive turn-based strategy game. Choose one of six unique factions, build your army from a diverse range of weaponry, and rise through the ranks as you fight for world domination. Join the online war!
Data wydania: 10 Cze 2014
Obejrzyj film HD
8 Lipiec 2014
Have you sent your art work to us yet? You have only six more days to enter the poster or fan art competition. Just as a reminder I have added the competition information to the post!




Posters
The first is a poster competition, in which we are looking for professional quality posters which we can use for the promotion of March of War. If you wish to enter this completion, please make sure you're ok with signing off the copyrights to your art to ISOTX. Of course your name as an artist will still be associated with the work!

So what should be on your poster? Well, something to do with March of War. You can decide to design a poster for the game as a whole, or perhaps focus on a faction or even your favourite unit.

The winner will get the very first print of his poster sent to their home! Submitted work must be A3, and have a dpi of at least 150, but 300 would be better.

Fan Art
The title speaks for itself. Any kind of fan art will be accepted in this competition. Feeling poetic? Write us a poem! Want to rally your faction? Write a speech! Envision yourself in the heat of battle? Draw us something!

1st place: a March of War t-shirt
2nd place: Starter Pack + Vancer
3rd place: Vancer + one week gold boost

How do I join?
- Send your submission for any of these competitions to community@isotx.com.
- The subject of your email should make clear which competition you're entering.
- Submissions will be judged on originality and quality.
- Your deadline is July 14th! Art submitted after that date, will not be judged.
- Make sure to add your March of War account name to the email.
- Winners will be announced on July 18th.
Komentarzy: 1
Więcej
4 Lipiec 2014
Gather around, commanders, I have some crucial information to share with you. Knowing how to use your vehicles can be of key importance to win the battle, even for infantry heavy factions as the Latin Junta. I suspect that most of you already knew this; however, I have gathered some tips to get the most out of your vehicles.

Also you might want to check out the store this weekend for some awesome deals on vehicles! But back to business – how do you use vehicles?




The most common denominator of all vehicles is that they don't lose attack power as they get damaged, contrary to infantry squads. A vehicle that has only 10% health left, deals as much damage as one with 100%. Focussing fire on one vehicle and destroying it in one round is a very valid strategy to deal with this. Alternately when it concerns your own vehicles, make sure to position your vehicles in such a way that your opponent can't reach them with enough firepower to destroy them.

A tricky aspect that is unique to vehicles is the critical hit. Most Anti-Armor attacks have a chance of immobilizing their target which stops a vehicle from being able to move for one turn, or a chance to disable a weapon which prevents your units from attacking for one turn. The critical hit chance is noted on the attack, and can either be a Low (10%), Average (20%), or High (40%) chance. Obviously, scoring a critical against your opponents top tier units is like hitting the jackpot.

While vehicles can't capture points, they are essential for blocking the enemy from capturing points hence preventing them from getting resources and deploying more units. The big vehicles effectively block a lot of movement on and around the capture point, while the small 2x2 vehicles have the same manoeuvrability as infantry and can reach nearly any place on the map with relative ease. Especially early in the game when your opponent hasn't had the chance to deploy a lot of vehicles, the cheaper small vehicles with Anti-Personnel or Rending damage can be an effective counter to infantry as they tend to have decent defences against infantry.
Komentarzy: 0
Więcej
Informacje o grze
The year is 1947. The world lies ravaged by war. Align yourself with one of six warring factions and fight for global domination in a world where borders rapidly shift as battles are won and lost.
This is
March of War
. An online turn-based strategy game set in a dieselpunk world where strategy and firepower rule the day. Take command and lead your army into 3D battlefields that allow you to assess the war-zone from every angle. Deploy a wide range of vehicles, infantry and artillery where their specific weapons can be most effective.
Destroy your enemies and capture their territory to advance through the ranks of your faction. Rise high enough and you'll have the honour of joining your faction's High Command, or perhaps even be voted Faction Leader. Achieving High Command or Faction Leader status expands the game into an intricate web of political allegiances and betrayals, where your decisions directly influence the course of the war as you strive to lead your faction to global domination.
Key Features Include

Tactical warfare - Play smart and dirty to conquer this war-torn dieselpunk world.

Choose what you fight for - The six factions are very distinct. Who will you be loyal to?

Multiplayer gameplay - Players are waiting worldwide. Join a co-op or PvP and march on.

Start your own fights – Skirmish lets you set up custom battles for a new challenge or just for fun.

Realistic 3D battlefields – Watch the fireworks as your forces clash with the enemy across landscapes ranging from jungles to deserts.

A mix of classic and exotic units - Will a Sherman tank stand up to a Warbeast?

Between battles – Build up your army, form battle groups, and research new weapons and abilities.

Wymagania systemowe (PC)
Minimum:


OS:Windows Vista, Windows 7 or Windows 8

Processor:Intel Core 2 Duo E4600 2.4 GHz
AMD Athlon 64 X2 Duel Core 5200+

Memory:4 GB RAM

Graphics:nVidia GeForce 7 series or ATI Radeon HD 2000

DirectX®:9.0

Hard Drive:2 GB HD space

Sound:Generic Sound Card

Additional:Internet connection required
Recommended:


OS:Windows 7 SP-1 64-Bit

Processor:Mid to High Range Dual-Core 2.5GHz CPU

Memory:8 GB RAM

Graphics:Nvidia GeForce GTX 285 or AMD Radeon HD 5830

DirectX®:10

Hard Drive:2 GB HD space

Sound:Generic Sound Card

Other Requirements:Broadband Internet connection
Wymagania systemowe (MAC)
Minimum:


OS:OS X 10.7

Processor:2.6 GHz

Memory:4 GB RAM

Graphics:NVIDIA GeForce 9400M

Hard Drive:2 GB HD space

Sound:Generic Sound Card

Additional:Internet connection required
Recommended:


OS:OS X 10.8+

Processor:2.6 GHz dual-core Intel i5

Memory:8 GB RAM

Graphics:NVIDIA GeForce GT 650M (1GB GDDR5)

Hard Drive:2 GB HD space

Sound:Generic Sound Card

Other Requirements:Broadband Internet connection
Terms of Service:

Privacy Policy: http://www.isotx.com/privacy-policy/
Terms and Conditions: http://www.isotx.com/terms-and-conditions/
Pomocne recenzje klientów
Tytuł:
March of War
Gatunek:
Gry akcji
,
Free to Play
,
MMO
,
Strategie
Producent:
ISOTX
Wydawca:
ISOTX
Data wydania:
10 Cze 2014
Języki:
| | Interfejs | Pełny dżwięk | Napisy |
| --- | --- | --- | --- |
| Angielski | | | |