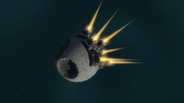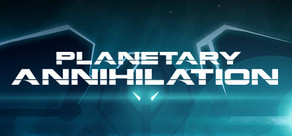 Colonize solar systems, smash entire worlds, and crush your foes in epic battles with multiple players and thousands of units. Don't just win, annihilate!
Release Date: Jun 13, 2013
Watch all 2 trailers
Early Access Game
Get instant access and start playing; get involved with this game as it develops.
Note: This Early Access game may or may not change significantly over the course of development. If you are not excited to play this game in its current state, then you may want to wait until the game progresses further in development. Learn more
What the developers have to say:
Why Early Access?
"Welcome to the Galactic War Update. Galactic War is Planetary Annihilation's new single-player experience.

In Galactic War, you're placed in control of a reawakened Commander with a limited tech tree. By exploring and fighting across the new mode's procedurally generated systems, you'll collect new technology, discover special abilities, and battle against cunning AI Commanders. Strategic flexibility and creativity are required.

You define the scale and intensity of Galactic War: each of the mode's sizes offer different tech trees, drops, and challenges.

This update isn't the "final" game. It's a phase of development -- a phase in which we've added a new single-player mode. This is just the first iteration, too. We'll be supporting the mode much like we support our core game with updates.

When you buy Planetary Annihilation, you're helping us shape a next-generation RTS. Send us your feedback, comments, and ideas on our message board. The team is constantly checking them and hearing what you have to say. Be heard!"
How long will this game be in Early Access?
"Until the game's "done." Generally speaking, that's when we get all the awesome things we want into a 1.0 release."
How is the full version planned to differ from the Early Access version?
"The full version of Planetary Annihilation will offer new and exciting features that we'll gradually roll into THIS version as we complete them."
What is the current state of the Early Access version?
"We've just implemented Galactic War, an exciting single-player experience. We have a few "big rock" features left to implement. For example, asteroid belts are one of these features."
Will the game be priced differently during and after Early Access?
"We plan to stay flexible."
How are you planning on involving the Community in your development process?
"We welcome all feedback and views. Hit us up on social media (@uberent or Planetary Annihilation on Facebook), talk to us on the Steam forums or visit our own official forums: forums.uberent.com" Read more
Buy Planetary Annihilation Early Access
SPECIAL PROMOTION! Offer ends in
July 29th, 2014


Consider your latest skirmish in Planetary Annihilation an appetizer. The feverish, mind meltingly huge battle was just a sample, a tease of what's to come. The latest build, as we promised, ushered in a new lobby, new menus, and new explosive effects. You saw quite a few performance breakthroughs, too, as you wildly battled across the stars.

The gains over the last build were incredible, and we'll keep building on that momentum well into the future. Every day, there's a new discovery, a new feature or mechanic that we can make better or more powerful and cost less.

The target is clear: deliver on the vision that you helped make a reality. There's a lot more work to do, but we're up to the task.


40-Person Battles
Fans who fight commonly in epic free-for-alls and team games often ask when they'll get to experience 40-person battles. Planetary Annihilation has always had big fights, even early on. Yet, we've always wanted to up the ante.
You might be surprised to know that we can support these matches now. Unlocking them for you, however, is a matter of making absolutely, totally sure that the experience will be as fun and as smooth as possible.
In order to get there, we'll need to add in layers of UI to handle the increased amount of players. Also, we'll have to tune servers to handle all the carnage. And, of course, bigger fights are going to require some additional background polish work to make sure they run smoothly, efficiently, and offer as much interesting content as possible.
The game you're playing right now has an excellent example of how we're paving the way to raising the player cap. Currently, whenever you play in big systems, you aren't hit with data about planets that aren't immediately relevant to your interests. This keeps the game's footprint smaller than it would be if planets were constantly phoning home, and as a result the game runs faster.
Don't be surprised to see the player cap jump up over time. It's how we plan to scale the game.
Ladders in 1.0
You asked and we're listening.
Last week, Jon revealed on our forums that we're going to re-evaluate our stance on saving ladders for competitive update down the road. We learned a lot about what you think ladders add to a game during our various discussions, so we're looking at ways that we can accomplish what you want.
We're with you: we want to make sure new players can battle it out against other new players and veterans can battle it out against veterans. Thanks for your input! It's been a big help. We'll have more on this in the future, no doubt.
23 comments
Read more
July 25th, 2014
[Before playing this latest build of Planetary Annihilation, we ask that our community makes sure their eyeballs are planted securely in their skulls. Also, it's probably an excellent idea to turn off all your mods. New builds with the amount of eye-poppingly awesome changes like this one often introduce issues with outdated mods.]

Huge news! Huge update! Over the last three or so weeks, we've been churning out an epic amount of changes to Planetary Annihilation. Today, we're releasing all of them in this Mega Update you've, hopefully, just received.

So, what's new? The first thing we think you'll notice is how much faster the game now runs. PA is quickly becoming a leaner and meaner machine than ever before courtesy some extra cycles devoted to ratcheting up the polish. Feel free to blow away your foes with a few more units, build a couple more factories, and play on more multi-planet systems. Basically, enjoy the smoother ride.

Speaking of rides, take note of the new Commander entrance animation. After picking your spawn point, your Commander will come screaming into battle in a orbital pod of doom. We also added a new spawn option that, if selected in a lobby, allows you to spawn anywhere on a map. This option brings a new kind of aggression that foreshadows the huge and unrestrained battles Planetary Annihilation is known for.

Icing on the cake? We've re-designed the lobby screen, as well as splashed a new coat of paint on Spectator mode, stat screen, and the game end user interface.

Oh, and one more thing: watch out (or cackle with glee) whenever you make a new system in the editor. Planets that intersect in orbit now explode when they touch.

Enhanced patch notes available below. Check them out, and don't forget to head over to the forums to discuss them in detail!

Detailed Changes:

[AI] Added an AI confif file to make it easier to change how the AI decides how many factories and fabbers to build.
[AI] Fix for AI units not moving while underwater
[AI] Updated AI to improve starting build and ramp up time.
[AI] difficulty balance pass.

[Audio] Adding looping music tracks for Battle. Audio balace, falloff and template work.
[Audio] Adding a new FMOD parameter "view_frustum_distance"
[Audio] Fix surround sound inversion bug

[Balance] Give commander enough production to basically equal 3 mex, 3 power plants.

[Celestial] Enhanced planet collisions
[Celestial] Tweak the celestial physics limitations so that elliptical orbits are much more possible.

[Client FX] Fix commander explosion not having lod distances set.

[Game Start] The commander cinematic now shows up for all players, not just the host.

[Gameover] Title and styling varies with game state (shows defeated, game complete, or victory).
[Gameover] Shows a summary of selected stats for the player.

[Gameplay] Fixed boom bots damage
[Gameplay] fix the default action when clicking on an unfinished factory to now repair the factory instead of assisting it.
[Gameplay] Move feature icons (aka metal spot icons) to the surface of the water, which is where we place metal extractors.
[Gameplay] Fix for units not reclaiming wreckage that overlaps a build area.
[Gameplay] Fix projectile turn rate code.
[Gameplay] Fix for multiplayer games not spawning multiple commanders.
[Gameplay] Switched commander spawn delay to 5 seconds so timing works with Ben's new spawn effect.
[Gameplay] tweeked torpedo launchers so the turret isn't as low. This will hopfully make them work better when built on the shoreline.

[GW] Fix for GW game over not abandoning the game.

[Keyboard] Fixed 'q' and 'shift+q' bindings both firing.

[Lobby] Added "land anywhere" option to the lobby.

[OpenGL] Fall back to 2.1 context if 3.1 fails.

[Pathing] Fixed not coming to rest when smaller unit assists larger unit causing the smaller unit to push the larger unit around.

[Perf] Recon performance work ; Recon was causing quite a bit of late game performance hit. Work on improving this.

[PIP] Added PiP mirror mode.
[PIP] Added "last alert" pip mode.

[SDL] Integrate Windows version of SDL port.

[Settings] changed some confusing option titles: focus paths -> order previews. on / off -> energy on / energy off.

[Spectating] Spectators now get the celestial activity alert.

[Stats] Lots of behavior bug fixes (graph will now update at the correct times).
[Stats] Added a table view (which can show either a snapshot of current stats of the game averages).
[Stats] Stats history will be requested when the player becomes a spectator (since the collected history may not show oppenent data). This can take awhile since we can only ask for one slice of history at a time.
[Stats] added new army stats: units built / units lost / enemy units destroyed. changed the damagable interface to accept a damager, who will may be given credit when the damagable is killed. currently only unit kills are tracked. added new fields to the army stats message sent by the stats_viewpoint. these new fields are not currently used yet, though they are sent to the ui.
[Stats] the live game stats panel can now show data for multiple armies.

[System Templates] 5 player system updates and adding a smashable asteroid to the 4 player-4 planet system.

[System Editor] When dragging planets, round position to the nearest 100
[System Editor] Added simulation time display
[System Editor] Turned off the editing controls while simulating. (Changing those will result in basically corrupting your system.)
[System Editor] Fixed the simulation reset not going all the way to 0.
[System Editor] Changed the physics time step to be frame rate independent.
[System Editor] Correct the orbits of moons around moons (etc) when moving a base planet.
[System Editor] Make any planets veolicty grabber grabbable (not just the selected planet)
[System Editor] when you drag a planet with a moon, move the moon with the planet.
[System Editor] Draw orbits for all planets.
[System Editor] Changed the "simulate" button to "stop" while simulating. When "stop" is pressed, the system will reset to the initial state.
[System Editor] A very coarse pass on fixing up some default planets. To any future planet designers, mass 1000 is *almost* never the right choice. I don't want to go so far as to enforce a larger mass on the server, but please use 5000 as the 'default' moon mass.

[UI] camera controls will no longer automatically change when the active keymaps change. the live_game scene now subscribes the active keysmaps and wil update the camera controls when required.
[UI] Fix for ghost structures under construction not going away if they atrophied while hidden under the fog of war.
[UI] Fix for features and ghost structures not going away when a planet was destroyed if your camera was not focued on that planet.
[UI] adding an option to squech global chat.
[UI] Added the radius to the planet list in the server browser.
[UI] Fix path displays for elliptical orbits.
[UI] Fix for being able to select invisible build bar tabs.
[UI] enabled spectator-only chat. Spectators (or defeated players) now have their own team chat channel. Also, there is now an option to prevent spectators from chatting with live players. This option can be set in the lobby.
49 comments
Read more
Early Access Includes:
Instant Access - Gives you access to the game right now during this current phase -- and after when Planetary Annihilation releases.

Theta Commander - The Theta Commander is a hulking and unique shell only available to those who purchase the game in Early Access or have pre-purchased the title.

Orchestral Soundtrack - The Planetary Annihilation official soundtrack is the game's score by Howard Mostrom, and it's recorded by a live orchestra. It will be yours via digital download when you buy.

Desktop Wallpaper: This is the official full release Planetary Annihilation wallpaper and will come in a variety of resolutions for you to choose. Will be offered at release.

Digital Artbook - From early concepts to renders, this is a compilation of the art and design that went into Planetary Annihilation. Will be offered at release.
About the Game
Colonize solar systems, annihilate homeworlds, and exterminate your foes in epic interplanetary battles with multiple players and thousands of units. Planetary Annihilation takes strategy gaming to a never-before-seen scale -- and gives players powerful tools to control the action.
Blow up everything, anywhere; dominate with punishing spacecraft, robots, and other futuristic machines of war. Arm asteroids and send them on planet-destroying collision courses. And take over an entire galaxy in a dynamic single-player mode with procedurally generated content. Don't just win, annihilate!
Key Features Include:
Epic Single-Player - Galactic War is a twist on traditional real-time strategy campaigns that has players battling across a dynamic galaxy filled with procedurally-generated content. Every playthrough is different. Annihilation is final.

Epic Multiplayer - Play with up to ten friends (or enemies) in massive free-for-all and team-based matches.

Spectate And Broadcast - Spectate matches with a suite of incredible viewing options or broadcast with integrated Twitch.TV support.

Advanced Command And Control - With intuitive drags and clicks, seamlessly switch between planets, mine resources, create custom unit formations, or pulverize armies.

Dynamic Picture-In-Picture - View and interact with your units on another planet in a second window as you focus and control the action in your primary view.

Instant Replays - View in-match recordings in real-time while matches are in progress. See when a battle turned by rewinding the game to any point or check out the entire match after a game ends.

Smash Planets - Don't just win, annihilate. End games with the mother of all weapons: an asteroid on a collision course.
PC System Requirements
Minimum:


OS:Windows Vista SP2 64-bit

Processor:32 or 64-bit Dual Core or better

Memory:4 GB RAM

Graphics:Shader 3.0 / OpenGL 3.0 +

DirectX®:9.0c

Hard Drive:2 GB HD space

Additional:These specs are still being determined.
Recommended:


Processor:Quad Core

Memory:8 GB RAM

Graphics: Dedicated Graphics Chip (Not Integrated) / OpenGL 3.0+

DirectX®:9.0c

Hard Drive:2 GB HD space

Additional:These specs are still being determined.
Mac System Requirements
Minimum:


OS:OS/X 10.7, 10.8 or 10.9 (64-bit)

Processor:64-bit Dual Core better

Memory:4 GB RAM

Graphics:Shader 3.0 / Open GL 3.2+

Hard Drive:2 GB HD space

Additional:These specs are still being determined.
Recommended:


We urge all OS/X users to use the free upgrade to 10.9 to guarantee maximum compatibility and performance.
Linux System Requirements
Minimum:


OS:Ubuntu 12.04/13.04, Linux Mint 14 & 15 (64-bit only)

Processor:64-bit Dual Core better

Memory:4 GB RAM

Graphics:Shader 3.0 / Open GL 3.0+

Hard Drive:2 GB HD space

Additional:These specs are still being determined.
Helpful customer reviews
Title:
Planetary Annihilation
Genre:
Strategy
,
Early Access
Developer:
Uber Entertainment
Publisher:
Uber Entertainment
Release Date:
Jun 13, 2013
Languages:
| | Interface | Full audio | Subtitles |
| --- | --- | --- | --- |
| English | | | |