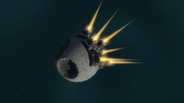 Colonize solar systems, smash entire worlds, and crush your foes in epic battles with multiple players and thousands of units. Don't just win, annihilate!
Release Date: Jun 13, 2013
Watch all 2 trailers
Early Access Game
Get instant access and start playing; get involved with this game as it develops.
Note: This Early Access game may or may not change significantly over the course of development. If you are not excited to play this game in its current state, then you may want to wait until the game progresses further in development. Learn more
What the developers have to say:
Why Early Access?
"Welcome to the Galactic War Update. Galactic War is Planetary Annihilation's new single-player experience.

In Galactic War, you're placed in control of a reawakened Commander with a limited tech tree. By exploring and fighting across the new mode's procedurally generated systems, you'll collect new technology, discover special abilities, and battle against cunning AI Commanders. Strategic flexibility and creativity are required.

You define the scale and intensity of Galactic War: each of the mode's sizes offer different tech trees, drops, and challenges.

This update isn't the "final" game. It's a phase of development -- a phase in which we've added a new single-player mode. This is just the first iteration, too. We'll be supporting the mode much like we support our core game with updates.

When you buy Planetary Annihilation, you're helping us shape a next-generation RTS. Send us your feedback, comments, and ideas on our message board. The team is constantly checking them and hearing what you have to say. Be heard!"
How long will this game be in Early Access?
"Until the game's "done." Generally speaking, that's when we get all the awesome things we want into a 1.0 release."
How is the full version planned to differ from the Early Access version?
"The full version of Planetary Annihilation will offer new and exciting features that we'll gradually roll into THIS version as we complete them."
What is the current state of the Early Access version?
"We've just implemented Galactic War, an exciting single-player experience. We have a few "big rock" features left to implement. For example, asteroid belts are one of these features."
Will the game be priced differently during and after Early Access?
"We plan to stay flexible."
How are you planning on involving the Community in your development process?
"We welcome all feedback and views. Hit us up on social media (@uberent or Planetary Annihilation on Facebook), talk to us on the Steam forums or visit our own official forums: forums.uberent.com" Read more
August 9th, 2014


The team continues to blast through bugs, lists of polish items and performance optimizations.

Find lobbies more easily - you can name them now, and the default naming will make it much easier to find the lobby you're looking for. Add tags for competitive, casual, comp stomp or simply testing. Get the people that are looking for the kind of game you want to play.

The AI continues to learn how to dominate across each star system, and features continue to get polished and finished. Hop in and play today, Commanders!

Detailed Build Notes:

[AI] AI does better at sending orbital radar to other planets.
[AI] AI ignores econ cost of units in transit between planets.
[AI] AI will send basic orbital radar to other planets more often.
[AI] AI should be a little more nuke happy on planets it has full control over.
[AI] AI will nuke enemy commanders.
[AI] Fix for AI getting stuck trying to send units through a teleporter when the end point died.
[AI] AI will swarm enemy commanders, if they have enough units.
[AI] Fix for AI being unable to properly use air units due to the fact you cannot use fetchVoxel() to get a voxel for anything not on the ground.
[AI] AI should use teleporters a bit more effectively.
[AI] AI economy updates.
[AI] Edited AI difficulties so that lower difficulties are overly careless with their units rather than overly conservative.

[Alliances] Made diplomatic changes available while landing.

[Audio] Unit movement audio loop work
[Audio] VO works again. added a vo queue and priority system. added missing type tags to some units.
[Audio] Adding vehicle movement sounds and robot VO

[Balance] Increase sight range for Assault bot.
[Balance] Thrusters on planets where the owning army is allied with you will no longer count cancel out your thrust power. They still wont add thrust power for you.

[Camera] Fix for planets visually snapping to a final position after being destroyed.
[Camera] Camera will no longer move to the sun after a planet dies.

[Celestial] Planets will now orient to put their engines behind them (as best they can) during a planet smash.

[Client] added a force fullscreen command line options ( --forcefullscreen ).

[Gameplay] Fixed Vanguard attacking Commanders

[Lobby] Game names now include the tag (casual, competitive, etc...) instead of the system name.

[Mods] Modded servers will now show up without requiring a client mod.
[Mods] Mods now show up in a list under the game details.
[Mods] You can now filter games based on specific mods. the mod filter widget will automatically include the names of any mods applied to active games.

[Pathing] Fix for units getting stuck against structures and walls.
[Pathing] Fixed Fabbers not moving to a structure when they should
[Pathing] Fixed assist nucular missle fabbing from not working
[Pathing] Fix for units getting stuck attempting to build something and failing to move out of the way.

[Replays] Replay browser now displays better game info for GW games. Old was just 'Player (+1 AI)', New is 'username: Galactic War "war name" (turn X, system name), vs. AI army names'

[Systems] Added expected player counts to generated star systems.

[UI] Lobby tag support. current tag list includes ('Casual', 'Competitive', 'AI Battle', 'Testing').
[UI] Changed default game filters to show only games in the 'lobby' state. added filters for game status ( open player slots, open spectator slots, any open slot ) and game type ('free for all', 'team armies').
[UI] Fix for chat auto-scroll in the lobby.

------------------------

[Galactic War]
Removed:
- Basic Naval Tech
- Improved Energy Weapons Tech

Changes:
- Basic Naval Tech given to all commander loadouts.
- Advanced Bot/Vehicle/Air Tech now gives the basic factory and basic fabricator.
- Artillery Tech changes to just the artillery structures.
- Artillery Cost Tech: 50% cost reduction -> 75%
- Artillery Damage Tech: Add 90% energy use reduction.
- Increased drop rate of super weapon tech
- Super Weapon Cost Tech: 50% -> 75% cost reduction.
- Artillery Commander Loadout now has the 75% artillery cost reduction.
- Storage Tech Buff: +100% -> +300%
- Efficiency Tech: +40% -> +25%
- Legion Boss now uses a water-heavy planet.

[Balance]
Dox:
- Range: 50 -> 80
- Is now amphibious

Vanguard:
- Damage: 4000 -> 2000
- Splash: 20 -> 10

Sheller:
- Damage: 600 -> 400
- Full Damage Radius: 5 -> 1

All units:
- No longer leave wreckage.
42 comments
Read more
July 29th, 2014


Consider your latest skirmish in Planetary Annihilation an appetizer. The feverish, mind meltingly huge battle was just a sample, a tease of what's to come. The latest build, as we promised, ushered in a new lobby, new menus, and new explosive effects. You saw quite a few performance breakthroughs, too, as you wildly battled across the stars.

The gains over the last build were incredible, and we'll keep building on that momentum well into the future. Every day, there's a new discovery, a new feature or mechanic that we can make better or more powerful and cost less.

The target is clear: deliver on the vision that you helped make a reality. There's a lot more work to do, but we're up to the task.


40-Person Battles
Fans who fight commonly in epic free-for-alls and team games often ask when they'll get to experience 40-person battles. Planetary Annihilation has always had big fights, even early on. Yet, we've always wanted to up the ante.
You might be surprised to know that we can support these matches now. Unlocking them for you, however, is a matter of making absolutely, totally sure that the experience will be as fun and as smooth as possible.
In order to get there, we'll need to add in layers of UI to handle the increased amount of players. Also, we'll have to tune servers to handle all the carnage. And, of course, bigger fights are going to require some additional background polish work to make sure they run smoothly, efficiently, and offer as much interesting content as possible.
The game you're playing right now has an excellent example of how we're paving the way to raising the player cap. Currently, whenever you play in big systems, you aren't hit with data about planets that aren't immediately relevant to your interests. This keeps the game's footprint smaller than it would be if planets were constantly phoning home, and as a result the game runs faster.
Don't be surprised to see the player cap jump up over time. It's how we plan to scale the game.
Ladders in 1.0
You asked and we're listening.
Last week, Jon revealed on our forums that we're going to re-evaluate our stance on saving ladders for competitive update down the road. We learned a lot about what you think ladders add to a game during our various discussions, so we're looking at ways that we can accomplish what you want.
We're with you: we want to make sure new players can battle it out against other new players and veterans can battle it out against veterans. Thanks for your input! It's been a big help. We'll have more on this in the future, no doubt.
41 comments
Read more
Early Access Includes:
Instant Access - Gives you access to the game right now during this current phase -- and after when Planetary Annihilation releases.

Theta Commander - The Theta Commander is a hulking and unique shell only available to those who purchase the game in Early Access or have pre-purchased the title.

Orchestral Soundtrack - The Planetary Annihilation official soundtrack is the game's score by Howard Mostrom, and it's recorded by a live orchestra. It will be yours via digital download when you buy.

Desktop Wallpaper: This is the official full release Planetary Annihilation wallpaper and will come in a variety of resolutions for you to choose. Will be offered at release.

Digital Artbook - From early concepts to renders, this is a compilation of the art and design that went into Planetary Annihilation. Will be offered at release.
About the Game
Colonize solar systems, annihilate homeworlds, and exterminate your foes in epic interplanetary battles with multiple players and thousands of units. Planetary Annihilation takes strategy gaming to a never-before-seen scale -- and gives players powerful tools to control the action.
Blow up everything, anywhere; dominate with punishing spacecraft, robots, and other futuristic machines of war. Arm asteroids and send them on planet-destroying collision courses. And take over an entire galaxy in a dynamic single-player mode with procedurally generated content. Don't just win, annihilate!
Key Features Include:
Epic Single-Player - Galactic War is a twist on traditional real-time strategy campaigns that has players battling across a dynamic galaxy filled with procedurally-generated content. Every playthrough is different. Annihilation is final.

Epic Multiplayer - Play with up to ten friends (or enemies) in massive free-for-all and team-based matches.

Spectate And Broadcast - Spectate matches with a suite of incredible viewing options or broadcast with integrated Twitch.TV support.

Advanced Command And Control - With intuitive drags and clicks, seamlessly switch between planets, mine resources, create custom unit formations, or pulverize armies.

Dynamic Picture-In-Picture - View and interact with your units on another planet in a second window as you focus and control the action in your primary view.

Instant Replays - View in-match recordings in real-time while matches are in progress. See when a battle turned by rewinding the game to any point or check out the entire match after a game ends.

Smash Planets - Don't just win, annihilate. End games with the mother of all weapons: an asteroid on a collision course.
*Internet connection required.
PC System Requirements
Minimum:


OS:Windows Vista SP2 64-bit

Processor:32 or 64-bit Dual Core or better

Memory:4 GB RAM

Graphics:Shader 3.0 / OpenGL 3.0 +

DirectX®:9.0c

Hard Drive:2 GB HD space

Additional:These specs are still being determined.
Recommended:


Processor:Quad Core

Memory:8 GB RAM

Graphics: Dedicated Graphics Chip (Not Integrated) / OpenGL 3.0+

DirectX®:9.0c

Hard Drive:2 GB HD space

Additional:These specs are still being determined.
Mac System Requirements
Minimum:


OS:OS/X 10.7, 10.8 or 10.9 (64-bit)

Processor:64-bit Dual Core better

Memory:4 GB RAM

Graphics:Shader 3.0 / Open GL 3.2+

Hard Drive:2 GB HD space

Additional:These specs are still being determined.
Recommended:


We urge all OS/X users to use the free upgrade to 10.9 to guarantee maximum compatibility and performance.
Linux System Requirements
Minimum:


OS:Ubuntu 12.04/13.04, Linux Mint 14 & 15 (64-bit only)

Processor:64-bit Dual Core better

Memory:4 GB RAM

Graphics:Shader 3.0 / Open GL 3.0+

Hard Drive:2 GB HD space

Additional:These specs are still being determined.
Helpful customer reviews
Title:
Planetary Annihilation
Genre:
Strategy
,
Early Access
Developer:
Uber Entertainment
Publisher:
Uber Entertainment
Release Date:
Jun 13, 2013
Languages:
| | Interface | Full audio | Subtitles |
| --- | --- | --- | --- |
| English | | | |