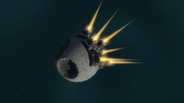 Colonize solar systems, smash entire worlds, and crush your foes in epic battles with multiple players and thousands of units. Don't just win, annihilate!
Release Date: Jun 13, 2013
Watch all 2 trailers
Early Access Game
Get instant access and start playing; get involved with this game as it develops.
Note: This Early Access game may or may not change significantly over the course of development. If you are not excited to play this game in its current state, then you may want to wait until the game progresses further in development. Learn more
What the developers have to say:
Why Early Access?
"Welcome to the Galactic War Update. Galactic War is Planetary Annihilation's new single-player experience.

In Galactic War, you're placed in control of a reawakened Commander with a limited tech tree. By exploring and fighting across the new mode's procedurally generated systems, you'll collect new technology, discover special abilities, and battle against cunning AI Commanders. Strategic flexibility and creativity are required.

You define the scale and intensity of Galactic War: each of the mode's sizes offer different tech trees, drops, and challenges.

This update isn't the "final" game. It's a phase of development -- a phase in which we've added a new single-player mode. This is just the first iteration, too. We'll be supporting the mode much like we support our core game with updates.

When you buy Planetary Annihilation, you're helping us shape a next-generation RTS. Send us your feedback, comments, and ideas on our message board. The team is constantly checking them and hearing what you have to say. Be heard!"
How long will this game be in Early Access?
"Until the game's "done." Generally speaking, that's when we get all the awesome things we want into a 1.0 release."
How is the full version planned to differ from the Early Access version?
"The full version of Planetary Annihilation will offer new and exciting features that we'll gradually roll into THIS version as we complete them."
What is the current state of the Early Access version?
"We've just implemented Galactic War, an exciting single-player experience. We have a few "big rock" features left to implement. For example, asteroid belts are one of these features."
Will the game be priced differently during and after Early Access?
"We plan to stay flexible."
How are you planning on involving the Community in your development process?
"We welcome all feedback and views. Hit us up on social media (@uberent or Planetary Annihilation on Facebook), talk to us on the Steam forums or visit our own official forums: forums.uberent.com" Read more
July 22nd, 2014
There's a new kind of excitement worming its way through the studio, its warm tendrils slowly latching on to every single member of the team. We're embracing the embrace; in the last few days, we've finalized our plans for the release of Planetary Annihilation and we're giddily hacking away at what we need to do in order to deliver the polished, refined, and streamlined 1.0 version of the game on our own schedule.

From top to bottom, the 1.0 release of Planetary Annihilation will run leaner, faster, and look better. Our crew of engineers and programmers are pushing hard to improve the overall user experience by making the client and server run more smoothly. Take a trip to our office and you'll hear the steady clack of keyboards, as brave coders clean blemishes and chew away at technical debt.

In the last couple of PTE builds, you've witnessed some of their work in making the game faster. You've also probably noticed extensive graphical and user interface improvements. New and more stunning particle effects are breathing a whole new life into Commander and nuclear explosions. New game screens and various menus have also been introduced.

The 1.0 release will also hit digital and store shelves with new features and mechanics, one of which is available. In our GiantBomb interview, we mentioned we really liked the idea of allowing you to spawn anywhere on a map instead of in a pre-selected spot. This is now in the game. We like what it brings to the table: spawning wherever brings a new kind of swagger, a new kind of intensity that foreshadows the sprawling, massive battles that Planetary Annihilation is all about.


What's "Finished," Really?
What's finished anyway? It's a question Jon Mavor brings up a lot when we talk about the 1.0 build. In a lot of ways, we see 1.0 as just the beginning of the story: a rocking sentence that hooks you for an entire novel. We plan to support PA for a long time, creating new content as quickly as possible to keep the action interesting. Sometimes, when we daydream at our desks, we think about all the new things we can bring to the game after this push.
So, all this is to say that 1.0 is coming, but that doesn't mean we're "done." It's just the beginning — and we can't wait to take you on the ride.
15 comments
Read more
July 2nd, 2014
REMINDER: Please disable all mods. New updates often introduce compatibility issues in mods, which could make your experience way less excellent than normal.

This latest update is sponsored by ... Performance. Stability and performance across the board have been improved. Client multi-threading, for instance, has been introduced to the game making it stronger, better, and faster than ever before. Along these lines, the UI has been given a new round of polish, which will make the game feel a lot more snappier when it counts the most.

On the gameplay front, we've done another pass on strategic and build icons. Building and unit icons now have more graphical sizzle, making them more readable when the action gets turbo-hot. Also, strategic icons have received a similar overhaul.

As always, we've included the full notes below. Oh! And if you want a sneak peek at what we're working on right now, press Tab while playing. Delicious, delicious live stats are coming!

Detailed Build Notes:

AI: Re-vamped the AI difficulty levels.
AI: Added a new difficulty flag to set whether the AI prioritizes scouting areas of the planet by metal spot count.
AI: AI can now build the TML Bot.
AI: Increased the value to the AI of destroying metal/energy producers and consumers.
AI: Improved AI attack location selection.
AI: AI will see fabbers as a threat now.
AI: Modified the AI fabber to factory ratio.
AI: AI will build orbital fighters to defend against orbital threats better.

Alerts: Fixed the alert preview border.

Audio: A ton of weapon and move sounds

Client FX: Delta V jets should now appear at any distance.
Client FX: Fixed particle system frustum culling, to actually do it properly.

Gameplay: Dead enemy units (especially cmdrs) will no longer trigger sight notifications. This fixes the bug where dead cmdrs triggered VO.
Gameplay: Fix to allow spawn effects to play on non-primary planets.
Gameplay: Fix for SXX not attacking targets while on patrol.

Gameplay/UI: Updated build bar icons. This is a major overhaul of all unit build icons, coloration, etc. You will probably need to re-learn the icons a little bit, but they should also be a lot easier to learn now.
Gameplay/UI: Art pass on all strategic icons. There is now consistent UI language on strat icons that should make it easier to quickly assess your armies/opponents.

Lobby: Spectators will no longer hold colors.
Lobby: Adding a new slot will no longer reset ai difficulty. Also includes various layout fixes.

Linux: Disable persistent buffer mapping on Linux. Turns out there's some issue with it on at least NVIDIA proprietary drivers, so disable it.

Mac: Fix PA.app icon on Mac.

Mac/Linux: Fix period, underscore, etc for Mac & Linux.

Settings: Changes to the keybinds will now correctly register as a change to the settings which allows the keybinds to correctly interact with the restore defaults button.
Settings: The server region selecter will now correctly interact with with the save/ save & exit buttons. Changes to the server region will no longer be applied until the settings are saved.

UI: Fixing the position of the advanced radar in the build bar.
UI: Fix cases where the planet list panel did not sync up with the camera.
UI: Fixed the border around holodecks.
UI: Fix typo in advanced defense tech for GW
UI: Fix for stale error messages showing up in the transit scene. (e.g. Incorrect "failed to connect" style messages)
UI: UI actions triggered by the keyboard should now play an audio response.
UI: Fix for the notification alert acknowledge keybinding (defaults to 'space').
UI: Players (self) will no longer appear in their own friendlist.
UI: Fix for displaying KS backer cmdrs when the backer name is not given. Improved behavior if you redeems a coupon for an item that isn't in the catalog.
UI: Fix bug where players panel was not informed of each armies allies.
UI: Explicitly setting strategic icon priority for base unit specs that use the default value.
UI: Adding the gamestats panel (bring it up with 'tab').
UI: Fix bug in econ display where shared resources could show more pips then intended.

Complex Changes Lists:

[Graphic / Client Multithreading]
- Parallel-for implementation for performant asynchronous and parallel-for processing.
- New lightweight mutexes for high-frequency locking.
- Parallelization of some heavy-weight CPU workloads....
---- Many client update operations are now threadsafe. Or should be.
---- Particle depth sort is now done asynchronously, saving up to 20ms/frame of CPU time for late-game.
---- Animation update is now spread across many cores, giving a 2-4x speedup of this code (typically up to 10ms/frame on late game, now down to 4ms or less on a quad core system).
---- Post animation client update is now spread across many cores, giving a 2-4x speed up on this.
---- Particle update is now done in parallel-for, reducing execution time by 2-4x.
- Strategic icons are now depth and priority sorted, with the commander on top.
- Particles are now distance and camera-frustum culled (reducing rendering overhead by (sometimes) a significant factor (2-6ms observed in late-game).
- Various bug and correctness fixes in particle update and rendering.

[Gameplay] Weapon work:
- Clients can now show units targetting multiple entities
- Any given unit can target up to four unique targets
- Autoweapon task now uses weapon position to calculate distance for determining closest target. This does not change the max range of any unit or weapon, but individual weapons will prefer targets that are closer
- This is most noticeable for the battleship where the front and rear turrets are quite far apart

[Gameplay/UI/Modding] Start of match features:
- Added a 5 second count down after all players select a landing spot.
- On match start the camera will now look at the players choosen spawn.
- The Commander spawned for each player will be selected on match start.
- Added an api call to set your commander id, and updated api call for commander selection to select the commander from id if set. (maintains old functionality (select all commander in an army) if you switch armies or never set commander id)
- Added commander id to the server state message, and set commander id from this (so each client knows the id of the their commander)

[UI / Modding] Hover Panel Information
- The more information is now passed to the ui on hover. Cleaned up the way target information is sent. New information includes: target team (color), damage, rate of fire, build arm metal/energy cost.
- Added names and descriptions to the buildable ammo types. This information will be displayed when hovering an active launcher.
- Hover panels now show extra information, including: thumbnail image, s.icon, team color, damage, rate of fire, damage per second, build power, build efficiency.
- Also includes various fixes to handle the merge to main (the gamestats panel has been included and the game options sidebar has been fixed).

Free Cam
- Debug and free camera controls are now editable
- Free cam now has 6DOF controls in planetary mode
- Free cam controls override any other controls that interfere with it (aka s and f don't make lots of noise in debug camera!)
- Groundwork is laid for unit and celestial based 6DOF controls
- Change your keybindings to get into free cam mode with the 'toggle free camera' option

Updated community translation strings for:
- German
- Dutch
- Spanish
- French
- Russian
- Polish (Poland)
- Turkish (Turkey)
- Czech (CR)
- Dutch (Belgium)
51 comments
Read more
Early Access Includes:
Instant Access - Gives you access to the game right now during the gamma phase -- and after when Planetary Annihilation releases.

Theta Commander: The Theta Commander is a hulking and unique shell only available to those who purchase the game in Early Access or pre-purchase the title at a later date.

Orchestral Soundtrack: The PA Soundtrack is the game's score by Howard Mostrom and it's recorded by a live orchestra. It will be yours via digital download when the game is released.

Desktop Wallpaper: This is the official full release Planetary Annihilation wallpaper and will come in a variety of resolutions for you to choose. Design to be finalized by release.

Digital Artbook - From early concepts to renders, this is a compilation of the art and design that went into Planetary Annihilation. To be finalized by release.
About the Game
Colonize solar systems, annihilate homeworlds, and obliterate your foes in epic interplanetary battles with multiple players and thousands of units. Planetary Annihilation takes the RTS to a never-before-seen scale -- and gives players powerful tools to control the action.
Control punishing spacecraft, powerful tanks, and an assortment of other futuristic machines of war in epic battles across entire solar systems. Set up entire planets as bases and teleport your units strategically into the heart of your foes' strongholds. Or end matches with the mother of all weapons: an asteroid on a collision course.
And now, experience Planetary Annihilation's single-player mode, Galactic War, over and over again. Battle across a dynamic galaxy filled with procedurally generated content and use recovered technology and abilities to take control. Don't just win, annihilate!
Galactic War Update Features Include:
Epic Single-Player - Galactic War is a twist on traditional real-time strategy campaigns that has players battling across a dynamic galaxy filled with procedurally-generated content. Every playthrough is different. Annihilation is final.

Epic Multiplayer - Play with up to ten friends (or enemies) in massive free-for-all and team-based matches.

Spectate And Broadcast - Spectate matches with a suite of incredible viewing options or broadcast with our integrated Twitch.TV support.

Advanced Command And Control - With intuitive drags and clicks, seamlessly switch between planets, mine resources, create custom unit formations, or pulverize armies.

Dynamic Picture-In-Picture - View and interact with your units on another planet in a second window as you focus and control the action in your primary view.

Instant Replays - View in-match recordings in real-time while matches are in progress. See when a battle turned by rewinding the game to any point or check out the entire match after a game ends.

Smash Planets - Don't just win, annihilate. End games with the mother of all weapons: an asteroid on a collision course.
Upcoming Features Include:
Even Bigger Multiplayer - Up to 40-person battles with hundreds to thousands of units.

Profile Pages - Check out your latest game replays, personalize your profile, and see your stats.

Private Servers! - Play connected to the UberNet servers, your own private server, or offline. It's your choice. Early Access online connectivity is required to play.
PC System Requirements
Minimum:


OS:Windows Vista SP2 64-bit

Processor:32 or 64-bit Dual Core or better

Memory:4 GB RAM

Graphics:Shader 3.0 / OpenGL 3.0 +

DirectX®:9.0c

Hard Drive:2 GB HD space

Additional:These specs are still being determined.
Recommended:


Processor:Quad Core

Memory:8 GB RAM

Graphics: Dedicated Graphics Chip (Not Integrated) / OpenGL 3.0+

DirectX®:9.0c

Hard Drive:2 GB HD space

Additional:These specs are still being determined.
Mac System Requirements
Minimum:


OS:OS/X 10.7, 10.8 or 10.9 (64-bit)

Processor:64-bit Dual Core better

Memory:4 GB RAM

Graphics:Shader 3.0 / Open GL 3.2+

Hard Drive:2 GB HD space

Additional:These specs are still being determined.
Recommended:


We urge all OS/X users to use the free upgrade to 10.9 to guarantee maximum compatibility and performance.
Linux System Requirements
Minimum:


OS:Ubuntu 12.04/13.04, Linux Mint 14 & 15 (64-bit only)

Processor:64-bit Dual Core better

Memory:4 GB RAM

Graphics:Shader 3.0 / Open GL 3.0+

Hard Drive:2 GB HD space

Additional:These specs are still being determined.
Helpful customer reviews
Title:
Planetary Annihilation
Genre:
Early Access
,
Strategy
Developer:
Uber Entertainment
Publisher:
Uber Entertainment
Release Date:
Jun 13, 2013
Languages:
| | Interface | Full audio | Subtitles |
| --- | --- | --- | --- |
| English | | | |