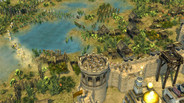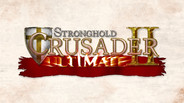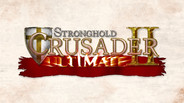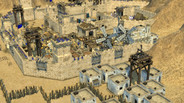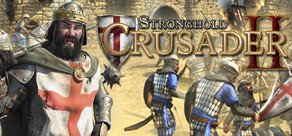 Stronghold Crusader 2 is the long awaited sequel to the original castle sim. After 12 years Stronghold returns to the desert with a new 3D engine and powerful Havok Physics. Firefly Studios will recapture the original Crusader's addictive, fast-paced gameplay and authentic castle simulation.
Release Date: Sep 23, 2014
Watch all 4 trailers
Available: September 23
This game will unlock in approximately 1 day and 11 hours
Pre-Purchase Stronghold Crusader 2
Pre-Purchase Stronghold Crusader 2 Special Edition
September 10
Meet the Wolf
Stronghold
is known for its tendency to test players' mental dexterity, so we thought it makes sense to include The Wolf at launch! We want his addition to the roster of AI characters to remind you that Crusader 2 retains the series' sense of challenge. When you are victorious against The Wolf it should feel like an absolute triumph.
Meet the Wolf
As an AI Lord The Wolf is not the greatest ally, his aggressive attitude and unpredictable in-game mood making military assistance or trade unlikely. As an opponent however The Wolf provides skilled players with a worthy challenge.
The Wolf likes to build strong defences early on, turtling until he can amass an army of heavily armoured troops. Rushing The Wolf is difficult, but the longer you leave him alone the more dangerous he becomes! To stand a chance you must employ effective counter troops, Crossbowmen to pierce his troops' thick armour and Pitch Ditch to set his Swordsmen on fire. Units who are weak against armoured troops, such as the Whirling Dervish, should be avoided.
Good luck!
11 comments
Read more
September 3
Meet the Sultana
An all-new character to the
Stronghold
universe, the Sultana continues our tradition of historically accurate characters with a touch of creative flair. Part of the game's thematic battle against the invading Crusader hordes, the Sultana prefers deception and intelligent use of the land over brute force. Our new developer diary walks players through the basics of the Sultana's attack, army composition and castle economy, highlighting effective counter strategies:
Meet the Sultana
The key to defeating the Sultana lies in the game's new unit balancing. Gone are the days where players could dominate every skirmish match by spamming Horse Archers or mobbing the opposing player with Assassins. The Sultana prefers specialised units, which must be used against her to win. Counter Horse Archers with charging Sassanid Knights, Sassanid Knights with Pikemen in a 'dug-in' defensive stance, Pikemen with fire from Oil Pot Throwers and so forth, depending on which units she opts for in a given match.
Every unit has a counter, with the Sultana designed to train players in the art of unit selection. Defeat her and learn one of the most important lessons in
Stronghold
!
11 comments
Read more
Reviews
"Stronghold Crusader II does a great job of capturing the medieval tone that made earlier games in the series such a hit."
GameSpot (Preview)

"Watching enormous boulders fired from catapults crumble an enemy stone wall makes combat more of a spectacle than it's ever been in Stronghold."
GameTrailers (Preview)

"Designed by Simon Bradbury, the creator of strategy classics like Caesar III and Lords of the Realm, it's an intense point-and-click warzone, jammed with archers, swordsmen and trebuchets."
The Guardian (First Look)

Pre-Purchase Offer
10% Off Launch Price

Exclusive Mini-Campaigns: 'Justice' and 'Freedom Fighters'

10 Exclusive In-Game Shields

Bonus Stronghold Kingdoms Power Pack on Steam - Get it at release on 23 Sep 2014!
Special Edition
The Special Edition includes:

Digital Soundtrack Composed by Robert Euvino

'The Art of Stronghold Crusader 2' Digital Art Book

Stronghold Crusader HD: Full game on Steam - Already own it on Steam? Gift it to a friend!
About the Game
Stronghold Crusader 2
is the long awaited sequel to Stronghold: Crusader, the original 'castle sim'. After 12 years Stronghold returns to the deserts of the Middle East circa 1189, with a new 3D engine and realistic castle destruction powered by Havok Physics. Crusader 2 will recapture the original game's addictive, fast-paced gameplay and authentic castle simulation.
True to its roots this new Stronghold will define old school real time strategy, combining RTS and city builder gameplay. Playing as a brutal Crusader Knight or Arabic freedom fighter, you must use a deadly array of troops and destructive siege equipment to decide the fate of the holy lands. Lead your forces into battle as either Richard the Lionheart or the Sultan of Syria in two historic single-player campaigns, with dynamic events such as tornados and locust swarms. Become the greatest Lord by managing your desert economy and seizing control of vital oases.
To dominate the battlefield you will need to command more than 25 unique unit types, mastering their special abilities. Raise morale with the Sergeant at Arms, charge in with the Sassanid Knight, use Archers to launch an arrow volley or scale castle walls with the deadly Assassin. Once your skills have been perfected put them to the test in skirmish mode or take the battle online with up to eight players. Create teams, choose different AI opponents and design your own map in the ultimate skirmish or multiplayer game!
Key Features
Build the Ultimate Castle - Design mighty strongholds and fill them with fiendish traps to crush your enemies!

Skirmish Mode - Lay siege to your enemies in fast-paced custom skirmish matches against the AI.

8 Player Multiplayer - Mix and match human and AI players, maps and game modes to set up your ideal multiplayer game.

Battle a Wide Range of AI Lords - Classic AI characters return alongside new blood, each with distinct personalities, castles and play styles.

Challenge the Crusader Trail - Test your mettle across a range of increasingly tough skirmish campaigns.

Co-op Play - Share control over castle building, troop control and resource management in Co-op Mode.

Castle Sandbox - Dive into the Map Editor or Free Build mode and construct the ultimate castle without fear of attack.
System Requirements
Minimum:


OS: Windows® XP/Vista/7/8 with latest service packs

Processor: Intel® Core™2 Duo 2Ghz or equivalent

Memory: 2 GB RAM

Graphics: NVIDIA® GeForce® 8800GT 512MB or AMD Radeon™ HD 2900XT 512MB or better

DirectX: Version 9.0c

Network: Broadband Internet connection

Hard Drive: 6 GB available space
Recommended:


OS: Windows® Vista/7/8 64-bit with latest service packs

Processor: Intel® Core™ i5 or equivalent

Memory: 8 GB RAM

Graphics: NVIDIA® GeForce® GTX 460 1GB or AMD Radeon™ HD 5830 1GB or better

DirectX: Version 9.0c

Network: Broadband Internet connection

Hard Drive: 6 GB available space
©2014 FIREFLY STUDIOS LIMITED. All rights reserved. Stronghold Crusader 2 and FIREFLY STUDIOS LIMITED are trademarks or registered trademarks of FIREFLY HOLDINGS LIMITED.
There are no public reviews for this product yet
You can write your own review for this product to share your experience with the community. Use the area above the purchase buttons on this page to write your review.
Title:
Stronghold Crusader 2
Genre:
Simulation
,
Strategy
Developer:
FireFly Studios
Publisher:
FireFly Studios
Release Date:
Sep 23, 2014
Languages:
| | Interface | Full audio | Subtitles |
| --- | --- | --- | --- |
| English | | | |
| French | | | |
| Italian | | | |
| German | | | |
| Spanish | | | |
| Polish | | | |
| Russian | | | |
| Portuguese-Brazil | | | |
See all 8 supported languages