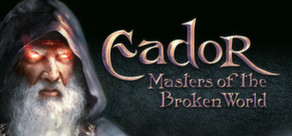 Koop nu alvast en ontvang een gratis exemplaar van Eador: Genesis
Releasedatum: 19 apr 2013
Alle 4 trailers bekijken
Eador: Masters of the Broken World kopen
Downloadbare inhoud voor dit spel
19 juni 2014
Hi everyone,

New update 1.4.4 is coming later today.




Update notes:

Changes:

- Added and improved sounds for a number of units.
- Changed balance (characteristics, skills, upgrades etc.) for a number of units.
- Improved tooltip display during tactical battles.
- Income tooltip is now shown at the bottom of the screen after finishing a turn on the strategic map.

Fixed:

- Foreign quarter's buildings not increasing gold income.
- Incorrect health display for province guards under player's control after their bribery.
- Units hatched from the eggs of 'Black Widow' shown on the victory screen.
- Units immobilized by 'Slyboots' ability being able to retreat in close combat.
- Income calculation for the Hippodrome building.
- 'Roots' spell bug.
- Catapult and Ballista units can no longer attack other units at close range.
4 opmerkingen
Meer informatie
5 juni 2014
Hi everyone,

Today we're releasing a new DLC for Eador called Allied Forces.

As you know, Eador doesn't exactly lack in the unit department, especially after last month's update. However, we thought that the benefits of befriending one of the seven races in Eador could be a bit more rewarding.

So there it is, inside you'll find 14 brand new units (two for each race) with their unique skills and abilities.

Let's take the gentlemen on this picture as an example:


Orc Witchdoctor - the witchdoctors can inspire their kin, improving their fighting ability. Moreover, they can harm their enemies with the «Scream of Urugu,» a curious spell never studied by the magicians too preoccupied by loftier matters.

Dwarf Guardsman - these elite dwarven warriors are armed with long halberds, and wield them with great efficiency despite their short stature. Their ability to strike with blazing speed often surprises their opponents thinking themselves safe behind the cover of their troops.

Lizardman Turtleback - while untrained and unprepared for regular formation fighting, the lizardmen have invented another way to protect themselves from an attack from behind. The strongest and most resilient among lizardmen become Turtleback warriors, armored with a great tortoise shell on their back, able to deflect almost any attack.

Elf Ranger - elves who completed their training at the «Maple Branch» school are called rangers. These warriors are skilled at tracking and ambushing, and their training includes not just the mastery of a bow, but outstanding swordsmanship as well, making them able to stand their ground in melee.

Nice, right? You can get the DLC
here
for $3,99.
There's even more good news — along with new content we also release the long-awaited
Linux version
on Steam. Yes, it's taken us quite some time but the promise has been kept and hopefully it would have been worth the wait. Please let us know how it plays, Linux folk.
Update notes 1.4.2:
New:
- Added Linux support.
- Added new sounds for a number of units.
Fixed:
- Incorrect pop-up tips for some abilities used in a battle.
- Exploit that let players hiring trolls in their lair after hero's defeat.
- 'TODO' text shown instead of the Scout's ability name.
- 'Life Drain' spell's function.
- Crystal of Power giving the same quest repeatedly after player refused completing it once before.
- Icons for golem ingots.
- Incorrect HP display for province guards.
- Bug that affected desert trolls lair and mercenary guild.
- Savegames on Windows XP.
- AI units movement being weird during tactical battles.
- Crystal golem no longer has magic immunity.
41 opmerkingen
Meer informatie
Recensies
"Eador's design is worth your time – a testament to its strength."
8.25 – Game Informer

"Eador is bloody enormous, packed with things to discover and hugely rewarding."
– Rock Paper Shotgun

"'If you're a fantasy TBS fan, you should definitely pick this up."
88/100 – Gaming Nexus
Steam Greenlight
Info over het spel
Eador is a universe made of countless shards of land drifting in the Great Nothing. Each of the shards is a little world unto itself, with geography and denizens of its own. The power over the shards is bitterly contested by Masters, the immortal beings mortals believe to be gods. Take the role of the mighty Master and shape the destiny of Eador! It is in your power to deliver the world from ultimate destruction – or to choke it with an iron fist of tyranny.
Eador: Masters of the Broken World is a turn-based fantasy strategy game, where the decisions you make affect the world even deeper than the battles you win.
Key Features
Balanced fusion of grand strategy, turn-based tactics and RPG elements;
Boundless roleplaying opportunities;
Massive selection of stratagems and ways to wage war;
An intriguing, non-linear story;
An original fantasy world, living a life of its own.
Systeemeisen
Minimum:


OS:Microsoft® Windows® XP SP2 / Vista / 7

Processor:Intel® Pentium 2,0 GHz/AMD 2000+

Memory:2 GB RAM

Graphics:GeForce 7300/Radeon 9200

DirectX®:9.0c

Hard Drive:2 GB HD space

Sound:DirectX® compatible
Recommended:


OS:Microsoft® Windows® XP SP2 / Vista / 7

Processor:Intel® Core 2 Duo 1.6/AMD 3000+

Memory:4 GB RAM

Graphics:GeForce 8800/Radeon X1900

DirectX®:9.0c

Hard Drive:4 GB HD space

Sound:DirectX® compatible
Nuttige klantrecensies