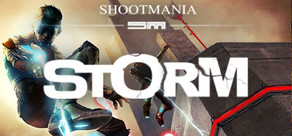 ShootMania the FPS "Powered By Players" ShootMania Storm is revolutionizing the multiplayer FPS by adding a community dimension and unlimited replayability. Developed by the Nadeo studio, renowned for community racing game, TrackMania, ShootMania Storm boasts quick-fire matches and epic battles, where only your talent will distinguish...
Release Date: Apr 10, 2013
Watch HD video
Buy ShootMania Storm 3 Pack
Includes three copies of ShootMania Storm - Send the extra copies to your friends.
Buy ShootMania Storm 5 Pack
Includes five copies of ShootMania Storm - Send the extra copies to your friends.
July 25


In this update for 3.1 RC6 update, we have some changes:

- Matchmaking is having 3 major updates: Map vote, rematch and progressive amount of players. If the two first are obvious, the last is about launching a match of Battle or Siege as soon as there is 4 people on the lobby and send the new people arriving on the lobby quickly to complete the match. It's made also for custom modes that would like to host matchmaking while having a big number of member per team. The detailed changelog for the game modes scripts is available here or here.

- Ladders of Storm, Elite and Siege will have some change of speed and number of players that can be on top. If it was possible to have 100 Echelon 9 on the Monday morning, it will now be only 20. So, it means that players will lose much more LPs on Monday first, and then on each match lost since you lose an amount that is related to how much points can be won in average in a match. In consequences, you will also see 200 players in Echelon 8 instead of 10000 and etc. Keep in mind that when you lose LPs on Monday morning, you are losing no rank at all: it's just a way to normalize the number of LPs and the maximum. Otherwise, the maximum would always climb and require to change the amount of LP you win accordingly.

- Gameplay of Elite is now going to use the new one, with mainly the stamina management and walljump power as main changes. I know it can disturb the incredibly high level of skill we can see nowadays, but now that the EPL finals are done and that the ESWC is announced, I would like to take the opportunity to make the same gameplay with the others modes, such as Battle or Siege, that they are using it since the previous releases.

- The "link" plug-in. This plug ins are like the buddy or settings plug in of the system bar. The "link" plug-in is a way to quick access to the links of a title pack (home <=> manialink, news <=> maniaflash, facebook page) etc. It will be a way to also provide an easy way to share the title; and more especially now that it's in demo. We may do a "help" plug in to provide "information, tips and others" but later. Maniaplanet is designed as a 2.0 system, and this link plug-in is dedicated to it. To configure it, it's the same links than in the store of today.

- Players are not allowed anymore to add their own Bink videos to Maniaplanet. And we have added limitations to prevent this. Meanwhile, we are going to upgrade the support of WebM as a powerful replacement, including the ability to encode directly or have a better compression ratio/picture quality. We have spent just some days on this new integration and it will take us some more to bring some more feature to this support. However, we have other priorities at the moment and it can take a while. I am sorry for this happening and be sure we would have like to be otherwise.

- The importer is updated and with it, the import of fonts is activated. The documentation is also available.

- Arrow rollback. In fact, the arrow we look for is more a long range, big blow radius weapon. It has been used like a short range splash bomb. I think that these changes are more for Power Up! and that we better deliver a good splash bomb in addition to fix the arrow. Arrow would need to have more ammunition by default would we like to make "then rain of arrows effect" so we will see this later. Sorry for the ones that found the new arrow better and for the ones who lack the previous one since the changes.

- The source of Shootmania Platform are being released as a sample. The mode will also be free until the end of September, with unlimited demo time and number of maps. The goal is to welcome players that would like just to test without fighting. A mini site and video has been done to more easily share the super setup of it.

- The custom weapon will have a closer way to work as default ones: waterproof by default, shooter points, sounds, notices, +1 with RemovePlayerArmor (~ same as AddPlayerArmor) and manage a Custom volume.

- Item Editor has some fixes when launched from the map editor. And the PropertyList : fix absolute/relative location of data

- The MediaTracker options for crosshair/ghost names; keep playing on respawn, tiggers that can overlap (but trigger only one clip) and the free camera save position \o/

https://www.youtube.com/watch?v=uipDkqgty9k
7 comments
Read more
July 21
Good news people, TrackMania² Stadium and ShootMania Storm will be at the ESWC this year!

From the ESWC committee:





Trackmania² Stadium (1v1v1v1)

Shootmania Elite (3v3)


Trackmania is an ESWC official discipline since 2006. The upcoming 2014 edition will be its 8th World Cup. Shootmania is present since 2012, it will be its 3rd edition. The details of the preliminaries will be announced very soon.


The ESWC Organizing committee is happy to confirm two PC disciplines for the ESWC 2014:
1 comments
Read more
Jump in the most creative PC shooter!

There is a lot to customize or create: skins, taunt horns, maps, textures, replays, game modes and much more. Leave your rocketgun aside for a while and bring your ideas to the game.
About the Game
ShootMania the FPS "Powered By Players"
ShootMania Storm is revolutionizing the multiplayer FPS by adding a community dimension and unlimited replayability. Developed by the Nadeo studio, renowned for community racing game, TrackMania, ShootMania Storm boasts quick-fire matches and epic battles, where only your talent will distinguish you from the crowd. Alone, or in a team, enter the arena of your choice: maps, modes and rankings, you are free to play as you like and take part in the ShootMania community as it suits you. Earn the respect of your opponents by improving your ranking, winning eSports competitions or creating your own incredible gaming experiences. A community of FPS players awaits you at the heart of the ManiaPlanet network!
Game Features
An Unlimited Gaming World customized For You
Whether they are classic or developed exclusively for ShootMania Storm, the wide variety of maps and gaming modes offered within the game or created by the community will allow you to live constantly changing experiences.
Innovative Intuitive Playability
Accessible to many and allowing the best to stand out, ShootMania guarantees fun from the first game to the last.
Tailor-made For Competition
Experience a fight at any time in a spectacular world. The many competitions held on ShootMania Storm offer the best sporting atmosphere.
Pure Multiplayer Delirium
Many players can take each other on simultaneously! The "matchmaking" system allows players to easily connect to a server on their level, whether for pure enjoyment or competition.
Create Your Own Game
With its map and script editors, numerous communication tools, Machinima sharing and editing tools, etc., ShootMania Storm offers everyone the opportunity to create and share their own game.
System Requirements
Minimum:


OS:Windows XP / Vista / 7 / 8

Processor:1.5 Ghz

Memory:1 GB RAM

Graphics:256 Mb, Pixel Shader 2.0 / Intel HD 2000

DirectX®:9.0c

Hard Drive:2 GB HD space

Other Requirements:Broadband Internet connection
© 2012 Ubisoft Entertainment. All Rights Reserved. Ubisoft, Ubi.com, Nadeo, the Ubisoft logo and the Nadeo logo are trademarks of Ubisoft Entertainment in the U.S. and/or other countries.
Helpful customer reviews