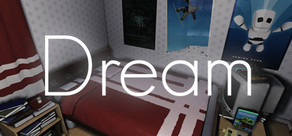 Enter the mind of Howard Phillips, a young man who has developed an obsession with his dreams. Explore unique worlds filled with puzzles, secrets and horrors to find meaning in Howard's directionless waking life.
Release Date: Aug 13, 2013
Watch all 2 trailers
Early Access Game
Get instant access and start playing; get involved with this game as it develops.
Learn more about Early Access.
What the developers say:
"Dream is currently in Alpha. Not all dreams will be accessible and levels may contain bugs and glitches. By purchasing through Early Access you will receive our Alpha build of Dream with regularly updated content. This also includes our final release and all patches thereafter. With Early Access you can explore Dream and provide us with feedback and suggestions to help shape our final product."
Read more
March 4th, 2014
Quite alot of bug fixes in this update!
Thanks for all the help in finding these ːhyperː



Added
General
UI: Escape and B now go back to the previous menu

Garden
Added collision to the trees growing up the statues

Desert
New PC in desert. Able to skip the catacombs puzzle with consequences

Redesigned the Sand Maze. Now less stressful

New water shader

Improved the water volume/buoyancy
Facility
Doors now make a noise when used

Added music to the puzzle rooms
Fixed
General
UI: Fixed save icon stacking when saving multiple bits of data
House
Corrected grammar on books/mugs

Redone the Newspaper Clipping

Fixed spelling mistakes on Certificates

Fixed a glitch where jumping on the toilet seat would let you walk out of the level.

Fixed a glitch where the freezer would throw you out of the level

Fixed an issue where sometimes approaching the phone would throw the player on top of it

Fixed the utility closet door, where standing behind it whilst it opened would offset the door when closed

Kitchen door Halloween sign now disappears when it should

Stopped players being able to climb on howards game console and getting stuck

Desert
General Performance improvements

Map no longer has a static 'You are here' sign on it

Fixed an issue where running light.exe would have no response sometimes. If you had this issue please delete 'PodiumRisen.dream' in you DreamSaves folder.

Fixed an issue of being unable to interact with the snow bubble since update 0.4.2

Fixed a clipping issue in the pond

Snow bubble text now matches the audio

Fixed spelling on signposts

Fixed spelling on hidden text planes

Fixed spelling/grammar on Information Boards

Improved collision in the Media Centre to stop players getting stuck

Stopped players getting to an area that shouldn't be accessible

Fixed Lighting on underground wires

Stopped the water splashing when hitting the rocks

Fixed an area that would let players out of the map
Nightmare
Stopped answering machine messages stacking in the observation room
Facility
Added a sound notification upon completing puzzles

Fixed an issue where note/text would be blurry

Made the stickynote more direct

Fixed a horrendously written Stairs Bubble

Can no longer clip through puzzle door

Fixed the elevator traveling to unknown places

Density of the pipes continues in the restrooms

Fixed Basement Bubble collision and spawning

Fixed an issue in some places that could render the player unable to move

Rift Updates
No Longer uses the "Keyhole" method

Removed Headbob

Shorter/Slower in the House

Most of the above changes also apply
15 comments
Read more
February 13th, 2014
Stability improvements / possible crash fixed
8 comments
Read more
Just Updated
We have just updated Dream to include Act 2 of the game and also added Oculus Rift support!
About the Game
Enter the mind of Howard Phillips, a young man who has developed an obsession with his dreams. Explore unique worlds filled with puzzles, secrets and horrors to find meaning in Howard's directionless waking life.

Dream features a narrative split into three acts with multiple paths and endings that are determined by how you explore and move between dreams. Each act will immerse you in new worlds that help to decipher Howard's past, emotions and ambitions. Through Howard's dreams and nightmares you will have a chance to shape his future.


Current Early Access Features

While Dream is in development on Early Access its current features will evolve/expand over time, as time goes by more levels and acts will be added, expanded and polished as we head towards the final release.

Currently Act 1 and 2 are available in their 'Alpha' state, this means you will be able to play through them but may experience bugs along the way.
The first of the games 'Nightmares' has now been added to the game.


Final Game Features

Unique Interact-able 3D Environments
Every environment in the game is lovingly hand-crafted by our close-knit team of three and with no worldly restrictions to the environments we can have a vast range of aesthetics and puzzles.

Non-linear Narrative and Gameplay
You are free to explore dream environments where puzzles can be completed in different orders and the story progresses according to your choices. The paths you choose affect which dreams you experience and how the finale plays out.

Collectables, Items and Secrets
Each dream is filled with secrets and collectables that help the player progress and contribute to the story.

Soundtrack
Dream features an original soundtrack by composer Norman Legies.

Oculus Rift Support
Transform how you experience the game through the use of the Oculus Rift.
System Requirements
Minimum:


OS: Windows XP (SP3), Windows Vista (SP2), Windows 7, Windows 8

Processor: QuadCore 2.0 GHz

Memory: 2 GB RAM

Graphics: NVIDIA® GeForce™ 8800 GTS or AMD® Radeon™ HD 3850, 512 MB VRAM Minimum

DirectX: Version 9.0c

Hard Drive: 2 GB available space

Sound Card: DirectX 9.0c compatible, 16-bit
© 2014 HyperSloth Ltd. Published by Mastertronic Group Ltd. Mastertronic and the Mastertronic logo are trademarks of Mastertronic Group Limited. All Rights Reserved. All trademarks are the property of their respective owners.
Helpful customer reviews
Title:
Dream
Genre:
Adventure
,
Casual
,
Early Access
,
Indie
Developer:
HyperSloth
Publisher:
Mastertronic
Release Date:
Aug 13, 2013
Languages:
| | Interface | Full audio | Subtitles |
| --- | --- | --- | --- |
| English | | | |