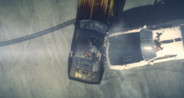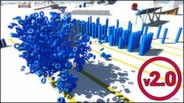 Next Car Game is a new demolition derby themed racing game with soft-body damage modeling, sophisticated driving dynamics and in-depth vehicle upgrading, featuring both demolition derbies and more traditional track races. It's all about fun, breakneck racing and over-the-top crashes.
Release Date: Jan 14, 2014
Watch all 2 trailers
Early Access Game
Get instant access and start playing; get involved with this game as it develops.
Learn more about Early Access.
What the developers say:
"Warning: Early access phase is meant to give you a chance to experience the game as it progresses through its development cycle, and the game is still at an early stage. As such, it does contain missing features and nasty bugs. Developing the game together with the players gives us a lot more creative freedom, and you get to communicate with the development team to make sure we're making the all-out racing game that you want."
Read more
Buy Next Car Game Digital Deluxe Edition
April 4th, 2014
There's been a wave of illness at our studio and it has delayed a lot of things including the reports we've promised to deliver to you guys. Most of us are back at work now though.

We're aware that most of you are eagerly waiting for our next game update and we'll be releasing it soon as we're satisfied with it and honestly it shouldn't be long now. While we're waiting for that we're going to do a little development update again.

We might not always have time to do a weekly report so we're probably going to do a recap a few weeks apart instead. Anyway, this time around we decided to have another look at what we in the environment art team have been up to.

Antti and Juha have been working on two new derbies. One is a smaller square shaped tarmac derby stadium while the other one is a round mud pit. We've had early versions of both of these done for a while but there's been a lot of retexturing and remodeling work going on. These derbies aren't done yet and they're probably subject to change still. (On a side note Antti is also currently working on a sandpit track that some of you might be familiar with.)

Here's a couple of screenshots of the work done so far on the derbies:



The smaller derby stadium (check out our new driver!)



Mud pit mayhem.

Kalle has also been working on some concepts for an upcoming race track which is in its early stages of planning. A lot of different references were gathered and these are mainly mockups to give some sense of what the final track might look like. The level design and environment planning is far from done and it will be a while before we might see anything like this in the game.



Concept art of a high speed race track.

As for me, I've been working on revamping both the 2D and 3D versions of the crowds and spectators to better match the quality of the rest of the art. We came up with some pretty effective and cheap ways (as can be seen from the setup) to create larger crowds without affecting performance significantly.



Antti shooting Janne, one of our programmers for crowd billboards.

We're removing the old static "cardboard" crowd planes and changing them to a more dynamic type that rotates towards the camera. This technique works quite well at least when viewed from a distance.



Testing out our new crowd billboards

Like before we're also going to have some animated 3D characters in the crowd to give a better sense of a living, breathing crowd and I'm currently working on that as well. Like some of you observant people already spotted the earlier 3D crowd consisted of premade models bought online and I decided that it would be best to make new ones from scratch.

I tried utilizing a pretty nifty technique, called projection painting, for getting somewhat realistic 3d characters, with relative ease. The workflow involves photographing a person from the front, side and back. These images are used as a reference for modeling and as a basis for texturing the character. There's still a lot of fixing and painting involved to make a final character but projection painting is a useful tool in the process.




Hopefully some of you found this behind the scenes look interesting.

Ben Lind, Environment Artist
58 comments
Read more
March 15th, 2014

A community screenshot by ETD.

As you might remember we've been talking about how we want to involve the community in the development of Next Car Game, and for a good reason too. In the end, the game is being built for you (that's not to say we're not going to enjoy it, though!), and it only makes sense that we'll be integrating some of your ideas into game. This week we're finally moving on to discussing the game beyond the in-game racing experience and giving you a chance to have your say on an extremely important aspect of the meta game and core loop: gameplay damage.

It might be a bit technical from now on, but try to hang on, we'll give a hand.

By gameplay damage we mean the damage that is used to determine whether your car is still running or not, currently represented by the little damage meter in the lower left corner of the in-game HUD. The damage allocation logic that we currently use is pretty rudimentary, and like most of you have come to notice, it often ends up allocating damage to the wrong part of the car (currently the body sectors and the engine). The good news is that this week we've been testing a new implementation of the gameplay damage that has yielded very promising results. In short, in the new system the damage is determined by tracking the deform displacement of predetermined dummies, i.e. key points that our vehicle artists have set up that represent the various components of the car such as the engine. Taking the engine as an example, basically the more the engine moves due to collisions, the more damage it receives. When the engine reaches the maximum distance it is allowed to move, it gets destroyed and the car is wrecked. Likewise we can track the dislocation of a radiator, a front fender, or actually anything that we like. Thanks to this the damage should always match the visual deformation of the car, and we have a flexible system that we can tailor to our gameplay needs.

This is of course all very nice and dandy, but now comes the tricky part that we need your input on: what kind of components should we track, and what kind of consequences should the damage have when the player returns to the garage? One obvious option is of course to make the damage reset after each race, but that is perhaps a bit too simple since we'd very much want to make upgrading and car maintenance a significant part of the game experience.

To give you some ideas what's possible, here are some of our own:

Each upgrade part is represented by a node, with some of them like the engine being crucial, while others would have a negative impact on the car handling or performance when damaged – for example, with a damaged suspension the car could sway more, handling would be impaired, and so on. A damaged engine would give off smoke and reduce the performance.


All upgrade parts would have their lifetime durability (i.e. strength) tracked, and the player could repair a given percentage of the part. In other words, the parts would actually wear from use, but by repairing the part, the player could increase the performance of the part – perhaps just not to the initial level. Non-repaired parts would have a lower performance, but the player could still use them: for example, the damaged suspension mentioned above would still work for a derby car, so the player would probably like to have at least two cars, one with the best parts for racing and the other with junk parts for derbies. To keep things fun the performance would deteriorate by a gradually increasing slope, so minor or even medium damage would have a very small effect on the performance, so in other words the damage would add up with time.


A body represented by sectors (more or less the triangles we currently have) that would work as armor, protecting the components. Losing a body sector would not be fatal, but after returning to the garage the player would have to spend some $$$ (or equivalent, pending design – could also be experience, time, etc.) to fix the badly damaged sectors, otherwise the components would be completely unprotected in the next event. Eventually the player could also upgrade the sectors to withstand more punishment by prepping the car with reinforced parts, etc. bought from the classifieds. This in turn would again support the idea of having two cars, with the derby car having more reinforced body than the race car.


For repairing, the player could have a garage crew that could be trained and leveled up, and depending on the crew's skills the percentage of damage that can be repaired would increase. Upgrading the body could also be something that the crew could do, in case we would want to reserve the classifieds only for the mechanical components.
As you can see, pretty much anything is possible and we're all ears. Remember though that we want to keep the game as accessible and as fun as possible, so an overly convoluted system is a no-go. It's also worth remembering that often times something that initially sounds cool like repairing every single part of the car becomes a chore when you have to do it after every single race, so we really need to come up with a streamlined design and user flow. But of course you're free to leave that to us, just throw around the ideas and we'll make sure it all works in the grand scheme of things!
And as a final treat, a gorgeous stitched planetoid created by a talented community user
citizenerased
:
123 comments
Read more
Digital Deluxe Edition
Buy the Digital Deluxe Edition and get a lot of great, exclusive content!

Backer Race Car
A special in-game race car that's not going to be available later!

Wallpapers
A set of cool wallpapers to trick out your desktop in style.

Soundtrack
A rocking soundtrack of the game.
Please note that the extra content will be available at a later date.
Next Car Game Sneak Peek 2.0
Upon purchasing, Next Car Game Sneak Peek 2.0 will be added to your library!
Steam Greenlight
About the Game
Next Car Game is a new demolition derby themed racing game with soft-body damage modeling, sophisticated driving dynamics and in-depth vehicle upgrading, featuring both demolition derbies and more traditional track races. It's all about fun, breakneck racing and over-the-top crashes.
Expect epic crashes and tight, neck-to-neck fights over the finish line on run-down racing tracks. Expect proper demolition derbies. Expect brand new ways for metal to bend and the signature once-in-the-lifetime moments that can be achieved only with true-to-life physics simulation.
It's a motorsport, but not just any motorsport. It's a motorsport with attitude.
Unique Racing Experience
First and foremost, we're building a FUN racing game with PERSONALITY. It's all about the stuff that really matters: varied tracks, cool cars, and the defining once-in-the-lifetime moments that can be achieved only with true-to-life physics simulation. If you're familiar with our previous games, you already know what we're aiming at: exhilarating racing action with sophisticated physics and damage modeling, only this time we're upping the ante on almost every front. This is the game we envisioned way back in the early 2000s, only re-imagined for today's technology and gaming standards.
Awesome Cars
The cars are old, cheap, banged up, patched together, rusty… just awesome! In short, our cars ooze with STYLE. You won't find anything like them in other racing games. We've got variety, as well: everyone loves the old American heavy-hitters from the muscle car era, but we're not neglecting the fun little European and Asian cars from the long-gone decades either. The best part is that you'll be taking them apart and building them back up again in your garage; the career is as much about your garage and your project cars as it is about racing.
Exciting Engine
Our in-house ROMU engine is a hell-bent beast that's precision-engineered for high-speed, breakneck racing. We have also already implemented fully deformable soft body car damage, meaning that the cars will react to damage in a very tangible, convincing way. While we're focused on action, motorsport authenticity is not forgotten, either. To that end our engine is simulating vehicle dynamics in a very sophisticated fashion. Rolling resistances, casters and slip angles are definitely not ancient Greek to us, and you as the player will be the one benefiting from our expertise.
EARLY ACCESS FEATURES
The first Early Access release contains two playable cars and three tracks, showcasing both white-knuckle track racing and explosive demolition derby action with 24 cars that will give you taste of things to come. During the coming months we're going to give the game a lot of polish as well as implement many new exciting features, and all Early Access supporters have a unique opportunity to get involved in the development of the title!
We've also giving a playable Technology Sneak Peek 2.0 to all our Early Access supporters. The sneak peek features a playground that we use internally to test various features various like car damage and environment destruction. Version 2.0 includes new destructive machinery, more dynamic stuff to blow up, spectacular stunts and an awesome physics cannon that we use to play with our physics engine. With the physics cannon you too will now have a chance to cause mayhem to heart's content by launching missiles, throwing stuff around and destroying the environment as well as the cars!
A playable Technology Sneak Peek 2.0. Have fun in the physics playground!

Three cars, American Muscle, European Hatchback and American Sedan, each with unique handling traits.

Three race tracks including Figure 8 and one derby stadium, both tarmac and gravel surfaces.

Race and derby game modes with up to (!) 24 cars, all with spectacular dynamic damage.

Soft-body car damage physics system that doesn't need a super computer.

Dynamic content that reacts realistically – fences and billboards break down, tires fly around.

Different types of engines, transmission and other upgrade parts to test the effect of upgrades.

Player garage.
UPCOMING FEATURES
Next Car Game is currently in early Pre-Alpha stage, and the Early Access version is going to serve as a basis on which we will continue building the game based on your feedback on what works and what doesn't. Throughout the Early Access phase we're going to gradually add more content and new features to the game, with some of the most important key features planned being:
Improved car damage and handling.

More cars, each with different stylings and performance.

More race tracks and derby stadiums with varying surfaces.

More dynamic content on the tracks.

Highly configurable multiplayer with a variety of modes.

Extensive player garage and car upgrading system.

In-game classifieds to buy and sell cars and parts.

Streamlined and polished user interface.

Improved graphics quality and performance.
We currently estimate that the title should reach a feature-complete state in 2014, with all key features implemented. Please note that all features mentioned here may be altered or removed during the development of the title if deemed necessary.

System Requirements
Minimum:


OS: Windows XP

Processor: Intel Dual-Core 2.4 GHz or AMD Dual-Core Athlon 2.5 GHz

Memory: 2 GB RAM

Graphics: NVIDIA GeForce 8800GT or AMD Radeon HD 3830

DirectX: Version 9.0c

Hard Drive: 2 GB available space

Sound Card: DirectX®-compatible
Recommended:


OS: Windows 7/Windows 8

Processor: Intel Core i5, AMD Phenom II X4 or better

Memory: 4 GB RAM

Graphics: NVIDIA GeForce GTX 570, AMD Radeon HD 7750 with 1 GB VRAM or better

DirectX: Version 9.0c

Hard Drive: 2 GB available space

Sound Card: DirectX®-compatible
Copyright © 2014 Bugbear Entertainment Ltd. All Rights Reserved.
Helpful customer reviews
Title:
Next Car Game
Genre:
Action
,
Early Access
,
Indie
,
Racing
,
Simulation
,
Sports
Developer:
Bugbear
Publisher:
Bugbear
Release Date:
Jan 14, 2014
Languages:
| | Interface | Full audio | Subtitles |
| --- | --- | --- | --- |
| English | | | |