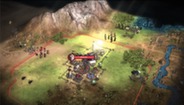 The Fallen Enchantress seeks to destroy the civilizations that have risen from the ashes of the Cataclysm.
Release Date: May 22, 2013
Watch HD video
Buy Fallen Enchantress: Legendary Heroes
Packages that include this game
Buy Stardock Pack 2014
Includes 6 items: Galactic Civilizations II: Ultimate Edition, Demigod, Sins of a Solar Empire®: Rebellion, The Political Machine 2012, Galactic Civilizations I: Ultimate Edition, Fallen Enchantress: Legendary Heroes
Downloadable Content For This Game
November 25th, 2013
The fifth major update to Fallen Enchantress: Legendary Heroes is live! Diplomacy and stability are the major focuses of v1.5, which you can enjoy as soon as your Steam client automatically downloads the patch.

The diplomatic AI has been overhauled, making for a more varied and interesting strategic layer. The AI is also more verbose now, telling players how it feels about them and their other rival empires in no uncertain terms.

We also put a big focus on stability for v1.5. We've fixed the top 20 crashes and hangs that were affecting players, on top of the usual bug fixes, balance tweaks, and UI improvements.

View the full changelog here.
8 comments
Read more
November 13th, 2013
The beta for Fallen Enchantress: Legendary Heroes v1.5 is live! Download it through the Steam client to help us test the next update for our fantasy empire builder.

To get the v1.5 beta, do the following:

Launch Steam

Open your Library

Right-click Fallen Enchantress: Legendary Heroes, select Properties

In the Betas tab, select the v1.5 Beta option from the first drop-down menu

Once your download is finished, launch the game
We've done a lot of work with diplomacy in this patch, so you should see the AI talking to you more both about how it feels about you and its views on the other players in the game. There are also a bunch of tweaks to the diplomatic AI under the hood, which we think make for a more compelling strategy layer.
UI and balance have received their usual pass as well. Among many other changes, cycling units now skips armies set to guard, spell descriptions have been improved, and Heart of Fire has an unrest penalty to make early Fire magic less overpowering.
We also tracked down a couple of nasty crash and hang bugs that were afflicting some users. Legendary Heroes should be much more stable now.
View the full changelog here:
http://forums.elementalgame.com/449781
Happy conquering, and please drop any feedback here or in the official Legendary Heroes support forum:
http://forums.elementalgame.com/forum/1049
2 comments
Read more
Reviews
"This standalone expansion is a wonderful fantasy strategy game in its own right..."
4 out of 5 – The Escapist

"Fallen Enchantress: Legendary Heroes is a terrific 4X strategy game that builds upon the good work done in its immediate predecessor last year."
8.0 – GameSpot

"You don't have to be any kind of strategy savant to appreciate what this exceptional release has to offer."
8.5 – Game Informer

About the Game
The Fallen Enchantress seeks to destroy the civilizations that have risen from the ashes of the Cataclysm. Fortunately, your fame has spread and great heroes have been drawn to your banner. With your new champions, you will confront new horrors like liches, brood hunters, banshees, and the dreaded hergon.
Fallen Enchantress: Legendary Heroes is the new standalone expansion to Stardock's turn-based, fantasy strategy game. Players will forge a new empire in a world sundered by powerful magic, fight against terrible creatures, complete quests and rediscover lost secrets in their bid to rule the world of Elemental.
Fallen Enchantress: Legendary Heroes is a standalone expansion. No prior games are required to play.
Key Features
Gain Champions Through Fame: Champions are no longer simply found, instead, they seek you out based on the amount of Fame your kingdom has generated. And not all of these legendary heroes were Men or Fallen…

New Leveling System: Your sovereign and champions now evolve through a skill tree that visually allows you to plan what kind of hero you want him or her to be. Make your mage into a powerful Necromancer, or train your Assassin in special attacks that bleed the life from your enemies.

Updated Tactical Battles: Battles are now more intense with additional special skills, combat mechanics, spells and new maps.

New Monsters: The legendary heroes didn't reach our lands alone. The events of the Fallen Enchantress have raised the dead and caused forgotten creatures to return to the surface of the world.

More Magic: New spells like 'Lightning Form' and 'Raise Skeletal Horde' add new options and dangers to battle.

Larger Maps: A new gigantic sized map delivers truly epic games.

Updated Graphics Engine: An improved graphics engine delivers stunning new visuals while improving performance on older machines.

And much, much more!
System Requirements
Minimum:


OS: Windows 8 / 7 SP1 / Vista SP2 / XP SP3

Processor: 2.2 GHz Dual Core Processor

Memory: 2 GB RAM

Graphics: 512 MB DirectX 9.0c Compliant Video Card w/Pixel Shader 2.0 (Radeon x1600 / GeForce 6800)

DirectX®: 9.0c

Hard Drive: 5 GB HD space

Sound: DirectX 9.0c Compatible Sound Card

Additional: To activate this game you must create a Stardock account while launching the game on Steam.
© Stardock Entertainment. Elemental, Fallen Enchantress and Fallen Enchantress: Legendary Heroes are trademarks of Stardock Entertainment. All rights reserved.
Helpful customer reviews