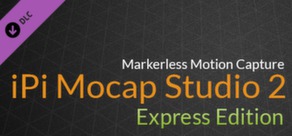 This content requires the base application iPi Mocap Studio 2 Trial on Steam in order to run.

Release Date: Mar 26, 2013
Buy iPi Mocap Studio 2 Express
About the Game
Motion Capture for the Masses
iPi Motion Capture™ is a scalable markerless motion capture software tool that supports 1 or 2 Kinect/Xtion cameras or 3 to 6 Sony PlayStation Eye cameras to track 3D human body motions and produce 3D animation.
Express Edition is entry-level configuration that works with one depth sensor (Kinect or Xtion). Easy to use but applicable for relatively simple motions without rotations.
"iPi Motion Capture is so powerful and cost effective. It's fantastic to be able to come up with an idea and in a few minutes record exactly what you want and apply it to your characters. iPi is what mocap should be all about -- making your ideas reality in a matter of minutes."
David Gonzalez, President of Mission Critical Studios, a New Jersey-based developer of mobile games.
The technology is accurate, easy to use and affordable.
With iPi Motion Capture™ Express Edition you can:
Record depth video with MS Kinect or ASUS Xtion in regular office / home environment
Track 3D human motions right at your desktop and produce 3D animation
Clean-up / edit 3D animation using integrated clean-up / keyframing tools
Transfer motions to 3D character and export 3D animation to most popular formats including FBX, BVH, Collada
iPi Motion Capture™ Express Edition works with off-the-shelf equipment:
1 Kinect / Xtion depth sensor
Runs on regular PC with gaming class videocard
iPi Motion Capture™ is compatible with
Autodesk 3DS Max, Maya
Valve Source Engine, Unreal Engine, Unity
CINEMA 4D, Lightwave
Poser, DAZ3D, Blender and others.
Advantages iPi Motion Capture™ Express Edition:
no need for expensive facility space with special lighting, background and the team of technicians
no need for clumsy sensor suits with reflective markers
portable system that can be packed in a backpack with as less as 10 minutes set-up time
allow up to 7 by 7 feet capture volume with minimum required space as small as 9 by 5 feet
with integrated animation clean-up and motion transfer tools you do not necessarily need expensive 3rd party applications
extremely affordable Solution
Windows only product. The price includes only software.
Key Features:
Technology: Optical Markerless
Number of cameras: 1 Microsoft Kinect (or ASUS Xtion)
Input Format: *.iPiVideo (recorded with free iPi Recorder™ application)
Output Formats:

FBX
Biovision .BVH
3D MAX Biped-compatible .BVH
COLLADA
iClone-comaptible BVH
Valve Software's Source Engine animation .SMD

Video Recording Conditions and Environment:

Indoor and outdoor
Normal lighting conditions
No markers required

Actor Clothing Requirements:

Actor can wear reasonable casual clothes.
Tight-fitting solid-color clothes recommended.
Jeans and T-shirts are supported.
Note: You must install iPi Mocap Studio 2 Trial from the Steam store page in order to see iPi Mocap Studio 2 Express in your Steam library after purchase.
System Requirements
Minimum:

OS:Windows XP SP2
Processor:Intel Pentium 4 or AMD Athlon (dual-core)
Memory:1 GB RAM
Graphics:DirectX 10 compatible (Shader Model 4.0) descrete graphics
Hard Drive:200 MB HD space
Recommended:

OS:Windows 7
Processor:Intel Core i5 (quad-core)
Memory:2 GB RAM
Graphics:NVIDIA GeForce GTS 250 or AMD Radeon HD 4850
Hard Drive:1 GB HD space
There are no public reviews for this product yet
You can write your own review for this product to share your experience with the community. Use the area above the purchase buttons on this page to write your review.
Title:
iPi Mocap Studio 2 Express
Genre:
Animation & Modeling
Developer:
iPi Soft
Publisher:
iPi Soft
Release Date:
Mar 26, 2013
Languages:
| | Interface | Full audio | Subtitles |
| --- | --- | --- | --- |
| English | | | |