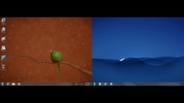 DisplayFusion will make your multi-monitor life much easier. With powerful features like Multi-Monitor Taskbars, TitleBar Buttons and fully customizable Functions, DisplayFusion will make managing your multiple monitors easy. These features even work when AMD Eyefinity or nVidia Surround are enabled on your system!
Release Date: Mar 29, 2013
Watch HD video
June 18
We're very excited to announce that DisplayFusion 6.0 is now available for download! This release includes a few greatly anticipated features, including the ability to switch audio devices, combine specific monitors for spanning wallpaper, and our new Alt+Tab Handler.


DisplayFusion 6.0 Highlights
Added the ability to combine monitors for spanning wallpaper, while still using a different image on other monitors

Added an Alt+Tab Handler, allowing you to show only windows on current monitor, or all monitors

Added the ability to switch audio devices via the tray menu, key combinations, or automatically by assigning them to Monitor Profiles

New Windows 8 Tweaks: Disable Lock Screen Image, Configure Lock Screen Monitor Timeout, Toggle Aero Shake, Toggle Hot Corners

New Function: Minimize Window to System Tray (Ctrl + Win + T by default)

New Wallpaper Source: Load from URL (can now refresh the image on a timer)

Wallpaper is now lossless in Windows 8.1 (much better quality)

Settings that require elevation are now applied using DisplayFusionService (no more UAC prompts for Windows Logon Background!)

Added a "Launch as Administrator" option for taskbar shortcuts

New Advanced Setting for changing automatic settings backup location

38 languages bundled (if you'd like to help translate DisplayFusion into your language, please contact us)

Many performance, stability and bug fixes
Updating DisplayFusion
We encourage everyone to update to this new version today to take advantage of these improvements. If you've already purchased DisplayFusion, it's a lifetime license, so you can upgrade to this version at no cost! If you would like to see a complete list of all the changes, please visit the
DisplayFusion Change Log
. We'd like to send out a big thanks to the dozens of people who helped with the DisplayFusion translations, and the thousands of people that helped test the Beta versions. Thanks everyone!
7 comments
Read more
About the Software
DisplayFusion will make your multi-monitor life much easier. With powerful features like Multi-Monitor Taskbars, TitleBar Buttons and fully customizable Functions, DisplayFusion will make managing your multiple monitors easy. These features even work when
AMD Eyefinity or nVidia Surround
are enabled on your system!
Lifetime License
This DisplayFusion license is a lifetime license, you won't pay anything for any future updates or new major versions. Pay once, and enjoy DisplayFusion forever!
4-Pack
A single DisplayFusion Pro on Steam license can be used on multiple computers, as long as you are the primary user of those computers, and can run Steam on them. The 4-pack is available for people who would like to gift the other 3 copies to friends, and it works out to be 25% cheaper per-license.
Trial License
A 30-day trial of DisplayFusion Pro is available on the download page of our official website:
http://www.displayfusion.com/Download/
. Just download and run the installer, and choose the trial option when prompted. When you purchase the Steam version of DisplayFusion Pro, it will automatically replace the existing DisplayFusion Pro trial the first time you launch it from within Steam.
Key Features
Monitor Splitting
(works with
Surround and Eyefinity
!)
Split your monitors into multiple virtual monitors so that you can have separate Taskbars, Wallpapers, Window Location rules, Functions, and Screen Savers for each split. Applications will maximize to the size of each split, and Functions like "Move to Next Monitor" will treat each split as a separate monitor.  
Monitor Configuration and Profiles
Use DisplayFusion to set your Monitor Configuration. Configure the resolution, colour depth, refresh rate and orientation. You can even save your configurations as Monitor Profiles that you can load later using a key combination or TitleBar Button. Link a Wallpaper Profile with your Monitor Profile to load your desktop wallpaper automatically based on the monitors you have connected.  
Multi-Monitor Wallpaper
Customize your desktop with Multi-Monitor Wallpapers from WallpaperFusion, Flickr, InterfaceLIFT, Vladstudio and more. Tile, stretch, scale, crop, position and tint your images exactly how you want.  
Multi-Monitor Taskbar
Keep your windows easily organized by adding a taskbar to each of your monitors. The taskbar on each monitor can be configured to show all windows, or only the windows that are located on that monitor. Use button grouping, auto-hide, window previews, shortcuts (pinned applications) and much more to help you work more easily with your application windows. Each taskbar can have its own custom set of shortcuts. Taskbar elements on the DisplayFusion Taskbars can also be customized to your liking, including the position of the Start button, Taskbar buttons, and clock/system tray.  
Customizable Functions and TitleBar Buttons
DisplayFusion comes bundled with over 30 pre-configured Functions, or you can create your own powerful custom Functions. Create Functions to load Wallpaper or Monitor Profiles, move windows around, change window opacity, toggle DisplayFusion features and much more. Any Function, including custom Functions that you've created, can be assigned to a TitleBar Button for easier access with the mouse, or to a keyboard shortcut for keyboard power users. Functions can also be assigned to the Jump List menus on the DisplayFusion Multi-Monitor Taskbars, allowing them to be run even on applications that are minimized.  
Windows 8 Tweaks

Window Snapping

Window Management

Window Location rules (automatically move application windows)

Change your Windows Logon Background

Multi-Monitor Screen Savers

Alt+Tab Replacement

Save and restore your desktop icon layout

Supports as many monitors as you can hookup to your computer

Available in over 30 languages
System Requirements
Minimum:


OS: Windows XP SP2

Processor: 1 GHz single core

Memory: 512 Mb

Hard disk space: 30 Mb
Helpful customer reviews
Software Details
Title:
DisplayFusion
Genre:
Utilities
Developer:
Binary Fortress Software
Publisher:
Binary Fortress Software
Release Date:
Mar 29, 2013
Languages:
| | Interface | Full audio | Subtitles |
| --- | --- | --- | --- |
| English | | | |
| German | | | |
| French | | | |
| Italian | | | |
| Korean | | | |
| Spanish | | | |
| Simplified Chinese | | | |
| Traditional Chinese | | | |
| Russian | | | |
| Japanese | | | |
| Portuguese | | | |
| Polish | | | |
| Danish | | | |
| Dutch | | | |
| Finnish | | | |
| Norwegian | | | |
| Swedish | | | |
| Hungarian | | | |
| Czech | | | |
| Romanian | | | |
| Turkish | | | |
| Arabic | | | |
| Portuguese-Brazil | | | |
| Bulgarian | | | |
See all 24 supported languages