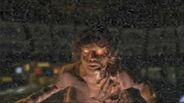 Faites l'expérience du chapitre final explosif de la série Alien Breed et découvrez l'horrible réalité qui se cache derrière l'histoire d'Alien Breed. Prix spécial de lancement jusqu'au 24 novembre 22h00 PST.
Date de parution: 17 nov 2010
Visionner la vidéo HD
Acheter Alien Breed 3: Descent
Packages qui comprennent ce jeu
Acheter Alien Breed™ Trilogy
Inclut les 3 articles suivants : Alien Breed: Impact, Alien Breed 2: Assault, Alien Breed 3: Descent
À propos du jeu
Alien Breed™ 3 : Descent est l'ultime chapitre de la série explosive Alien Breed™, un jeu de tir arcade de science-fiction avec un scénario épique, des vagues d'ennemis extra-terrestres à l'intelligence évoluée, des armes surpuissantes et des environnements à couper le souffle, grâce au moteur Unreal® Engine 3 d'Epic Games. Jouez à nouveau le rôle de l'ingénieur héroïque Conrad et plongez dans l'enfer de son combat final contre la horde d'aliens hostiles. Alors que le Leopold, son vaisseau spatial condamné, et l'engin extra-terrestre plongent dans l'atmosphère d'une planète au bout de laquelle se trouvent un océan glacé et une mort certaine, vous n'avez que quelques heures pour défier un destin inéluctable et survivre une dernière fois à l'assaut des monstres. Puis, lors du combat au cœur du vaisseau ennemi en plein naufrage, pendant que des eaux gelées envahissent tous les couloirs, vous découvrirez enfin l'horrible vérité qui se cache derrière l'existence de la race extra-terrestre… En plus d'offrir la conclusion captivante de la campagne solo et un mode Survivant implacable et accrocheur, le jeu propose également un mode coopératif en ligne à deux joueurs bourré d'action !
Caractéristiques :
Alien Breed™ 3 : Descent - Le captivant chapitre final de la trilogie Alien Breed™ - un mélange explosif de jeu de tir et de survival-horror avec des améliorations et personnalisations tactiques des armes .
La descente ultime en enfer !

NOUVEAU - Décors originaux : combattez les extra-terrestres dans des niveaux submergés et sur la coque du vaisseau.
NOUVEAU – Action à la 3ème personne- contrôlez le héros, Conrad, dans de nouvelles phases de jeu prenantes en vue à la troisième personne.
NOUVEAU – Menez le combat final équipé de nouvelles armes surpuissantes :

Projet X est "l'arme ultime" qui vaporise tout ce qu'il touche.
Le Link gun tire des décharges d'électricité qui se propagent aux ennemis à proximité.

NOUVEAUTÉ – Affrontez de nouveaux aliens comme l'Électro-choqueur et tentez de survivre aux effrayants boss de fin.

Mode Scénario en solo épique – Le chapitre ultime de la campagne solo apporte la conclusion au scénario palpitant du jeu dans des environnements aussi énormes que dangereux, dont le nouveau niveau du laboratoire de recherche.
Mode Survivant en solo – Résistez à des vagues d'attaque d'aliens infinies dans des niveaux spécialement conçus.
Mode Jeu libre en solo – Un mode défi à un joueur dans lequel vous devez battre le meilleur score d'une mission de campagne déjà terminée.
Mode Coop à deux joueurs – Mode Coop à deux joueurs.
Mode Survivant en coop à deux joueurs – Alliez-vous à un autre joueur en ligne pour tenter de survivre dans des environnements spécifiques. Défiez d'autres joueurs à battre votre score et vos capacités de survie grâce au classement approfondi.
Options en ligne supplémentaires – Partie rapide/Créer une partie/Liste d'amis/Chat vocal/Classement/Succès Steam/Succès en coopération.
Magasin d'améliorations – Trouvez des camarades décédés et des casiers pour récupérer de l'argent, puis utilisez vos gains pour acheter des armes et des améliorations dans le magasin du jeu.
Démo jouable – Obtenez la démo spéciale bourrée d'action proposant un échantillon gratuit d'Alien Breed™ 3 : Descent, appelée 'The Prologue' et comportant également une carte de mode Survivant limitée.
Configuration requise
Système d'exploitation : Windows XP SP2 ou ultérieur
Processeur : 2.0+ GHZ simple coeur
Mémoire vive : 1Go RAM
Affichage : NVIDIA 6800+ ou ATI Radeon X700+ Video Card
DirectX® : 9.0 c
Disque dur : 2.0 Go
Son : Carte son compatible Windows
Autres : Connexion Internet requise pour le multijoueur
Alien Breed™ 3: Descent. Developed and Published by Team17 Software © 2010. Team17 Software and Alien Breed™3: Descent are Trademarks or Registered trademarks of Team17 Software Limited. All rights reserved. All other trademarks, copyrights and logos are property of their respective owners. Unreal® Engine, Copyright 1998 - 2010, Epic Games, Inc. All rights reserved. Unreal® is a registered trademark of Epic Games, Inc. All other trademarks are property of their respective owners.
Évaluations intéressantes des utilisateurs