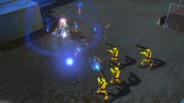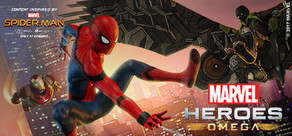 Marvel Heroes 2015 is the Marvel MMO ARPG that you have been waiting for! Play as the Avengers, Guardians of the Galaxy, X-Men and more. Battle infamous villains such as Dr. Doom, Loki, Magneto to save the universe.
Release Date: Jun 4, 2014
Watch all 2 trailers
Downloadable Content For This Game
September 18
The Marvel Heroes 2015 servers are coming down at 12PM PDT for Game Update 1.16.
10 comments
Read more
September 12
ROGUE
The southern belle X-Man herself, Rogue has joined the cast of Marvel Heroes 2015! One of our most frequently requested heroes, Rogue boasts the most diverse powerset in all of Marvel Heroes history.
Able to steal powers from friend and foe alike, players can build Rogue as they see fit with access to over 90 stealable powers (which will increase with each Hero, Supervillain, and Team-Up Hero released!) in addition to her iconic super strength and flight powers that she had stolen from Ms. Marvel.
For her Signature and Ultimate abilities, Rogue recalls multiple stolen powers at once from iconic mutants - with her Signature resulting in a deadly, screen-wide blast and her Ultimate transforming her physical form into an amalgamation of other mutants!
ODIN'S BOUNTY EVENT
Odin's Bounty has returned and with it, a game mode rotation (with a new twist)!
In order to give player's choice over when and where they want their lootsplosions and avoid slowdowns, buffed game modes will drop new Chests of Odin's Bounty!
These chests contain numerous pieces of gear, XP, a chance at Odin Marks and even a very small chance at the Mysterious Crimson Box containing boss-specific artifacts.
These Chests of Odin's Bounty have a short 5 cooldown to prevent players from using too many boxes and causing performance issues.
An additional very rare "jackpot" loot bonus can trigger during the Odin's Bounty event. This loot bonus is know as "Odin's Gift" and can contain a large pile of loot. As a bonus, the Odin's Bounty boost will provide an additional chance of receiving this Odin's Gift in addition to the Odin Mark benefits.
Schedule here with multiple time zones:
http://forums.marvelheroes.com/discussion/131532/odins-bounty-schedule-s#latest
In addition, a daily mission has been added for the event: Deliver Odin's Wrath!
Serve as Odin's champion and deliver Odin's own wrath to the enemies of Asgard for a special reward! Head to Lady Sif in Avengers Tower (located near the waypoint) to receive this mission. This mission can be completed once per day during the course of the event and will return for each subsequent Odin's Bounty.
CYBERNETICS SYSTEM
Cybernetics is a new system for Marvel Heroes that gives you something to do with all the loot that you earn in the world, but isn't an specifically upgrade for your hero and would otherwise just stay on the ground and provide no benefit.
With the Cybernetics feature you can turn those items that would otherwise be worth nothing into Cybernetic Upgrades for your cosmetic pets or into a bit of cash for yourself.
We expect to iterate and expand on this system in the coming months, with various options for players to select and personalize their Cybernetic Vacuum experience. This feature is very much a game changer for an ARPG like Marvel Heroes and we're all pretty excited to launch it and keep working to improve it.
For a detailed FAQ, click here.
Note for next week: We have a slight radius increase the width of the Cybernetics Vacuum and we've removed the confirmation box when donating Cosmic Items
NEW CURRENCY UI TAB
By popular demand, we have added a new UI element (found on your character sheet) known as the Currency Tab a few weeks earlier than we initially expected.
We have converted our first batch of currency types so that you'll be able easily view them on one page, in addition to them no longer taking an inventory slot.
We'll be adding additional currency types in the coming weeks to the currency tab to cover as much as possible.
JEAN GREY - LEVEL 52 DESIGN REVIEW
Jean Grey has received her 52 Design Review! With stunning new visuals and powers that offer unique mechanics depending on which form she is in, players are free to play Jean Grey as they see fit: as the powerful X-Man in control, or the raging Phoenix!
For more details, please see @TheArtofRawr's in-depth write up here.
SHE-HULK TEAM-UP HERO
Jennifer Walters, otherwise known as She-Hulk is now available as a Team-Up Hero! With her brawling abilities and briefcase of legal documents (for real), She-Hulk is a force to be reckoned with both in the courtroom and the battlefield.
We're aware this didn't have enough legal jokes.
EMMA FROST
Emma Frost's Diamond Form is now visible in all costumes!
Emma Frost's Marvel NOW! costume's coat is now animated with her run.
SILVER SURFER
Silver Surfer's Electromagnetic Flux shipped with greatly mistuned damage and has been changed to follow the same relative balance formula as other powers in the game.
We apologize for letting this slip through the cracks in initial Surfer testing last month. Several players did report it before launch but due to the unusual nature of the power and lack of strong precedent in tuning tags, it did not get the attention it deserved. That has been corrected for future powers of a similar nature.
The changes are:
Base Damage per hit has increase very slightly.


Damage 'ramp up' is 50% each phase instead of 75%


Power Cosmic cost halved from 250/s to 125/s


Power Cosmic cost increases +25% each ramp up, so +50% total at max channel


Natural Power Cosmic regeneration is paused while channeling
Additionally, a bug was fixed in which the "micro-beams" were sometimes able to hit the main target. These beams are intended to "swat the flies" away rather than dealing additional damage to a boss or other lone target.
THE POWER COSMIC - LEGENDARY ITEM
The Power Cosmic Legendary Item has been changed so that users can now gain 1500 damage rating to each damage type instead of allowing a three-damage type hero to gain 3000 total.
Heroes will still receive multiple stacks of +1 to all attributes, one for each damage type that they hit with (up to +3).
Only the raw damage affixes were affected (levels 2-4) to prevent a large disparity with Rogue, who can easily rotate 3 damage types. No other heroes are affected in any way by this change.
COSMIC PRESTIGE & DOOP RUNE
Due to unfortunately being omitted last week, Cosmic Prestige XP has been doubled this week and a Gifted Doop Rune will be granted as a free login gift for five days in a row, starting with this patch.
QUEENS ZONE CHANGES
The Queens Intro Zone has been changed to be a single player, more easily navigated instance to prevent new players from becoming lost or confused.
This is one of the many small upgrades we're making to the new player experience to keep things simple and understandable.
We have a high volume of new players to Marvel Heroes - if you would like to suggest adjustments to early parts of the game, please see the thread in the Developer Feedback section of the forums. We've already received solid feedback that has resulted in some planned improvements.
21 comments
Read more
Reviews
"Marvel Heroes 2015 is set to expand on everything that made the game successful, while trimming much of the fat in terms of improvements over the core model."

– Hardcore Gamer

"Comparisons to the Diablo series aren't lip-service; Marvel Heroes plays exactly like a gamma-irradiated puree of Diablo II and Marvel Ultimate Alliance. Real-time mouseclicking combat? Check. Tons of loot? You bet! Crafting? Absolutely. Randomly generated levels and loot drops? Stop it, my nipples are getting hard. Speaking as a fan of both franchises (as well as the Marvel universe in general), my time in the closed beta was nothing short of nerdvana."

- PC Gamer, May 2013

"Marvel Heroes combines the best of the MMO genre with the best of the Action RPG genre"

– Curse

"Marvel Heroes is a beautiful game, and an incredibly fun one at that. It also offers a distinct change of pace for gamers who may dig certain aspects of Diablo III, but are looking for a richer overall setting to while away the hours."

– Ten Ton Hammer
About the Game
Marvel Heroes 2015 is the Marvel MMO ARPG that you have been waiting for! Play as Iron Man, Star-Lord, Thor, Wolverine, Hulk, Spider-Man, Captain America and many more as they team up to try and stop Doctor Doom from devastating the world with the power of the Cosmic Cube. Marvel Heroes 2015 features a deep leveling system unique to each Super Hero, diverse locations set across the expansive Marvel Universe, a robust crafting system, action-packed player-versus-player (PvP) and much more. Marvel Heroes is a free-to-play Massively Multiplayer Action RPG for PC created by David Brevik, the visionary behind Diablo and Diablo 2 with an extensive original story crafted by Marvel super-scribe Brian Michael Bendis.
About the Author:
The story of Marvel Heroes 2015 is crafted by comic book super scribe Brian Michael Bendis (Ultimate Spider-Man, New Avengers, House of M, Secret Invasion, Avengers vs X-Men and many more).
About the Story:
The Cosmic Cube is a device of untold power capable of changing the very fabric of reality at the whim of its possessor. The brilliant but malevolent Dr. Doom has the Cube, and with it he aims to reshape the world in his own image. Determined to succeed where the Cube's previous wielders have failed, Doom has lined up villainous allies to prevent the super-heroes from interfering. Can you unravel Doctor Doom's sinister plan and stop him before it's too late?
Marvel Heroes 2015 combines core gameplay elements of Diablo with the expansive library of characters from the Marvel Universe.
Key Features
Engage in Action-RPG-style gameplay, but in an MMO world.

Team up online with your friends, or play solo.

Randomly generated environments are different every time you play.

Collect and play as your favorite Marvel Super Heroes including Iron Man, Thor, Black Widow, Captain America, Star-Lord, Wolverine, Hulk, Storm, Dr. Strange, and many others.

Choose from a list of fan favorites from the Avengers, X-Men, Guardians of the Galaxy, Fantastic Four, and every corner of the Marvel Universe.

Build your character using a library of spectacular powers appropriate to your hero.

Play through hours of story content, or try out many of our other numerous game modes such as X-Defense, Holo-Sim, and more!

Marvel Heroes 2015 features the first ever raid in an Action-RPG, gather friends and take on Surtur!

Customize your character with a library of costumes from Marvel's rich history.

Summon other heroes to fight along side you with Team-Ups, such as Falcon, Firestar, Drax, Gamora, and Groot.

Discover an endless variety of gear to increase your hero's power.

Explore the Marvel Universe in a story crafted by comic book super-scribe Brian Michael Bendis.

Visit famous locations from the Marvel Universe, from Avengers Tower to Mutant Town to the Savage Land.

Smash through hordes of iconic Marvel enemies, such as the dreaded Purifiers and the legions of HYDRA.

Face off against dozens of super-villains.
And It's All free-to-play With Marvel Heroes!
PC System Requirements
OS: Windows Vista 32/64, Windows 7 32/64, Windows 8 32/64

Processor: Core 2 DUO 2.1 GHz / AMD Athlon X2 2.1 GHZ or better

Memory: 2GB

Hard Disk Space: 30GB*

Video Card: Shader Model 3.0 Compatible with 512MB VRAM (Nvidia 8800 Series, ATI HD3800 Series, Intel HD 3000)


*30GB is required for installation. After installation, Marvel Heroes will require 15GB of storage.
OS: Windows 7 64-bit, Windows 8 64-bit

Processor: Current Generation Quad Core (Intel Core i7, Core i5 or AMD FX Series)

Memory: 8GB

Hard Disk Space: 30GB*

Video Card:Discrete video card with 2GB of VRAM (Nvidia GTX 600 or 700 Series, AMD R9 or HD7900 Series)


*30GB is required for installation. After installation, Marvel Heroes will require 15GB of storage.
Mac System Requirements
OS: OSX 10.8 Mountain Lion

Processor: Intel Core 2 Duo

Memory: 4GB

Hard Disk Space: 30GB*

Video Card: Discrete or Onboard GPU with 512MB VRAM (Nvidia 9600m GT, Intel HD 4000)


*30GB is required for installation. After installation, Marvel Heroes will require 15GB of storage.
OS: OSX 10.9 Mavericks

Processor: Current Generation Quad Core (Intel Core i7, Core i5, Xeon)

Memory: 8GB

Hard Disk Space: 30GB*

Video Card: Discrete GPU with 2GB of VRAM (Nvidia GTX Series, AMD FirePro Series)


*30GB is required for installation. After installation, Marvel Heroes will require 15GB of storage.
© 2013 Gazillion, Inc. All rights reserved. © MARVEL
Helpful customer reviews