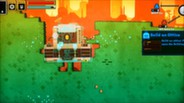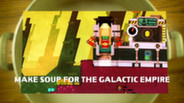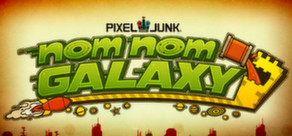 Welcome to Soup Co., Astroworker! As an integral part of the Soup Co. family, your mission is to explore the remote planets in search of tasty ingredients to make the galaxies most delicious soups and then rocket them into the gullets of our hungry customers.
Release Date: Mar 13, 2014
Watch all 2 trailers
Early Access Game
Get instant access and start playing; get involved with this game as it develops.
Note: This Early Access game may or may not change significantly over the course of development. If you are not excited to play this game in its current state, then you may want to wait until the game progresses further in development. Learn more
What the developers have to say:
Why Early Access?
"Nom Nom Galaxy is a new kind of title for Q-Games and we felt that Early Access would give us a chance to get feedback from our community early into development. The process allows us to get feedback on what is and isn't working, and iterate quickly."
How long will this game be in Early Access?
"We're aiming for a full release at the beginning of 2015."
How is the full version planned to differ from the Early Access version?
"The full version of Nom Nom Galaxy will feature a complete story campaign with drop-in/drop-out co-op for up to four players. While the exact number of planets and soups to discover are still up in the air, we want to provide a number of worlds for players to explore."
What is the current state of the Early Access version?
"Nom Nom Galaxy is currently pre-Alpha, meaning there are many features that are still being implemented and lots of optimization work to done."
Will the game be priced differently during and after Early Access?
"Nom Nom Galaxy will be the same price."
How are you planning on involving the Community in your development process?
"Very much so! All of the feedback we receive via Steam forums and on social networks is taken to the team. We discuss the merits of the feedback with regards to the game as a whole, and if we think it will contribute, how best to integrate it into the game." Read more
September 12
Salutations Astroworkers!

We got some good news here at Soup Co. today! Nom Nom Galaxy has been nominated as a Finalist at Independent Games Festival China!




Here's to hoping we take home the Grand Soup Prize! That's probably not what it's called, but we'll rechristen it if we win!

This week we'll be doing the first of our Post-PAX updates for Nom Nom. PAX was a boon for us because we got to see what new players experiecne when they first set out to start their soup empire. These updates will be focused on addressing issues that we heard at the show and a few that have been echoing on the Steam forums.

Astroworkers will now have a base 15% increase to movement speed. Coupled with the AstroBoots upgrade, you'll be a Soup Speedster!




There seemed to be some confusion about rotating corridors for new players at PAX. Until we work out a more intuitive way to let players know that most base pieces can be rotated, we've added Vertical Corridor pieces to the Building Blueprints.




Ladders will no longer be the end all for supporting structures in midair. Any buildings places above ladders without proper support will now fall.

Girders and struts now transfer power to adjacent buildings! This will help base design variety. There's also a power indicator on blueprints when placing buildings.




Finally, we've fixed the zoom issue with the UFO Boss a.k.a the PAPP (Passive Aggressive Pestilence Platform). When playing co-op, you can now see what you're doing. Soup Co. would like to apologize for that. ;-)

As always, please let us know what you think in the comments here, on our Steam Community, Facebook, or Twitter! See you next week!

 
2 comments
Read more
August 29
Astroworkers, welcome to PAX Update 0.14! This update will be on the floor at PAX today, but even if you can't make it to Seattle you can enjoy the soups of our labors! This update adds more ingredients, more enemies, and some adjustments to research. We've also thrown in some nagging bugs.

Because of the large amount of changes in the current build, we recommend you delete your previous save data. You can delete your saved data from the planet select menu. With that said, let's look at the new stuff!

Like a Boss

Nom Nom Galaxy is all about battling rival corporations for galactic domination of the soup market. Up to this point, your rivals have only sent small waves of alien mercs to disrupt your operation. Starting with this update, they'll be bringing out the big guns! Or should we say, the big UFOs!




This behemoth will appear after you've launched a certain number of rockets. When your rivals feel like you're getting a little too big for your britches, they'll send over this ship to knock you down a few pegs. You'll have to make some sacrifices to repel it!

Exploring Strange New Worlds

The 'galaxy' in Nom Nom Galaxy continues to expand. You'll now be able to visit Iddil, a heavily forested planet, Unba,a water world, and the mountainous Pomelyk. Each planet will require it's own strategy in order to build a successful factory. Gameplay for these planets is in development, so we'd love to get feedback from the community on them.

IDDIL




Iddil introduces new fruit bearing trees and spiny thorn plants. Neither can be moved easily, so you'll have to plan your base around them.

UNBA




If you fancy a swim, Unba is your planet. With most of the stage area covered in water, you'll have to create island bases in different places to expand your factory. The ever-important Oxyflower has the added benefit of repelling water, so you can use it to plant under the waves, or prevent water from entering your base.

POMELYK




The most challenging of the new stages is Pomelyk. The rocky planet offers few places to cultivate your ingredients and deposits of matter and discs are sparse, so you'll have to maximize your management skills to expand.

Expanding Your Pallet

There are a few new flora to add to your recipe book now. We haven't had proper trees in Nom Nom but that's because we've only been exploring deserts and plains. Iddil is our first planet to introduce a forest biome.




The trees of Iddil bear delicious fruit, but are sturdy and can't be chopped down. You'll have to plan your factories around these trees to harvest them. The trees will die in winter, so stock up on fruit for the cold season.




Needle Grass, like the trees of Iddil, is difficult to get rid of. It's covered in thorns so punching it will only leave you with bloody gloves, and if you dig it up with your buzzsaw, the remaining bits will sprout as new plants. You'll have to use other tools to take it out-but it's rumored that beautiful flowers sometimes blossom on its thorny branches…




Nom Nom now has an uber tuber! Yams grow underground, and like the trees and Splinter Grass, are resistant to conventional harvesting. If you want to get to the goods, you'll have to dig them up!

Adjustments
The following items have had their costs adjusted:

Hoverboard -
Increased Research key costs from 2 to 3
Increased the Gold cost from 100g to 1200g

Jack
Increased Research keys costs from 3 to 6
Increased Gold cost from 100g to 450g

Floppy disks should be easier to dig up now.

Mole enemies won't be nearly as persistent in destroying your base and will disappear after paying you a visit.

Bug Fixes
- Fixed an issue where you could create two offices on the Tutorial Stage
- Fixed a bug that allowed ivy and seaweed to grow in places they normally couldn't

As always, please let us know what you think in the comments here, on our Steam Community, Facebook, or Twitter! See you next time!
4 comments
Read more
About the Game
Welcome to Soup Co., Astroworker! As an integral part of the Soup Co. family, your mission is to explore the remote planets in search of tasty ingredients to make the galaxies most delicious soups and then rocket them into the gullets of our hungry customers. But this isn't your typical soup kitchen - Astroworkers must battle against the planet's elements, alien plants and animals, and dastardly rival soup corporations! Build your base of operations with the help of your fellow Astroworkers and handy Soup Co. robots, make the galaxies most mouth-watering soups, then defend yourself from local wildlife and our rivals.
#nomnomGALAXY
is a sandbox-styled mix of platforming, base building, tower defense, and good old fashioned monster-stomping! You'll create huge factory-bases where you'll experiment with tons of ingredients, make hundreds of types of soups to feed the galaxy, and rise in the ranks of the Soup Co.! Each planet will have its own challenges, from poisons gas to killer tomatoes. Only the most adept of Soup Meisters will succeed!
Key Features
Hundreds of different types of soups to discover

Extensive soup recipe system that uses ingredients all of the planet's plants and animals

Tower Defense gameplay from the makers of one of the most acclaimed Tower Defense games on any platform, PixelJunk Monsters

Living planets that evolve as your base expands

Robust research trees that allow you to personalize your base

Tons of robot helpers to automate factories, defend your base, and collect ingredients

Battle rival soup corporations throughout the galaxy for soup supremacy!

Local split-screen co-op play

PVP gameplay

Montly Updates during Early Access Alpha!
System Requirements
Minimum:


OS: Windows 7

Processor: Intel Core i5 or higher

Memory: 2 GB RAM

Graphics: Dedicated video card

DirectX: Version 10

Hard Drive: 500 MB available space

Additional Notes: Early Access, specs not final
Recommended:


OS: Windows 7

Processor: Intel Core i7

Memory: 6 GB RAM

Graphics: GeForce GTX 570

DirectX: Version 10

Hard Drive: 500 MB available space

Additional Notes: Specs of development PCs
Helpful customer reviews
Title:
Nom Nom Galaxy
Genre:
Action
,
Casual
,
Indie
,
Strategy
,
Early Access
Developer:
Q-Games, Ltd.
Publisher:
Q-Games, Ltd.
Release Date:
Mar 13, 2014
Languages:
| | Interface | Full audio | Subtitles |
| --- | --- | --- | --- |
| English | | | |
| Japanese | | | |
| Portuguese | | | |
Awards
Brazil's Independent Games Festival - Best Game Award
Destructoid Best of Show PAX 2013